Student Investigates the Idea of Care Through Portraits of People and Their Emotional Support Animals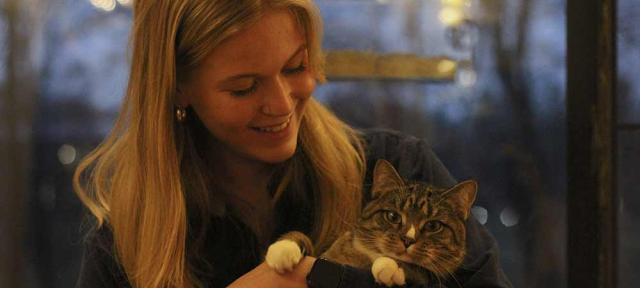 For her final project in the course Care: Doing, Knowing, Being, transfer student Alysha Ras 22F presented 21 photographs of people with their emotional support animals, along with an ethnographic description of her process and its relationship to course themes.
The class, taught by Five College Assistant Professor of Anthropology Felicity Aulino, asks "What counts as care? For whom? In what contexts? To what effect?"
Alysha drew on a range of work, she says, such as "cultural and linguistic anthropology, as well as feminist and indigenous theory, film, media, and activist literature to explore contemporary issues of care." At the end of the semester, students were asked to choose one aspect of care of interest to them and had the freedom to explore their topic in an array of formats: papers, podcasts, film, and workshops, for example. Alysha was inspired by the abundance of emotional support animals on Hampshire's campus and was excited to take on the challenge of conceptual photography.
"For those with disabilities, both visible and invisible, care is less often a way of being, more a means of staying alive," Alysha wrote in her paper. "One of the most basic definitions of care is 'providing for others.' Another way to think of care, as defined by Leah Piepzna-Samarasinha, is 'still showing up' (Piepzna-Samarasinha 2012). With emotional support animals, 'still showing up' is one of the things they're best at. Through the consideration of reciprocity of care in relation to emotional support animals and disability, we can demonstrate how care can be shown in a multitude of ways, and that the possibilities for care are endless even when presented across the borders of language, culture, and species."
Alysha made her project enticing for participants by offering free pictures to the owners and their pets. A few of her peers agreed to be photographed and interviewed.
"Titan is a seven-month-old stray [cat] of ambiguous breed who wormed his way into Lynsey's heart less than a year ago," Alysha wrote. She then described her first pair thematically: "Lynsey tells me that one of the ways she shows Titan care is by buying him things every time she goes out. This is evident upon entering her room, complete with toys, toy box, multiple cat houses, and anything else a cat could ever want."
She illustrated her art direction with another pair: "I ask Graham to get low to Clancy, to put their face next to his, and they do. Both Clancy and Graham enjoy a moment of solitude, Graham with closed eyes, Clancy staring thoughtfully into the lens of my camera."
Alysha's project encompassed the interdisciplinary study that Hampshire is famous for. "This multifaceted act of care expresses itself in many ways for many people," Alysha concluded, "allowing myself to indulge in a photography final, providing my services pro bono for my friends, and prompting them to think more critically about the care they give and receive from their animal companions."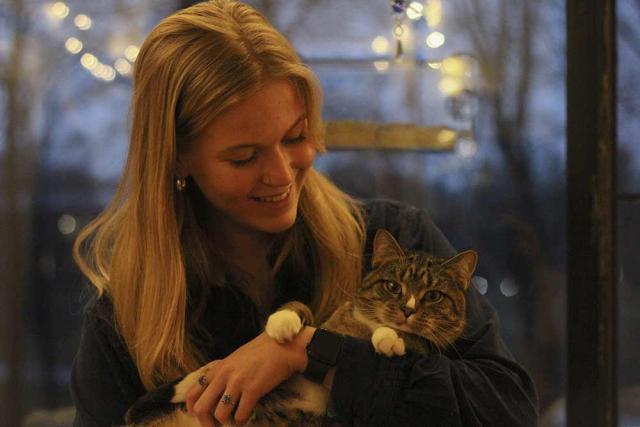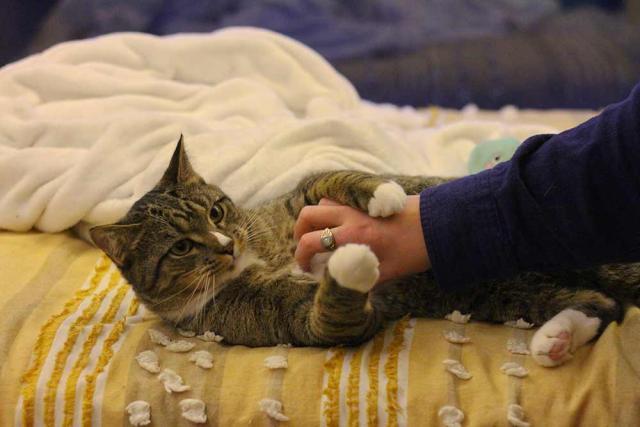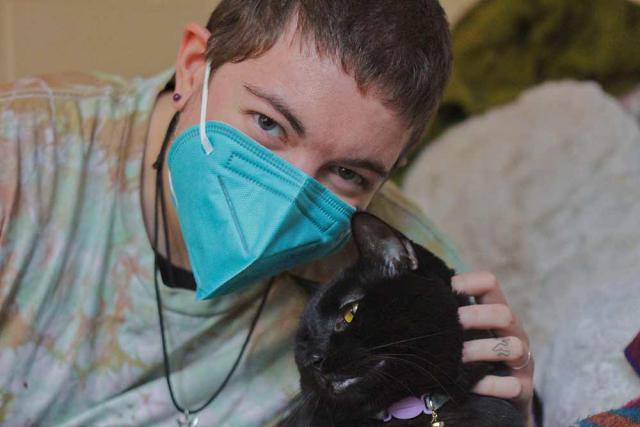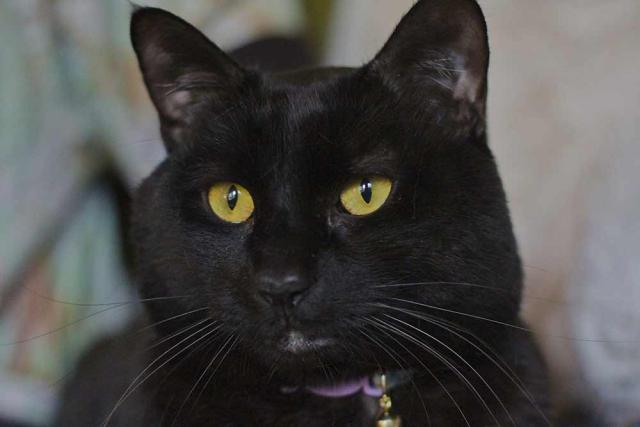 All photos by Alysha Ras 22F