Students Design Escape Room Show To Puzzle Audiences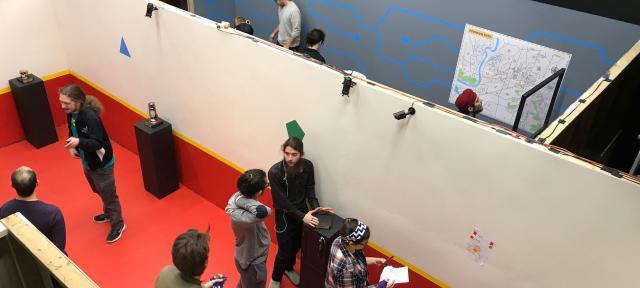 Team-taught by Ira Fay, associate professor of computer science and game design, and Peter Kallok, associate professor of theater design, the class calls for students, guided by the professors, to create an escape room — essentially, an interactive immersive theater experience during which groups of four to six players collaboratively solve analog and digital puzzles to complete a complex mission.
"The students came up with the theme, 'Crime and Villainy in the Pioneer Valley,' and all the puzzles and stagecraft," said Fay. "The players are acting as villains who break into the headquarters of superheroes to steal something valuable. There are three rooms and players move through each to complete puzzles that give them the clues to figure out how to get into the next one."
Escape rooms are now a worldwide phenomenon. According to a popular escape-room blog, Room Escape Artist, there are currently some 2,300 escape-room locations in the United States, and that number is growing rapidly. Escape rooms have entered the culture as cinema — Sony Pictures will release its psychological thriller Escape Room nationwide on January 4 — as a reality show, and as a career path.
"To create escape rooms, you need to understand both game design and psychology," said Maia Doerner, a Division II student. "Escape rooms are the next step beyond online games, and a lot of people love the puzzles. But it's a storytelling medium, and it allows people to be the hero of the story."
"Some of us are coming from a game-design background and some from a theater background," said Sam Fioretti, also a Div II student. "We have people in the class who are mostly computational and people who are narrative minded."
Thirty students signed up for the class. Fay and Kallok split the group into three teams, each responsible for one of the rooms that together comprise the installation. They assigned team leaders for each group to help students create a design strategy and to build consensus to execute it.
"Students had to work through their decision making, and we intentionally brought together students with different interests and backgrounds. In real life, you work with people who have different skill sets," said Kallok. "We provided them with the tools, but we never said 'Do it this way.' When they asked us what to do, we'd say 'What do you think?' Learning how to collaborate was a big part of the class."
Working on teams, students learned not only about game and theater design, but also about time management, project management, and communication.
"In a true Hampshire way, we gave them a lot of freedom and expected them to deal with uncertainty as they came to consensus and solutions," said Fay.
He and Kallok required students to use Slack, a real-time messaging and file-sharing platform through which they could converse and exchange information outside of class.
The spirit of cooperation first brought Fay and Kallok together. Two years ago, Fay emailed Kallok, whom he hadn't yet met, and asked if he wanted to team up to design the class. He had the puzzle skills but needed a theater-design expert to partner with.
"It's been a great collaboration," said Kallok. "At Hampshire, it's easy to work closely with colleagues. That's a great strength of the school." 
Students followed suit and worked not only on a theme for the escape room, but on names and identities for the villainous characters as well.
"Crime and Villainy" is located in Hampshire's Studio Theatre. The sessions, which are one hour each, will be held December 6, from 2 to 10:45 p.m., and Dec. 7 and 8, from 11:30 a.m. to 10:45 p.m. The escape room is open to the public, but tickets are required; they're available for free online here.
1