Students in Summer Farm Program Learn Solar Design for Agriculture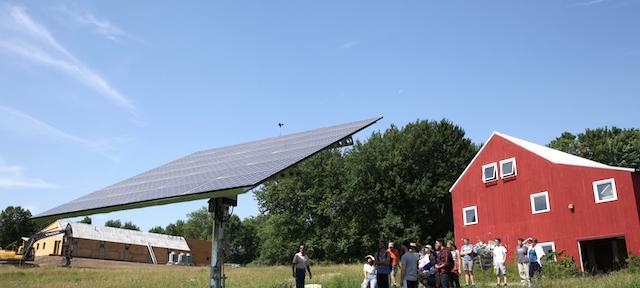 Students Sadie Higgins and Cooper Holland spent their summer helping to make the Hampshire College Farm a more sustainable operation, thanks to a program funded by an $810,000 National Science Foundation grant. 
The grant, awarded in 2014 to Holyoke Community College in partnership with Hampshire and UMass Amherst, has supported a six-week summer course in clean energy and sustainable agriculture the past two years.
The 18 students who participated this year, representing various colleges, spent two weeks at each campus immersed in designing clean-energy projects tied to agriculture, thinking theoretically and acting practically.
Cooper Holland, a second-year Hampshire student, said, "At Hampshire, we designed an entire solar plan. It taught me so much about sustainable energy. There's a very real-world application to everything we learned."
Dean of Natural Science Steve Roof, one of the professors who taught the summer course at Hampshire, said, "The goal here was to give them enough information so they could talk knowledgeably with different photovoltaic companies."
Sadie Higgins returned for a second summer, this time as a teaching assistant. Last year she was part of a group that designed a movable solar canopy to provide electricity for the Hampshire Farm. In 2016, she saw the canopy constructed and put into service, and was among the leaders of the team that used NSF funding to explore additional sustainability projects.
"Hampshire's so open to students making contributions and thinking of new ideas," said Higgins, a second-year Hampshire student. "When you think of something, you can develop it."
After considering psychology and women's studies, Higgins decided to major in agriculture. She intends to combine that passion with studies in holistic health, but she says the summer course also opened her up to work in sustainable energy.
"I don't come from a clean-energy background," she said, "but it's actually easier than you think it would be. I think people are intimidated by clean energy, but this experience made me realize it's actually a very practical thing you can do. "
On another project, with Professor of Physics Fred Wirth, the students analyzed the design of a solar-powered "coolbot" mobile refrigeration unit for Hampshire's Community Supported Agriculture program that would keep its produce cold for transport.
"It was a simple but fairly sophisticated analysis, figuring out how much energy would keep the trailer cool," said Roof. "The students measured the insulation of the trailer and applied formulas that considered the temperature on the outside and on the inside. Once it's insulated, we'll be able to see if the theoretical calculations hold up. We'll probably be using it in the fall, so we'll be able to do that analysis with Hampshire students."
Internships and mentoring opportunities in clean energy and agriculture are also funded through the NSF grant, as are equipment purchases that enable students to apply their classroom training in the field.
Holland said the program helped him better envision how to continue to work in sustainability after graduation. "Something about food sustainability always interested me," he said. "That and local food are important to me, but I never saw it as a career until Hampshire."
1