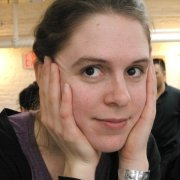 When Tina Antolini 01F transferred to Hampshire in 2001, her intention was to study jazz vocals. Surrounded by "smarts but not curiosity" at her previous schools, Antolini was drawn to Hampshire's "design your own" style. 

Quickly deciding that she was more interested in writing about music than performing it, she began studying ethnomusicology. Urged on by Professor of Music Rebecca Miller, Antolini began to follow her journalistic interests, working with the medium of radio.
She took some time off to intern at Smithsonian Folkways, and also to attend the Salt Institute for Documentary Studies in Portland, ME to study documentary radio producing and writing. At the time, Antolini was the only undergrad in the program.
For her Div III she produced a series of radio pieces which she was able to sell to National Public Radio programs and stations, fostering a relationship with the public radio world, on which she was able to capitalize during her post-college years as an independent producer of documentary radio stories for public radio.
After graduating, Antolini continued to freelance as a radio journalist before finding a home at 88.5 WFCR in Amherst, an affiliate of National Public Radio, American Public Media, and Public Radio International serving over 200,000 listeners in Massachusetts, Connecticut, Vermont, and New Hampshire. She is currently the local host of All Things Considered, and recently won a Gracie Award for her three-part series "Voices of the Transgender Community of Western Massachusetts," a series of profiles of transgender individuals as well as the transgender community's struggle for civil rights in Western New England. The Gracie Awards are presented annually by the American Women in Radio and Television (AWRT) to honor exemplary programming created for women, by women, and about women.
For more information about 88.5FM WFCR's programs and services, call 413.545.0100 or visit their website at http://www.wfcr.org/.
Says Antolini of her alma mater, "Any other place wouldn't have allowed me to do what I've done. Hampshire allows you to run with things."