Two from Hampshire Receive 2017 Princess Grace Award Scholarships for Film Theses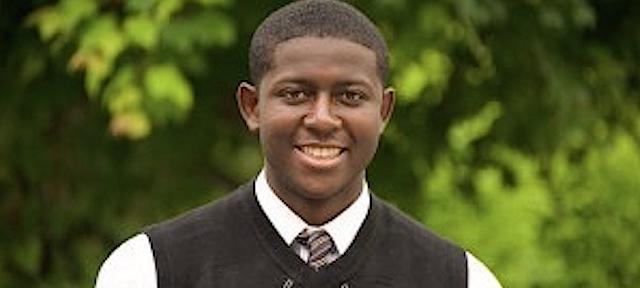 A student and a recent alum are the latest from Hampshire to win prestigious Princess Grace Awards, receiving scholarships to help fund their undergraduate and graduate film theses, respectively. Hampshire students and alums have won eight Princess Grace Awards the past six years — and 13 the past 11 years — as scholarships and grants for their film projects.
Fourth-year student Malik Ford and alum Emily Drummer, who graduated in 2013 and is now in grad school at the University of Iowa, are two of ten US college students to receive a Princess Grace Award this year. The awards from the Princess Grace Foundation honor the legacy of Princess Grace (Kelly) of Monaco. See bios of all of Hampshire's Princess Grace Award winners, 1984–present, below.
Malik Ford is a 21-year-old, Indiana-born filmmaker, ethnographer, and musician, who in his films uses topics such as critical race theory, gender, and the criminalization of blackness to promote alternative discourse on issues of power and inequality. Ford is creating a thesis on the climate of black gun ownership in the United States. As a recipient of the Foundation's John H. Johnson Film Award, Ford will be among those honored at the annual awards gala at the Beverly Hilton, in Beverly Hills, on October 25.
Emily Drummer's award is a Film Scholarship Honorarium. An MFA candidate in the Department of Cinematic Arts at the University of Iowa, Drummer is working on a film based in the American Midwest. She earned her BA from Hampshire and received the Five College Lorna M. Peterson Prize for her undergraduate thesis, comprised of both a 70-page research paper on the history of usherettes in US cinemas and an experimental documentary film. While in graduate school, Drummer teaches and programs films as the director of the Iowa City International Documentary Film Festival.
Hampshire offers one of the nation's top undergraduate film and arts programs, with its unique system of enabling every student to complete an independent year-long Division III thesis or capstone project; many take the opportunity to direct or produce a film or work of art. https://www.hampshire.edu/areas-of-study/film-video-and-photography
Among past recipients of Princess Grace Awards are Hampshire alum, Golden Globe winner, and Primetime Emmy nominee Rhys Ernst, producer, This Is Me and Transparent; and alum Diane Madden, who received two awards as Hampshire's only honoree outside of film, one a Princess Grace Statue Award as a dancer and choreographer with the Trisha Brown Company.
In 2014, three from Hampshire -- student Allison Waite and alums Madeleine Hunt-Ehrlich and Meredith Lackey -- were winners of Princess Grace Awards in film. Waite received an Undergraduate Film Scholarship, Hunt-Ehrlich earned a Graduate Film Scholarship, and Lackey received a Graduate Film Honorarium.
Beyond the Princess Grace Awards, at least eight Hampshire alums have won or been nominated for Academy Awards, and many more have won or been nominated for an Emmy, Golden Globe, Peabody Award, and other honors. Other alums distinguished in film and TV include Ken Burns, Lupita Nyong'o, Erica Huggins, Brett Morgen, Liev Schreiber, Rod Roddenberry, Xander Berkeley, Eugene Mirman, Barry Sonnenfeld, Rob Epstein, Roger Sherman, Kirk Simon, and Jon Kitzen.
The Princess Grace Foundation-USA is a nonprofit organization headquartered in New York City, founded 35 years ago by Prince Rainier III of Monaco to honor his wife. Other award honorees in past years are Emmy winner Cary Fukunaga, director of True Detective, Jane Eyre, and Beasts of No Nation; Greg Mottola, director of Superbad and Keeping up with the Joneses; and Stephen Hillenburg, creator of SpongeBob SquarePants. In Dance/Choreography, Alvin Ailey American Dance Theater Artistic Director Robert Battle and American Ballet Theatre's Gillian Murphy and Isabella Boylston have been honored.
BIOS OF HAMPSHIRE STUDENT AND ALUM AWARDEES
2017 Malik Ford, Film https://www.pgfusa.org/award-winners/view/Malik-Ford/
2017 Emily Drummer, Graduate Film Honorarium https://www.pgfusa.org/award-winners/view/Emily-Drummer/
2016 Langston Sanchez, Film https://www.pgfusa.org/award-winners/view/Langston-Sanchez/
2014 Allison Waite, Film https://www.pgfusa.org/award-winners/view/Allison-Waite/
2014 Madeleine Hunt-Ehrlich, Graduate Film Scholarship https://www.pgfusa.org/award-winners/view/Madeleine-Hunt-Ehrlich/
2014 Meredith Lackey, Graduate Film Honorarium http://www.pgfusa.com/award-winners/view/Meredith-Lackey/
2013 Devyn Manibo, Film https://www.pgfusa.org/award-winners/view/Devyn-Manibo/
2012 Erick Msumanje, Film https://www.pgfusa.org/award-winners/view/Erick-Msumanje/
2009 Elliot Montague, Special Projects Award https://www.pgfusa.org/award-winners/view/Elliot-T.-Montague/
2008 Josh Weissbach, Film https://www.pgfusa.org/award-winners/view/Josh-Weissbach/
2007 Elliot Montague, Graduate Film Award https://www.pgfusa.org/award-winners/view/Elliot-T.-Montague/
2007 Josh Arnoudse, Film Honorarium https://www.pgfusa.org/award-winners/view/Josh-Arnoudse/
2007 Sandeep Ray, Special Project Grant (for Princess Grace alumni) https://www.pgfusa.org/award-winners/view/Sandeep-Ray/
2003 Rhys Ernst, Film Honorarium https://www.pgfusa.org/award-winners/browse/by-year/2003/
1995 Evie Leder, Film https://www.pgfusa.org/award-winners/view/Evie-Leder/
1994 Diane Madden, Princess Grace Statue Award (for Princess Grace alumni) https://www.pgfusa.org/award-winners/view/Diane-Madden/
1993 Benjamin Goldman, Film https://www.pgfusa.org/award-winners/view/Benjamin-Goldman/
1992 Sandeep Ray, Film https://www.pgfusa.org/award-winners/view/Sandeep-Ray/
1986 Diane Madden, Dance Fellowship https://www.pgfusa.org/award-winners/view/Diane-Madden/