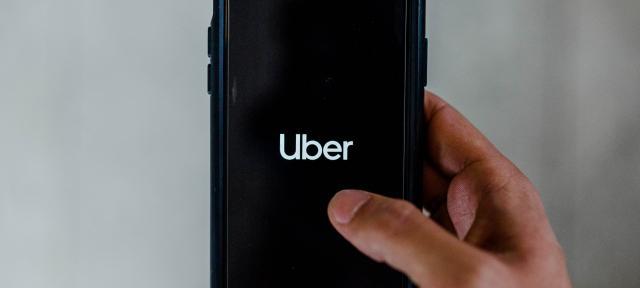 Many people view Uber as a necessary convenience, but Hampshire College student Edward Ongweso Jr S19 sees the "global juggernaut of the ridesharing industry" in a far more sinister light. Uber, he says, is a form of "industrial feudalism."
In his Div III, "Ritual Sacrifice in the 21st Century: Notes on Labor, Uber, and Capitalist Social Control," Ongweso writes that Uber's "core imperative [is] to achieve a global monopoly" on transportation, from shipping to daily commuting.

"Uber wants to kill every single competitor or buy them out," he says. "Its goal is to dominate the transportation market and then replace human drivers with self-driving cars."

Ongweso's Div III is a multi-perspective analysis at the local and global political and economic processes, historical and present, that underpin Uber. 

"Drivers are working fourteen-to-sixteen-hour days and sleeping in their cars," he says. "Their health is declining, and they're killing themselves. They're being sacrificed for profit."

Ongweso initially met Uber drivers when he was working as a field organizer with the Independent Drivers Guild, a nascent union for ridesharing drivers based in New York City. He did some work for the guild remotely from Hampshire and spent the first semester of his Div III year in the city doing an independent study about the lives of Uber drivers there.

For his research, he went to airport parking lots, where drivers parked in a line for hours as they waited for a call from a customer. He spoke to them about their wretched working conditions and urged them to sign up for the Drivers Guild or to come to organizing events.

Ongweso got a close-up look at drivers' lives not only by interviewing them but also by reading UberPeople, an online forum used by more than 120,000 drivers.   
 
His Div III passed with flying colors — and also landed him a job just three weeks after graduation.
"They're all talking about driving strategies, news [about Uber], and getting by," he says. "Reading the forum was a good way to get up to speed on their problems. It was easier than approaching them in person and asking them to talk about their work in a personal way."

Ongweso's Div III is an intersection of politics, history, and economics. The growth of technology, he argues, is fueled by "massive capital subsidies" from a financial sector that has no purpose other than to make money from start-ups by investing in them before they become publicly owned. In other words, venture capitalists.

"Everyone who invested in Uber before it went public made money," he says. "Everyone who invested afterward lost money."

In his view, the venture capitalists who poured money into Uber were looking to achieve profits unattainable in competitive markets by investing in a company that is on a mission to create a monopoly on transportation.

Another wind at Uber's back, Ongweso says, is the "retreat" of the government in providing goods and services to the public.

"Over the past century, the role of the state in organizing economic activity. . . has changed dramatically," he writes. "Private — largely corporate — actors have occupied more and more of the gaps left by the endless retreat of the state, with significant consequences for socioeconomic and political development."

Ongweso was inspired to write about socioeconomics and politics, he says, after taking a class with Omar Dahi, associate professor of economics. Dahi served on his committee, which was chaired by April Merleaux, assistant professor of U.S. foreign policy and empire studies.

They both helped him not only with advice but also by working with him to create an accountability system; he dutifully wrote chunks of his 120-page thesis and checked in with Dahi and Merleaux every week. 

"I have a tendency to fret over what I was imagining would be achieved in my writing, so sometimes I didn't write," Ongweso says. "They told me 'Just write!' and said it was okay if [the first draft] is crappy."

His Div III passed with flying colors — and also landed him a job just three weeks after graduation. He now reports on tech and science stories for Motherboard, a multiplatform, multimedia offshoot of the popular news website Vice.

"I heard about two openings for writers at Vice through a Twitter account for writers of color," he says. "I sent them an excerpt from my thesis when I applied for the job, and just when I was wondering why I didn't hear back, I got confirmation that they wanted me."
1