Upcoming Virtual Events Help Celebrate Hampshire's 50th Anniversary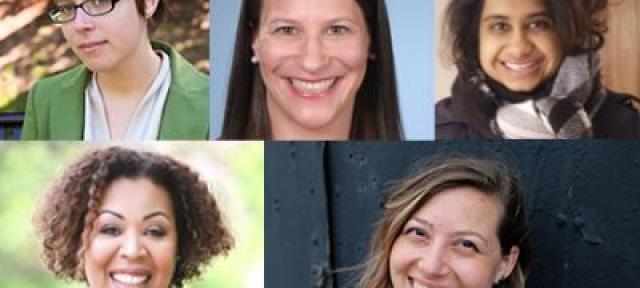 As part of the ongoing celebration of its 50th anniversary, Hampshire College is hosting several upcoming events showcasing the work of alumni in a variety of fields. 
As part of the ongoing celebration of its 50th anniversary, Hampshire College is hosting several upcoming events showcasing the work of alumni in a variety of fields. These events are virtual and open to the public. A large-scale 50th Anniversary Celebration is scheduled for October 15–17, 2021.

We've already hosted ten great opportunities to learn, connect, and celebrate together. Alums, students, staff, faculty, friends, and even past presidents of the College were in attendance for each. Recordings of our past 50th anniversary events are available online.
Upcoming Events
Making Work Work—Building a Future that Aligns with Your Values: February 24, 4 p.m. ET
Women, non-binary, and alums of color working across law, health care, nonprofit, and science fields will talk about navigating the world of work and education after Hampshire, including managing challenges that include under-representation and bias in their fields and building lives and careers in alignment with people's values.
This event will be moderated by Julia Firestone 06F, transformational leadership coach. Panelists include Miriam Cremer 87F, physician and founder of Basic Health International; Grusha Prasad 13F, Ph.D. candidate in cognitive science at Johns Hopkins University; Wendy Webb Williams 86F, lawyer and chief legal counsel at Sara Lee; and Ananda Valenzuela 07F, nonprofit capacity builder and interim executive director at RVC.
Register for Making Work Work.
The Evolution of the Development of Social Behavior in Dogs: March 5, Noon ET
Dr. Kathryn Lord 96F will give an overview of her work on the development of social behavior in dogs from her Div III on kennel enrichment in guide dogs, through her Ph.D. work investigating differences in the primary critical period of socialization in dogs and wolves, to her current work investigating the genetic underpinnings of these developmental differences using wolf-dog hybrids. Associate Professor of Physiology Cindy Gill will moderate.
Register for Social Behavior in Dogs.
Media, Power, and Justice: March 10, Noon ET
Jennifer L. Pozner 92F, founder of Women In Media & News and author of Reality Bites Back: The Troubling Truth About Guilty Pleasure TV and the forthcoming graphic novel Breaking The News; and Fariba Nawa 92F, an independent journalist based in Istanbul and author of Opium Nation: Child Brides, Drug Lords and One Woman's Journey through Afghanistan, will lead a dynamic discussion on our individual and collective relationships to media consumption and production, corporate media ownership, and critical resistance.
This event is co-sponsored by the Hampshire College Community Commons (CoCo)
Register for Media, Power, and Justice.
Creating Nonfiction: March 17, 5 p.m. ET
Broadcast journalist P.J. Tobia 96F will discuss ways to make a living as a creator of nonfiction content, whether video, print, or digital. Tobia will also talk about news-gathering techniques, technology's growing role in this work, and ways to find good stories to tell. This event is geared toward students and young alums who are contemplating their career path but is open to everyone.
This event is co-sponsored by the Career Options Resource Center (CORC) and Alumni & Family Relations.
Register for Creating Nonfiction.
Recent Past Events
The Alumni Reel:
The Alumni Reel is a collection of short film, television, and video clips showcasing the vision and creativity of Hampshire alums who work across film, television, video, and entertainment industries. Nearly 80 alums in the film and entertainment industry submitted their best recent work to this year's Reel. YouTube viewing parties for the Alumni Reel were held on February 17 and 19.
If you would like to view a recording of Alumni Reel, please fill out this form and you will receive a confirmation email containing the necessary links for viewing.
Alumni Reel Panel Discussion: 
On February 22, panelists Erica Huggins 83F, a veteran film and television producer, former president of Imagine Entertainment and current president of Seth MacFarlane's new production company; Sarah Goldfinger 94F, writer and producer with credits including CSI, Parenthood, Grimm, and more; and Arpita Kumar 03F, an indie filmmaker and senior content strategist at Google; reflected on the history of film and video at Hampshire and talked about the future of the industry. Board Trustee Elle Chan 87F moderated, and speakers took questions.
1