Update from President Nelson: March 8, 2019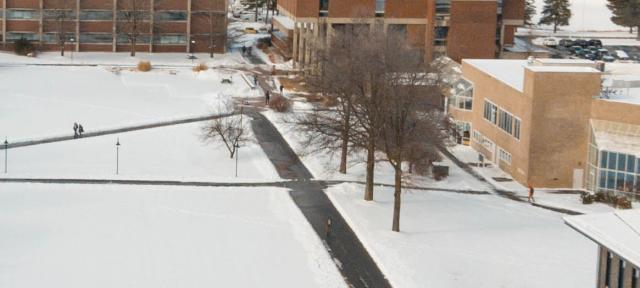 As we begin spring break, I wanted to reach out and give you a brief update on our progress
As we begin spring break, I wanted to reach out and give you a brief update on our progress. Many of you here on campus have heard some of this already in our standing meetings and working groups. It's been a busy couple weeks, day in and day out, as it should be, given the challenges before us. I have the deepest respect and gratitude for everyone who has been working tirelessly in Hampshire's behalf, motivated, as we all are, by an abiding love for this school.

As I said last spring, even before I officially joined this amazing community, the world needs Hampshire. And we need Hampshire to continue to have its outsize impact on education and society.

I want to highlight a sentiment from our faculty that I know we all feel is the core ingredient in securing Hampshire's future, no matter what options we conceive to bring that about. In a letter two days ago our faculty spoke eloquently about the "shared values and goals" of those in our community pursuing "a creative and viable way forward." The trustees and I embrace this. We all should embrace this.
Outreach and Collaboration
As challenging as the realities have been here in Amherst, they've been difficult for so many of our alums, parents, and friends who live away—in some ways more so, because of distance. I've heard that loud and clear. The Alumni Advisory Group and I had a call last week and discussed issues crucial to alums, how we can help the AAG fulfill its mission during this critical time—to be the most effective liaison and advocate for alum concerns—and how we can continue to collaborate. And we will.

Many parents have been reaching out to us, as we continue to engage our Academic Affairs and Student Affairs leadership to find ways to meet with more of you and to provide you with the information and access you deserve.

I've been meeting one-on-one, in person and by phone, with many alums and former board members. The deans and I, of course, convene regularly, and I appreciated the opportunity to speak with all faculty at their meeting last week.

Members of the senior team and I met a number of times with the Hamp Rise Up group and with individual students. The Trusteeship Committee of the Board also seriously considered Hamp Rise Up's demand to add more student trustees, and decided, after careful consideration, not to recommend to the Board that it add more student trustees at this time. You can read the committee's response here.

Of course, we'll continue the outreach and collaboration as we move forward. As always, our resource site can be found here.
Options Update
I'm pleased to report that, as one option to secure Hampshire's future, we're moving closer to bringing potential partners to the table. As potential partnerships develop, we'll have initial discussions within the Board of Trustees and within the Options Committee, made up of faculty, staff, and students. Options Committee members are currently being briefed on the status of potential partnerships under consideration, as well as options for how Hampshire might continue as an independent institution. We're also developing ways to engage more community members in this phase of the work. We hope to announce options in the not too distant future through a phase of active engagement within the community.
Fundraising and Budget Considerations
We've been asked about fundraising, and yes, Hampshire is absolutely still accepting gifts. We're so grateful to the alums, parents, and friends who have continued to support the College. Here's the context: Our financial challenges will continue in the coming months, even as we develop a solution for the long term. We anticipate that we'll enroll 600 to 700 students next year. Our highest priority is to provide them with the appropriate academic and support services, even as we'll need to reduce expenses and downsize operations to balance the budget.

Our leadership team has begun working with the Budget and Priorities Committee (of faculty, staff, students, and administrators) on next year's budget. Budget discussions will not be easy, as the smaller student enrollment directly affects operating revenues. We haven't made decisions yet about the layoffs that will be announced in April. For answers to many questions about layoffs, please see the FAQs published last month.

Because I heard as recently as this week that there might still be questions about why a school that is nearly 90 percent dependent on net tuition would ever choose not to enroll a full class—isn't enrolling a class how we thrive?—I'd like to reiterate. As I detailed in a number of communications, our projected deficit is so great as we look out over the next few years, we couldn't ethically admit a full class because we weren't confident we could teach them through to graduation. Not only would we leave those students stranded—without the potential for the undergraduate degree they were promised when they accepted Hampshire—we would also be at risk of going on probation with our accreditors.

As difficult as we expect the coming weeks and months to be, we continue, without rest, our efforts to bring about a sustainable future for Hampshire. What keeps me optimistic: the progress we're making, which I described above, identifying and developing options for Hampshire, ranging from potential partnerships to staying independent. We hope to announce plans for that soon.
Our Students
I can't think of a better way to wrap up than to say a word about a group that brings hope to me and to our whole community: our students. They're extraordinary, and I know I don't have to tell you that. Last Friday I had the honor of spending time with participants of Youth Day, a day of workshops and remarks for empowering pre-college LGBTQ+ youth in Western Massachusetts and beyond. Is it a surprise to any of us that Youth Day began as a Div III project? It made its debut as part of the Five College Queer Gender and Sexuality Conference, held on campus last weekend, the conference's tenth annual. Huge congratulations to all involved in organizing these important events, over the last few years and past decade. Their influence continues to grow, which also brings hope—their work is needed now more than ever.

Right now, on campus, some 270 students are working to complete their own Div IIIs, and their presentations, performances, and exhibits begin this month. This is my first Hampshire spring, and I'm looking forward to attending as many of these as I can. I hope those of you who are able will join us, so together we can rally around our students and, in each other's company, celebrate Hampshire: this extraordinary place and its extraordinary people.

Wishing you all a peaceful week, wherever you may be.

Sincerely,

Miriam Nelson, President
 
1