Weaving together Death, Spirituality, Craftsmanship, and Sustainability: A Conversation with Alum Anders Zanichkowsky 04F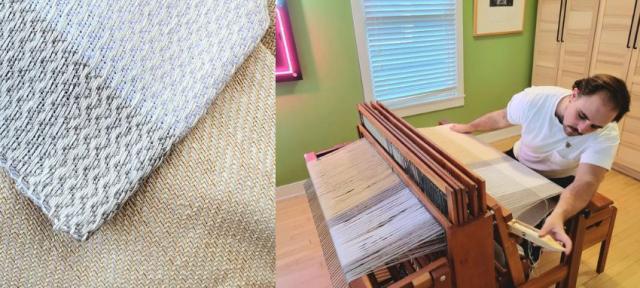 Anders Zanichkowsky began exploring themes of death, spirituality, and activism while at Hampshire College.
While their journey into traditional crafts and printmaking was not always on Hampshire's campus, it was here they found the resources and support required to deepen their artistic voice, process, and perspective. 
We had the opportunity to connect with Zanichkowsky about their business Burial Blankets, their Hampshire experience, and more.
What drew you to Hampshire? What was your Div III?
 
I am one of those people who has always really loved school, loved to study, loved learning things. I've also been ferociously independent, so that was really what drew me to Hampshire. The ability to design my own curriculum and the ability to take classes across the Five College Consortium. 
I was a fine arts concentrator and my Div III was a solo show called The Fifth Face of God. This was in reference to a face of God that we cannot know and yet we use scientific exploration, spiritual practice, and social justice work to come ever closer to that birthright. 
What are you doing now? How did your experience at Hampshire influence your current work?
 
I'm a printmaker. I discovered printmaking during my first year in college. I did a studio arts concentration heavily focused on printmaking. Hampshire, at least at the time, did not have printmaking classes, so I ended up taking all of my printmaking at each of the other four schools. I also did a field study at Wingate Studio with a master printmaker there, Peter Pettengill. I was a full-time printer's assistant for a semester as my course credit for my Div II. 
Even though Hampshire did not have printmaking it did have the structure I needed to study elsewhere. I was able to study with Barry Moser at Smith and Betsey Garand at Amherst, and do a second field study at the University of Wisconsin-Madison. I later did my MFA there, which is one of the top printmaking programs in the country. I was able to do all of this because I was a Hampshire student.
Along with the technical skills that I learned, I feel like Hampshire set me up to become an artist-entrepreneur by giving me skills to approach my work with real deep integrity. I learned that it's not about the finished product but the process of taking yourself seriously as a student. I consider myself a lifelong student because I work in these craft traditions like weaving and printmaking where you're always, always learning. Hampshire didn't just encourage that approach or philosophy but required it. It was a really good fit for me to be taken seriously as a young artist by my faculty.
"Hampshire set me up to become an artist-entrepreneur by giving me skills to approach my work with real deep integrity. I learned that it's not about the finished product but the process of taking yourself seriously as a student." Anders Zanichkowsky 04F
Can you tell us more about your latest project, Burial Blankets? What inspired you to begin weaving green burial shrouds?
 
Burial Blankets arose out of research that I was doing in graduate school. I began researching funeral art, memorial art, death, and dying. I also became interested in neo-politics, asking myself why certain groups who are marginalized under current oppressive systems are more likely to die and have a lesser quality of life. In addition, I had a profound experience going to places like the British Museum and seeing all of the funeral art that had been looted from ancient Egyptian tombs and feeling very awe-struck by the power of this religious art. I was horrified that I was able to see it because it was never meant to be seen by living eyes, let alone by a white person in England in the 21st century in a museum.
The deep intuitive understanding of the violent cultural oppression I witnessed in the British Museum came from my political education as a social justice activist at Hampshire College. That was the first place we were having explicit conversations about cultural appropriation.
Burial Blankets was how I answered a question that I had started asking myself as an artist many years ago: "What would my burial blanket look like?" I asked myself, "How can I use my skills as a craftsman to make art about death? How could I make art for the dead? How can I make art for the dead in a way that is culturally significant to my heritage?" That's how I became a weaver.
You can learn more about the rest of Zanichkowsky's art practice at www.anderszanichkowsky.com. 
1