Yasmine El Baggari Pushes Academic and Geographic Boundaries in her Search for Knowledge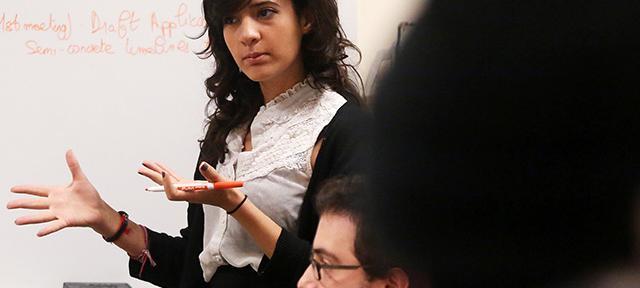 When she arrived at Hampshire in 2011, Yasmine El Baggari made it a goal to visit all 50 states before she graduated.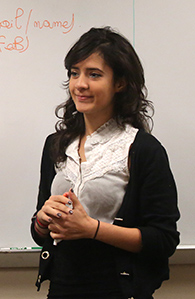 When she arrived at Hampshire in 2011, Yasmine El Baggari made it a goal to visit all 50 states before she graduated. By the time the spring 2014 semester began, the Moroccan native had already made it to 33. More importantly than simply arriving in these places, though, is the fact that much of this travel has been a direct result of her Hampshire studies.
"Hampshire is perfect for me," she says. "It is what you make of it. And, if you work hard, it pays off in the end."
In November, El Baggari received the African Studies Association RAM Award, during the organization's annual conference in Baltimore, for her research on both the effects of discrimination on identity development of Muslim students in the West and women's socioeconomic empowerment in Morocco. That award earned her two free round-trip flights, which she will use to conduct additional research on economic development and women's rights within Islamic law as a basis for her Division III, the final project students complete to graduate from Hampshire.
A month earlier she was in New Orleans for the Middle East Studies Association conference. Hampshire students frequently end up presenting their undergraduate research at conferences and symposia mostly populated by graduate and PhD students, and this was the case for El Baggari. As the youngest presenter there, she discussed how the multilingual educational system in Morocco, in which classes are taught in Arabic in public schools and French at the university level, is often an obstacle to attaining a degree. An article based on some of her work, entitled "Implications of Morocco's Bifurcated Educational System," was published in December in the influential Arab Studies Institute e-zine Jadaliyya.
"That is such an abrupt transition for students," says El Baggari, whose research included fieldwork in seven Moroccan cities. "I have conducted interviews with professors, government officials, students, and women's rights groups in Morocco, and we all believe the bifurcated system has become an issue the Ministry of Education has to seriously deal with."
Noting that she served an internship with Morocco's Ministry of Foreign Affairs in summer 2013, El Baggari scheduled meetings with ministry officials to discuss her research and findings.
"My goals are to work with international organizations, create my own startup, be an advisor to the Moroccan government, or," she says, "why not serve as the Moroccan ambassador to the U.S. in the far future?"
Studying in America was something El Baggari knew she wanted to do since she was young.
"I came to the United States at fifteen for a summer in San Francisco to visit my uncle and learn English. When I went back to Morocco, the only thing I dreamt of was to come back. My parents were very encouraging. My brother, who attended Yale and is now working on his PhD in applied physics at Cornell, inspired me, and also encouraged me to come to the United States," she says.
El Baggari chose Hampshire because she felt it was the school that best provided an opportunity to immediately pursue her interests, which crossed traditional academic boundaries. This freedom, she said, bolstered her ability to do compelling work that has drawn international recognition.
"I really appreciate the flexibility that Hampshire offers. I'm studying economics, Middle Eastern studies, and women's rights. I worked as a conference and student group coordinator at Hampshire's Civil Liberties and Public Policy program my first year and have been a co-chair for different entertainment committees ever since, which taught me skills to plan other big events on campus. I helped create Critical Connections, a nonprofit that promotes a greater understanding of Muslims, and recently became part of Hampshire's Entrepreneurship Center," she says. "I like being involved in whatever contributes to humanity."
With a résumé like hers, it's not surprising El Baggari was one of 40 students to receive Hampshire's 2012 Ingenuity Award, presented annually to students who have made a significant impact on the Hampshire community.
Through a grant presented by Hampshire's Global Migrations program, El Baggari visited several European countries to interview North African and Muslim students studying abroad. Her research, the basis of the Division II project she is currently completing, centered on 13 questions that explore social, religious, and cultural identity; integration versus assimilation; decrease and increase in religiosity; and the different perceptions of discrimination.
Among the faculty she has worked most closely with during Division II are Associate Professor of Economics Omar Dahi, Associate Professor of Integrated Science and Humanities Salman Hameed, Assistant Professor of Middle Eastern Studies Hiba Bou Akar and Professor of Anthropology and Asian Studies Sue Darlington. Dr. Vika Gardner, an instructor at Mt. Holyoke College, has also provided important support and guidance. El Baggari credits their involvement with helping her navigate the many fields she draws from, and for honing her critical skills as she formulates conclusions from the vast amounts of raw data she has accumulated. This step of her Hampshire education, she feels, prepared her well for the bigger challenge of Division III and beyond.
"My thesis project will be economics-based, so I will be working with Omar closely," says El Baggari.
For summer 2014, El Baggari has been awarded a research position at Harvard's International Research Center, Islam in the West. During this spring semester, she is supplementing a challenging class schedule with work on an independent study focused on domestic violence against women within Sharia law that will be supervised by the director of Near Eastern Studies at Cornell University. Additionally, she will do research on the human rights movements in South Africa and has plans to go to countries across North Africa and the Middle East.
The schedule may seem hectic to some, but El Baggari wouldn't trade it for anything. "I have always been this way. I have so much energy and drive to keep doing what I am doing," she says.
1