What is a throughline?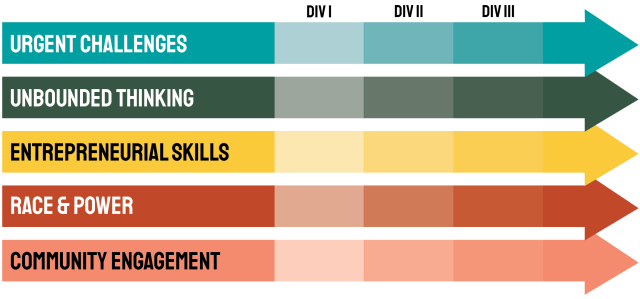 Throughlines are elements that are consistent throughout a series.
Students develop essential intellectual, social and ethical skills that increase in rigor and depth over the course of their four-year Hampshire College experience (across Division I, II, and III). Our institutional goals clearly acknowledge to the students and faculty that important values require ongoing attention and deepening engagement in increasingly meaningful ways.
Our throughlines include:
Urgent Challenges
Arrive at a multifaceted understanding of real world problems.
Recognize your role in addressing complex pressing issues.
Contextualize your learning to best support your ability to use your new knowledge.
Unbounded Thinking
Gain breadth of knowledge across fields of study.
Draw connections between ideas and academic areas to tackle complicated issues.
Learn the strengths and limitations of different methodologies, and select or create new methods to solve problems or answer your questions.
Entrepreneurial Skills
Define and carry out your own project plan.
Confidently access and utilize appropriate tools and resources.
See multiple ways of doing things well.
Race and Power
Understand your personal racial identity.
Be able to communicate across differences.
Understand how race informs power structures so you can begin to change them.
Community Engagement
Connect your learning in and out of classroom (integrative thinking).
Understand your surrounding community and your position relative to the community.
Help build beneficial, long-lasting relationships between the college and community partners.