Application Deadlines

Spring 2016 Program
Friday, October 16, 2015

Fall 2016 Program
Friday, March 4, 2016
Blogs from Scotland
Read blogs from students studying in Edinburgh through this program.
Program Availability: Fall and Spring Semesters
Hampshire students have the opportunity to study in Edinburgh, Scotland through our institutional affiliation with The University of Edinburgh. Studying at the University of Edinburgh places you in the heart of the city, as the university is an integral part of the city's character and history.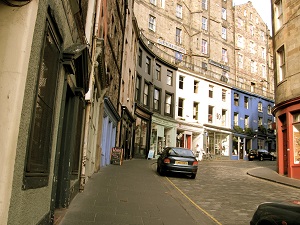 "Victoria Street" Photo by Genna Rose Nethercott 09F, AY2011-2012 program participant
About the University of Edinburgh
The University of Edinburgh is one of the U.K.'s leading universities. It was founded in 1583 and has been attracting international students for over four centuries. In terms of the quality of its teaching and research, it is considered one of the leaders not only in the U.K., but in Europe and beyond. Edinburgh is also one of the U.K.'s larger, more diverse universities, with a current student population of over 23,000 (roughly 16,000 undergraduates and 7,000 postgraduates). Nearly 5,100 of these students are international and are drawn from more than 130 different countries.
As a visiting student you can choose any courses from those offered by the College of Humanities and Social Science (classes in Arts, Divinity, Education, Law, Music, and Social Sciences) or Science and Engineering (classes in Biology, Chemistry, Computer Science, Engineering, Electronics, Informatics, Mathematics, and Physics). For more information, please see the Visiting Student Course Finder.
Visiting students are also eligible to apply to the University of Edinburgh's unique Parliamentary Programme. Students chosen to participate in this selective program complete three academic courses that are classroom-based, followed by a research project supervised by a member of the Scottish Parliament and an academic from the Institute of Governance.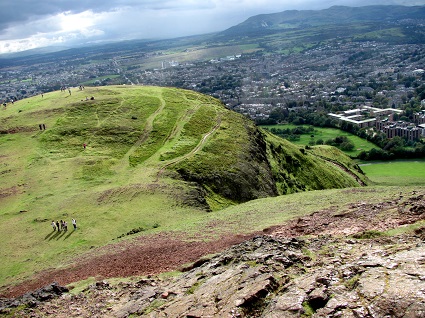 "View from the Top of Arthur's Seat" Photo by Genna Rose Nethercott 09F, AY2011-2012 Program Participant
Eligibility
This Hampshire exchange program is open to qualified Hampshire College students who are in good academic and behavioral standing. Detailed information on Hampshire eligibility requirements and policies is available under the Eligibility Requirements in the Exchange, Field Study, and Short-term Field Course section of the Hampshire College Handbook.
Term Dates
Semester 1: September-December
Semester 2: January-May
Housing and Meals
Students arrange their own housing and board through the Edinburgh University Accommodation Services. Dormitory-style housing and apartment options, generally with single-room accommodations, are available. Varied meal plans or self-catered options are offered. For more information, please see Visiting Student Accommodation.
Program Costs
Hampshire tuition and health insurance fees.
Other expenses: Students are responsible for the costs of housing and meals; passport and visa fees; international and local transportation; books and supplies; travel insurance; and personal expenses. A travel stipend may be awarded through GEO to help offset the cost of airfare.
How to Apply
Applying to a Hampshire Exchange Program: Application instructions, requirements, and procedures.  
Students are required to meet with the GEO program advisor for this exchange program before submitting an application.
Questions? Want More Info?
If you plan to apply or have general questions about this program, please contact or stop by the global education office.
In addition, the global education office has experience reports from students who have previously participated in this program in the GEO resource library. Stop by during open hours to read them at your convenience.
GEO Program Advisor
Heather St. Germaine
413.559.5542
hstgermaine@hampshire.edu
Application Deadlines

Spring 2016 Program
Friday, October 16, 2015

Fall 2016 Program
Friday, March 4, 2016
Blogs from Scotland
Read blogs from students studying in Edinburgh through this program.