Wednesday, October 24, 2012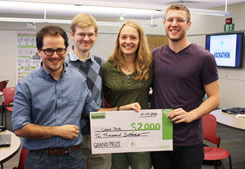 A team of Hampshire students—Zeke Nierenberg 09F, Kira McCoy 09F, Jamie Matheson 11F, and Amit Ringel 08F—won first prize in the inaugural Health Literacy Hackathon.

The Hackathon, held October 13 and 14 at the University of Massachusetts Amherst, was sponsored by CommunicateHealth Inc., a health education and communication firm based in Northampton.

"The challenge was to create something that makes it easier to understand and use health information," explains Stacy Robison, who cofounded the firm with Hampshire alum Xanthi Scrimgeour 85F.

"There are already some cool health apps out there," Robison notes, "but they aren't accessible to everyone."

For twelve hours, six teams of technology developers and programmers, public health advocates, and students created technology-driven tools with this problem in mind.

"I think the element of competition, and the short timeframe, can foster really great ideas," says Robison.

Nierenberg, who studies global health and medicine at Hampshire, agrees that the ideas were great, and the competition close. "It was a nail biter," he says.

His team's tool, Carrot/Stick, uses recorded messages from friends and family to help smokers quit. "We got a sense that we had stumbled upon something special," he recalls, "something previous smoking cessation efforts have overlooked."

"Carrot/Stick empowers the smoker," teammate McCoy adds. "Agency is a huge component of health literacy."

Robison, who was also one of the judges, says Carrot/Stick won because "it was simple, intuitive to use, and didn't require a smartphone." The program would be available to anyone with a phone line, and speakers of any language could use it.

"Plus, the judges were really impressed that the team had a well-designed, working prototype up and running in less than 24 hours," Robison says.

Now that they've caught their breath, the team plans to move forward with their program. "We hope the impact of Carrot/Stick may spread beyond the quitter," McCoy says, "breaking the ice for tough health conversations between loved ones."

She might also incorporate it into her Hampshire Division III (senior) project, a research study on the effectiveness of different ways to quit smoking.

"The excitement for me wasn't as much in winning the Hackathon," she says, "but in the process of collaborating to create a product that we're really proud of."

The $2,000 prize will go a long way to make that product a reality.
Photo by Molly McLeod