Wednesday, January 15, 2014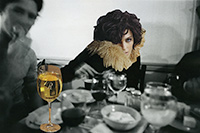 An exhibition of new work by photographer Barbara Norfleet, DRINK: The Pleasures and Perils of Alcohol, will be in the Jerome Liebling Center at Hampshire College from January 22 to February 28.

DRINK features Norfleet's early photographs of social gatherings, reimagined through collage as a meditation on the subject of alcohol.

Norfleet is the founder and director of the Harvard Photography Collection, and has been a pioneering artist and thinker in photography since the 1970s. Her photographic output is varied, inventive and bold. She has published more than four books of her work, including All the Right People (1986), Manscape with Beasts (1990), Archives and Archetypes (1997), and Illusion of Orderly Progress (1999). A portfolio, Landscapes of the Cold War, was published in 2006.

Her work is in many collections, including the Museum of Modern Art, Whitney Museum of American Art, San Francisco Museum of Modern Art, The Victoria and Albert Museum, and the George Eastman House.

In addition to her own photographic work, she was one of the first people to recognize the importance of vernacular photography to the understanding of American culture. Books of photographs—Wedding (1979), The Champion (1979), Killing Time (1982), Looking at Death (1993), and When We Liked Ike (2001)—are compilations by photographers who may not have thought of themselves as artists, but whose work was richly engaging on many levels.

This show is free and open to the public. Gallery hours are Mondays through Fridays 9 a.m. to 5 p.m., and Saturday and Sunday from 1 p.m. to 5 p.m. For more information, please email Professor Sandra Matthews at smatthews@hampshire.edu.