Monday, February 24, 2014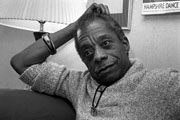 The Main Gallery at Hampshire College, Johnson Library Center, announces "James Baldwin at Hampshire, 1983-86," a photographic exhibition open from February 20 through March 11. Gallery hours are 10:30 a.m. to 4:30 p.m. Monday through Friday and 2 to 5 p.m. Sunday. The exhibition is free and open to the public.

"James Baldwin at Hampshire, 1983-86" documents Baldwin's time in the Pioneer Valley when he was teaching at Hampshire College, Smith College, and the University of Massachusetts as Five College Visiting Professor of African-American Literature.

The show is curated from the Hampshire College Archives and also includes a transcription of Baldwin's inaugural address at Hampshire and a display of a number of other archival objects.

Running concurrently in the back gallery is "Selections from the Hampshire College Permanent Collection," which includes four recently acquired artworks by Fairfield Porter. The Porters were part of a donation to Hampshire College from the Estate of Barbara Mettler.

For further information, email carnold@hampshire.edu.