Tuesday, July 29, 2014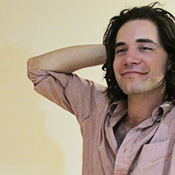 Poet laureates are much in the news these days. That media attention is only of mild interest to Jesse Steinmetz, who at age 21 is probably the youngest poet laureate in the country. Of far more significance to the Hampshire College student and Washington, CT, poet laureate is how he might help cultivate in his community the passion for poetry he's known since the fourth grade.
That was the year his parents sent him to poetry camp. "I was definitely more excited about reading and writing than in learning multiplication tables or anything science related, and my mom recognized that," Steinmetz says. "My family is all artists. I come from an environment where art and poetry have always been strongly supported."
He says he chose Hampshire for similar reasons: "I knew Hampshire is a great place for English, poetry, reading and writing, and is an incredibly creative college."
It's also an incredibly entrepreneurial college, and Steinmetz's skills in negotiation and innovation were on full display when he walked into Washington's town hall earlier this summer with an idea. He explained that he wished to interact with his hometown in a new way.
Washington's Board of Selectmen voted unanimously to name Steinmetz the town's poet laureate, a newly created position that he will hold for one year, until next July.
In his first month as poet laureate, Steinmetz has built connections with local members of Voices of Poetry and has scheduled three public events in the town's library: an adult poetry workshop July 31, a young adult poetry workshop August 21, and an open mic poetry reading on August 26, at which he'll share a few of his own poems. He's also teaching for two weeks at the same poetry camp he attended as a fourth grader.
A reading by Steinmetz at Hampshire is in the works for fall semester. He'll also be busy developing and writing his Division III, working with poets John Murillo and Professor Polina Barskova. He plans to complete an original book of poems and to translate contemporary Chilean writing.
His writing style tends toward the experimental, but in a manner accessible to a broad audience. The interest in Chilean poetry resulted from a semester abroad in Chile and Argentina during his third year at Hampshire.
Steinmetz concentrated on poetry and Spanish during Division II. His faculty committee then was poetry professor Aracelis Girmay and comparative religion professor Alan Hodder.

His future goals include more study in Chile, an MFA in poetry, and eventually to become a poetry professor.
---
Call me Wild
Call me wild
(in the way you know you'd like to)
it's not hard to pucker up all
those little hairs.
Call me wild
as if I was the grandmother wolf:
                (a) how I used to roam the woods
                (b) how sweet I look knitting your mittens
---