Associate Professor of Russian Literature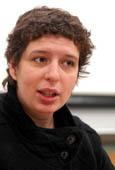 Polina Barskova, associate professor of Russian literature, received her B.A. from St. Petersburg State University and her M.A. and Ph.D. from the University of California at Berkeley. Her scholarly publications include articles on Nabokov, the Bakhtin brothers, early Soviet film, and the aestheticization of historical trauma.

She has also authored six books of poetry in Russian. Professor Barskova is currently working on a project entitled "Petersburg Besieged: Culture of the Aesthetic Opposition."