Alum Derry Noyes Delivers Miniaturized Iconic American Art to Our Mailboxes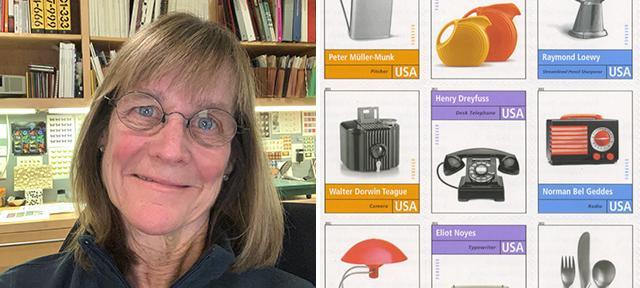 Her projects involve the work of artists such as Alexander Calder, Georgia O'Keeffe, Isamu Noguchi, and Charles and Ray Eames.  
For the past forty years, Hampshire College alum Derry Noyes 70F has served as an artistic director for the United States Postal Service (USPS), working to miniaturize iconic American history, architecture, and art to stamp size. Her portfolio reveals that while Noyes herself may not be a household name, her projects involving the work of artists Alexander Calder, Georgia O'Keeffe, Isamu Noguchi, and Charles and Ray Eames will likely be familiar to many.
Despite her successful career with the USPS, Noyes never set out to work with stamps. After completing her graduate degree from Yale in 1977, Noyes launched her own graphic design business. When a former faculty member from Yale introduced her to the idea of designing stamps, Noyes was hesitant at first. "As a designer, you have a mindset of what you might be designing, and working with postage stamps was the very last thing in my brain. I fessed up, saying, 'I know absolutely nothing about postage stamps,' and he said, 'Well, it's the same design discipline really, you just have to think very small.' So I was intrigued—and I haven't looked back since." 
Noyes first began her work with the USPS as a member of the Citizen Stamp Advisory Committee—a panel composed of historians, educators, and designers who together vote on each year's crop of stamp subject matter. After two years in that role, Noyes transitioned from the committee to artistic director, a position she has held for the past four decades.
The risks, and rewards, of designing in miniature are many. "It's a vibrant design challenge," she says. "You have to consider how the art interacts together on a sheet, individually, and on display at a distance. I think the Ellsworth Kelly stamps are an example of that working well. Certain subjects are kind of built for being small."
While Noyes is hesitant to name a favorite stamp project, she does say that one, in particular, holds a deeply personal meaning. It was Noyes herself who was tasked with designing the stamps that showcased the work of her own father, industrial designer of the IBM Selectric typewriter, Eliot Noyes. "That was a truly special experience," Noyes recalls.
That same excitement for discovery may very well be what led Noyes to graphic design in the first place. When she joined the first entering class at Hampshire, she planned to study animal science with her mentors, Ray and Lorna Coppinger, but she soon realized she also shared a love of graphic design studying with Art Hoener. In fact, Noyes was one of the first cover designers of the Hampshire College directory, the Frogbook. 
"We had a studio on the third floor of the library, and we made all the art for the school. We painted the walkways and we made the Frogbook and created school posters. Our work wasn't just assignments with hypothetical needs, but a real need for the school to run. It was exciting, and that's how I got drawn more and more into the art side. And I think that the school embraces that interdisciplinary spirit whenever possible. I think that's the work Hampshire is always trying to support—however you want to put together your education, we're here to help."
Header image of envelopes by Liam Truong on Unsplash. Stamp images below courtesy of Derry Noyes.
1