Alum Exhibit Explores Humanity, Nature in the Post-Industrial Moment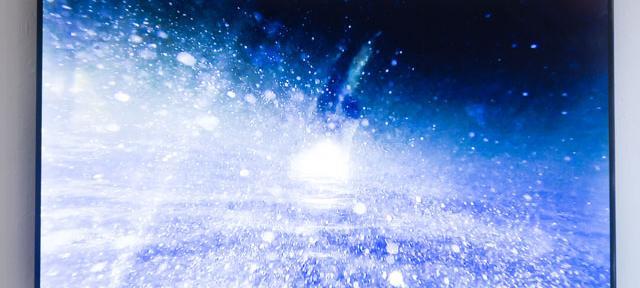 "Aren't these the most awesome building blocks you've ever seen in your life?" Madeleine Altmann stands before the wall of stacked '90s-era cathode-ray monitors that play shifting scenes from one of her video works in "Surfacing," the new exhibition in the Hampshire College Art Gallery.
An assortment of screens, from vintage computer monitors to the latest in 4D technology, fills the site, presented in sculptural formations engineered by Altmann's partner, Andreas Uthoff. The works present a series of familiar surfaces — most often the Connecticut and Concord Rivers — made strange through a combination of unusual points of view, compressed time, climatic conditions, and altered focus.  
Since studying film and video at Hampshire, Altmann 81F has been active in visual arts for most of her career, starting in photography before moving on to television, interactive telecommunications, and video art. Her work has been shown around the world and accumulated a number of accolades, among them awards from the American Film Institute and Sony Pictures.
Curator and Hampshire College Gallery Director Amy Halliday says she hopes that Altmann's installations invite "a reconsideration of the politics and poetics of the simple act of walking in nature in a postindustrial moment." This is especially important, she says, in the fast-paced, media-saturated environment most people live in today.
A goal of the exhibit, Halliday says, is to get the viewer to slow down and be absorbed by colors, textures, and elements of rhythm and repetition.
"Whenever I go through the gallery," she says, "I notice students being drawn in by the lure of screens through the window as they're on their way to the library or mail room, or sitting for ages in front of Black Ice, Altmann's meditation on the loss of her brother." A number of students have mentioned how immersive the works are, and what a welcome shift in "mental landscape" they provide in the midst of everyday stress, Halliday says. 
In one piece titled Temple Rock, Altmann repeatedly films the act of walking her dog to a historic boundary marker (a site of personal significance) along the Concord River, which runs near her home. "What I love about this," Altmann says, "is that I'm the constant over the three and a half years, and it's the nature that changes so radically . . . You think it's the nature that's so constant and humans are so radical, but in fact in the whole grand scheme of the thing it's really the opposite. One day it's warm, the next day it's a snowstorm, and then you see all of the incredible variations to the same landscape and how very different it looks. But I look the same."
Seeing her work as a ritualistic experience, Altmann says creating videos like these also helps her recognize the possibilities and beauties of the spaces surrounding her, especially when she starts to feel like a "caged animal pacing" around the "gilded cage" of the suburbs. 
"You don't have to go to exotic locations and enact these incredible performances," she says. "Your life, your experience, your reality can be the pivotal point of your artistic expression." 
"Surfacing" is on exhibit through November 10. The Hampshire College Art Gallery is located in the lower level of the Harold F. Johnson Library. Hours are Monday–Friday, 10:30 a.m.–4:30 p.m.; and Sunday, 2–5 p.m. To learn more about the gallery, go to www.hampshire.edu/gallery/hampshire-college-art-gallery. For more about Madeleine Altmann, visit www.madeleinealtmann.com.
'SURFACING' EXHIBITION EVENTS: THURSDAY, NOVEMBER 3
Art&Tech: Q&A with Madeleine Altmann and Andreas Uthoff
Hampshire College Art Gallery, 4 p.m.
Want to hear the personal significance behind the mesmerizing piece Black Ice, or how to minimize the glare when you're filming on a reflective surface? Curious as to why Temple Rock is installed like a portable altarpiece? Need 10 top tips for repurposing a Raspberry Pi for your own video work? Join us at the Gallery with your questions!
Amherst Arts Night Plus: Exhibition tour with the artist and curator
Hampshire College Art Gallery, 6 p.m.
Hampshire College Art Gallery will be open from 5 to 8 p.m., with a special exhibition tour with Madeleine Altmann and Amy Halliday at 6pm.
Cider and donuts will be served.
1