Alums Create Student Scholarship Fund To Honor Professor Emerita Bengelsdorf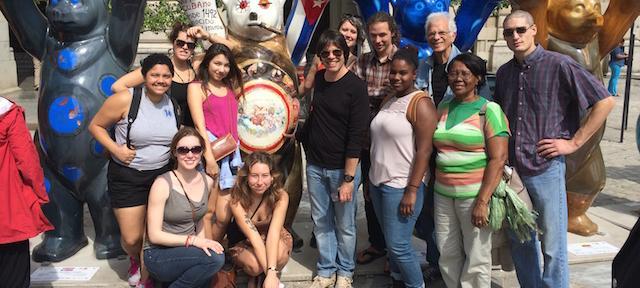 Victor Fresco and Scott Gortikov didn't plan to concentrate their Hampshire studies on US foreign policy. Then they took a course with Professor Carollee Bengelsdorf, and they were hooked. A professor of politics who joined the faculty in 1973, three years before Gortikov and Fresco arrived, Bengelsdorf peppered her teaching with stories and anecdotes drawn from her experiences participating in the anti–Vietnam War and antiapartheid movements and working in countries in Africa and Latin America, including an illegal trip to Cuba in 1969.
After that first course, Gortikov tried to take every course Bengelsdorf taught — on the Russian and Cuban revolutions, American foreign policy and the Third World, African politics, and modern and postmodern political/social theory, for example. He asked her to chair his Division II and Division III work, the latter on economic development in Cuba. Fresco ended up concentrating his Division II on economics and politics, and also asked her to chair his divisional committees. Both of them joined student trips to Cuba during President Jimmy Carter's term.
Now the two friends are showing their appreciation for her influence by creating a scholarship fund in her honor.  The grants will support the work of Hampshire students in the School of Critical Social Inquiry whose studies center on the social, political, and cultural impact of the United States on countries in Latin America, as well as funding their field studies. Fresco and Gortikov have each made a gift to the College, matched by an anonymous donor, to establish an endowment for the Carollee Bengelsdorf Scholarship Fund. It will provide grants for tuition, room, and board to promising students with the greatest financial need. The classmates are now asking fellow alums and friends to contribute to the fund, to increase its reach and impact.
LEARNING IN AND OUT OF THE CLASSROOM
As an undergraduate, Bengelsdorf worked abroad on community-development projects in Peru, Honduras, and Kenya. She says she gained an awareness of the multiplicity of ways in which US foreign involvement affected not only politics in these countries, but also, and more important, the daily lives of the people. 
She then began her graduate studies in Russian history at Harvard, but left to work in the anti–Vietnam War movement. She first traveled to Cuba in 1969 with the Committee of Returned Volunteers, ex-Peace Corps members who were against the war, circumventing the US ban on travel to Cuba. The group planned to return after six weeks, but their departure from Havana was delayed by four months, and Bengelsdorf says the group passed the time by wandering the city and befriending Cubans on the streets.
Once she returned to this country, she landed at what she calls perhaps the only academic institution in the United States that would find her background "interesting." After a year at Hampshire, she made a return trip to Cuba, in 1974.
At a college founded to counter the lecture-based approach of other colleges, her teaching would not be contained to a classroom. In 1977, Fresco and Gortikov were among the group of students, supported by Bengelsdorf and other faculty, who occupied Cole Science Center to demand that the board of trustees divest the College of stock in corporations doing business in South Africa. Their success made Hampshire the first college in the country to divest, and inspired students on many other campuses to follow suit.
Says Bengelsdorf, "My goal, however successful, has always been to impress on my students that demonstrations and protests are usually one-shot affairs if they're not informed by knowledge and the ability to see one's smaller and larger worlds through a critical lens. Actions taken in the face of injustices have to be informed."
This was around the time President Carter eased travel restrictions to Cuba, and Bengelsdorf decided to lead a trip to the island for a small group of Hampshire students.
"It was a ten-day visit, from Havana to Santiago de Cuba, at the tip of the island," remembers Fresco, now a successful Hollywood producer. "It was a life-changing experience, an immersion into a completely different culture and community." 
"I've been lucky to have some outstanding teachers who inspired me and changed the course of my life," says Fresco. "Carollee was one."
As a college student visiting Cuba, one unforgettable moment for Gortikov was seeing Fidel Castro speak on the steps of Havana University in celebration of its 350th anniversary. Now a psychotherapist in private practice in Boston, Gortikov says his studies at Hampshire have helped him be familiar with and understand foreign countries and to interpret the news, a critical skill in the current political climate. "Carollee's lessons were foundational to how I understand the world," he says.
BENGELSDORF FOUNDS THE CUBA EXCHANGE PROGRAM
In the late 1990s, President Bill Clinton lifted certain travel restrictions for educational exchanges between the United States and Cuba, and Bengelsdorf, together with two Cuban colleagues, won approvals there for an exchange program for Hampshire and Five College students. She notes that the Hampshire in Cuba program, now operating for 18 years, was one of the first of its kind and is recognized in the world of academic Cubanology as the most substantive one.  Students live with Cuban families and take courses in aspects of what she describes as "the always confounding and contradictory realities of life in Cuba."
At the core of each student's academic work during their semester on the island is an independent project defined by the student, who is mentored by a Cuban with relevant experience. Projects have ranged from literary analyses and creative writing, to painting and graphic design; dance and theater; historical studies concerning Chinese or Jewish Cubans; and film and video making (one film has won an international prize, while another, titled Re-Evolution: The Cuban Dream, will air on PBS in 2019).
Students, particularly in the social sciences, have carried out fieldwork in a variety of subjects, such as an examination of the lives of women working in the small private sector there, and issues of race, gender, sexuality, and inequality. Bengelsdorf says one participant described the program perfectly some years ago as being "more Hampshire than Hampshire."
The second part of the exchange has involved bringing artists, academics, and writers to stay in residence at Hampshire for anywhere from two weeks to three months.  But these important cross-cultural interactions are currently halted as the Trump administration has shut down the visa-issuance section of the US embassy in Havana, and so has effectively made it impossible for Cubans to travel to the United States.
REUNION IN CUBA
The Obama administration's opening of travel to Cuba created another opportunity between Hampshire and Havana. Bengelsdorf and her longtime friend and "partner in crime," Professor of Sociology Margaret Cerullo, began to host an annual week-long trip to Havana for Hampshire alums, friends, and family. Drawing on contacts in Cuba made by Hampshire over the decades, these trips have been not just a learning experience but also a fun, exciting immersion into Cuban culture, politics, and society, and an opportunity for reunions of Hampshire friends and families. (Their next trip will be in January, more information here.)
In January 2018, Fresco and Gortikov and their families joined Bengelsdorf on the alumni trip to Cuba, 40 years after traveling with her as students. The two former classmates struck up a conversation about their regard for Bengelsdorf, and once again they were inspired by the depth and dimensions of her understanding of the country and the relationships she'd developed over decades of research there. That's when they had the idea to fund the scholarship and name it for their teacher.
Gortikov says that in addition to his gratitude to his former teacher, he was moved to make a gift out of a sense of urgency that the United States and the world need more scholars and students who understand Cuba and Latin America. "There's so much lack of information, misunderstanding, and propaganda about the country and US relations with it," he says.
Fresco and Gortikov agree the scholarship fund is also a show of support for Hampshire. Fresco says he was struck on the January trip by Bengelsdorf's abiding affection for the College. "People are often critical of institutions they work for, and students can be critical of their schools," he says. "When I was a student, Hampshire was only six years old and was going through growing pains. But I was able to blossom and focus my studies so I could go into the world a little smarter, a little more curious, and more open to new experiences. Hampshire, and Carollee, made me a better person, and for that I'll always be grateful."
Gortikov says Bengelsdorf and Hampshire have remained influential throughout his adulthood and professional life. This became clear in 2004, when he was a director of MassEquality and a leader of the gay-marriage movement in Massachusetts. "I had never worked for a grassroots or lobbying organization, nor had I been a development director," he says. "I was only the third employee of this organization and my challenge was to raise millions in funding for the movement. But with my Hampshire education, I had the confidence that I'd be able to figure it out."
Their gift brought their former teacher to tears. "Hampshire allows you to break down the wall between teacher and student," Bengelsdorf said. "I love my students dearly."
CONTINUING A LEGACY
Bengelsdorf, who earned her PhD in political science from MIT, has continued her work in Cuba. Over five decades, she has written extensively on issues related to Cuban politics and to women in Cuba, and is the author of The Problem of Democracy in Cuba: Between Vision and Reality (Oxford University Press). After retiring from Hampshire in 2015, she is now finishing a manuscript that deals with the girls and young women who fought in the underground, clandestine movement in Havana during the 1950s to bring an end to the Batista dictatorship. She continues to work with the Cuba Exchange program and to help orient students to the island and the region.

Currently producing the third season of the Netflix series Santa Clarita Diet, which he created, Fresco says he's always appreciated Hampshire's motto, Non satis scire, "To know is not enough. "As it was explained to us when we started at Hampshire," he says, "students should always 'ask the next question.' Be curious. Explore everything. It's a philosophy that guided me in school, as it has in my life after college."Gortikov says he's been inspired by the social-justice activism and community involvement practiced by Bengelsdorf and other Hampshire faculty, which he first experienced as a student and now continues to witness as an alum.
"I want Carol's legacy to continue at Hampshire," he says. "I want others to be inspired and have their eyes opened to other parts of the world."
GALLERY
1