Campus Events To Explore Medieval Ethiopian Manuscript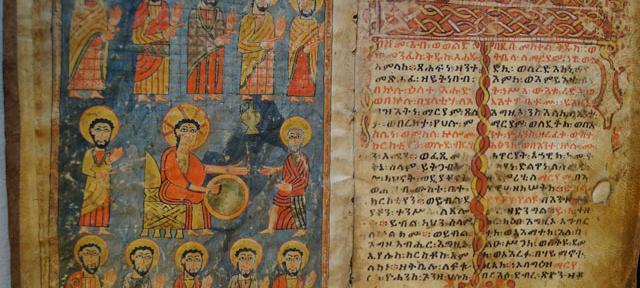 The Institute for Curatorial Practice (ICP) and the Hampshire College Art Gallery have co-organized a public keynote panel and faculty seminar centering on a medieval Christian Ethiopian manuscript to be held November 11 and 12.
The manuscript, written in Ge'ez (the liturgical language of the Ethiopian church), is owned by Hampshire College alum and trustee Bob McCarthy. It comprises two sections from the 14th and 15th centuries and features scenes from the life of Christ and a gospel of the miracles of Mary. Smith College student Amanda Bolin, who studied the manuscript and curated a digital exhibit on it when she took part in the 2016 ICP Internship Program at Hampshire, writes that the range of the manuscript's dates "allows for a unique examination of the changing cultural and artistic interests of Ethiopia during these periods."
McCarthy funded Bolin's original research, which was inspired by firsthand engagement with this significant work of art. ICP's Professor Karen Koehler and Kress Curatorial Fellow Jocelyn Edens thought the resulting work was important to impart to the Five College community and to tie into what's already in the Five College museums and special collections. (See research on Amanda Bolin's ICP Page.)
Hampshire's Assistant Professor of African Studies Rachel Ama Asaa Engmann sees the manuscript as operating in dialogue with a variety of other Five College objects and documents that reflect written and graphic traditions throughout the continent, which her students examined in her course "Inscribing Knowledge: Writing and Graphic Writing Systems in Africa."
"We want to explore ways to incorporate this rare, beautiful artifact into curricula, and use it to expand the ways people talk about such things as medievalism, writing systems in Africa, and the book arts," says Amy Halliday, director of the Hampshire College Art Gallery. "And we wanted to set it in the context of the Five Colleges with faculty and museum professionals who bring different expertise to the table."
Jennifer King, director of the Harold F. Johnson Library, and Arts Librarian Rachel Beckwith have supported the project by purchasing contemporary African artists books that engage textual traditions. Beginning on Friday, these will be part of a special exhibit in the collections cases opposite the library's circulation desk.
The keynote panel, open to the public, will take place Friday, November 11, from 5 to 6:30 p.m. in the Taylor Meeting Room of the R.W. Kern Center. Keynote speakers are Rutgers University Assistant Professor of History Habtamu Tegegne and George Fox Evangelical Seminary Professor of Old Testament Steve Delamarter, in discussion with Professor Rachel Ama Asaa Engmann, who has returned from her yearlong archaeological project in Ghana specifically for these events.
The faculty seminar will be held on Saturday, November 12, from 9 a.m. to 4 p.m., with manuscript-viewing sessions in the Bradford Room for special collections in the Harold F. Johnson Library and technology-rich engagements in Kern classroom 108.
Faculty from throughout the Five College consortium will learn about and discuss ways of tying the manuscript into research and teaching in fields such as economics, anthropology, classics, book arts, religion, and history and the Five College museums and special collections.
ABOUT THE KEYNOTE SPEAKERS
Professor Engmann is an archaeologist with a background in anthropology and museum anthropology.
Professor Tegegne's teaching interests lie in African history, Middle Eastern history, and global history. His research centers on a critical understanding of the broader historical development of the Ethiopian state.
Professor Delamarter's recent research has been on the digitization and cataloging of more than 600 Ethiopic manuscripts that have found their way to North America.
1