Campus Events January - March 2018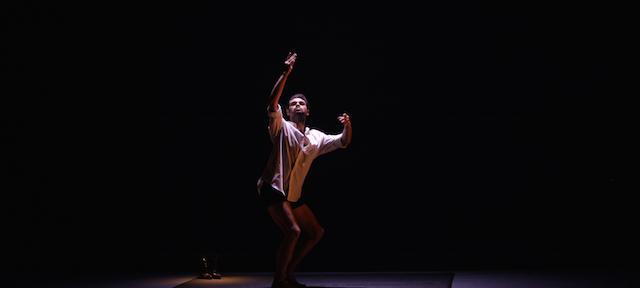 Hampshire College kicks off its spring 2018 semester with a variety of on-campus events open to the public. Among the highlights are dance, music, lectures, art, a behind-the-scenes presentation from Pixar animation, the student-run Deaf Studies Conference, and the touring Telluride Film Festival.
(If you would like your event to be featured here, please email communications@hampshire.edu)
The Art and Science of Bringing Pixar's Imagined Worlds to Life: A Lecture by Danielle Feinberg
January 31, 7 p.m., Franklin Patterson Hall, Main Lecture Hall
Danielle Feinberg, Pixar's director of photography for lighting, discusses her studio's use of math, science, and code to bring wonder to the big screen in Pixar feature films.
Hampshire College Winter Dance Concert
February 1–3, 8 p.m., Music and Dance Building Main Studio Theater
This concert, choreographed by Hampshire students and performed by students from across the Five Colleges, engages with diverse and complex subjects that are profoundly human and pressingly timely — belonging, confrontation, the comfort of friends, loss, love. Each dance offers its unique embodied insight, urgent, celebratory, soothing, or haunting. What results is a powerful night of dance that journeys through varied landscapes of playfulness, vulnerability, and the courage to break out of silence. Reservations are recommended; call 413.559.5889 or email HampDanceReservations@gmail.com.
NDC Improv Presents: Spring Jam 2.0
February 2, 9 p.m., Franklin Patterson Hall, West Lecture Hall
Hampshire's oldest improv troupe presents absurdist comedic theater and an alternative theater-going experience, tearing down the fourth wall to encourage audience influence and interaction. Note: This is not affiliated with Hampshire's annual Spring Jam.
The Reciprocal Biomimicry Initiative and The Plasmodium Consortium
February 5–March 9, Hampshire College Art Gallery
These two exhibitions bring together art, science, and philosophy to explore whether our visiting nonhuman (plasmodial slime mold) scholars might help us address big human questions (The Plasmodium Consortium) and how we can use human ingenuity and technologies to help other species become more adaptable in an era of climate change (The Reciprocal Biomimicry Initiative). Gallery hours :Monday–Friday, 10:30 a.m.–4:30 p.m., Sunday, 2–5 p.m.
Presentation: Tim Eriksen on Shape-Note Singing
February 8, 2 p.m., Music and Dance Building, Music Recital Hall
Acclaimed musician Tim Eriksen will demonstrate shape-note singing and then, with members of the Northampton Shape Note Community, give a shape-note-singing lesson. No experience needed; everyone is welcome. Eriksen is acclaimed for transforming American tradition with his startling interpretations of old ballads, love songs, shape-note gospel, and dance tunes from New England and southern Appalachia, and has been a central and vital force in the revival of shape-note singing in New England.
Lecture: "The Limits of Whiteness," by sociologist Neda Maghbouleh
Feb. 23, 1:30 p.m., Franklin Patterson Hall, West Lecture Hall
In this talk, based on her book The Limits of Whiteness (2017, Stanford University Press), sociologist Neda Maghbouleh examines the curious, under-theorized story of how Iranian Americans move across a white/not-white color line. By contextualizing ethnographic data with neglected legal and archival evidence, she offers new sight-lines into how a "white" American immigrant group can become "brown" and what such a transformation says about race in North America today. Sponsored by Culture, Brain and Development, Ethics and the Common Good, Community Partnerships for Social Change, and the School of Cognitive Science. For more information, email Professor Daniel Altshuler
Boundaries Between Bodies: Public Presentation and Film Screening
February 23, 4 p.m., Franklin Patterson Hall, Main Lecture Hall
Dancer Reggie Daniels and choreographer Amie Dowling present and discuss the dance films Well Contested Sites (2013) and Separate Sentence (2016), exploring the systemic underpinnings — and effects — of mass incarceration as well as the incarcerated body as a contested site. As part of a multiday residency at Hampshire, they'll ask how inside and outside artists, working in an inhumane system, can develop a creative process that supports humanity, and talk about how transmission occurs when stage and audience are separated by a system of mass incarceration that disappears certain bodies.
Telluride Mountain Film Festival on Tour             
February 24, 6:30 p.m., Franklin Patterson Hall, Main Lecture Hall
Mountainfilm showcases nonfiction stories about environmental, cultural, climate, political, and social-justice issues. Along with exceptional documentaries, the festival goes beyond the medium by bringing together world-class athletes, change makers, and visionary artists for a multidimensional celebration of indomitable spirit. Mountainfilm, which incorporates interactive talks, free community events, a gallery walk, outdoor programming, and presentations, aims to inspire audiences to action on worthy causes.
Presented by Hampshire's Outdoor Programs, Recreation, and Athletics Program
Hampshire Theatre Program Presents: Choose Your Own
February 27–March 4, Emily Dickinson Hall, Main Stage
Written by students Nat Gilsdorf and Al Simard, this devised, improvised, scenario-based show is different every night. Audience members participate in the production, guiding the story and the actors for a unique experience. For ticket reservations, e-mail hctboxoffice@gmail.com.
Five College Dance Department Faculty Concert
February 28–March 3, 8 p.m., Music and Dance Building, Main Studio Theater  
This event will feature works by Five College Dance Department faculty from each of the five campuses, performed by faculty, guest artists and students. Dance Professor Deborah Goffe is the artistic director, along with Rodger Blum (chair of the Five College Dance Department and a member of the Smith College faculty).
Concert: Fiddler Bruce Molsky and Banjo Player Allison de Groot
March 1, 7:30 p.m., Music and Dance Building, Music Recital Hall
Grammy-nominated fiddler, banjo player, and guitarist Bruce Molsky is touring with a brand-new band. His previous collaborations, with Anonymous 4, 1865 – Songs of Hope and Home from the American Civil War, was released to rave reviews and was on the top 10 Billboard charts for weeks. He's also a special guest on legendary guitarist Mark Knopfler's latest album, Tracker, and is working on his third album with Andy Irvine and Donal Lunny's supergroup Mozaik. Bruce is also Berklee College of Music's Visiting Scholar in the American Roots Program.
Allison de Groot combines wide-ranging virtuosity and passion for old-time music. With her own bands, The Goodbye Girls and Oh My Darling, she has played Trafalgar Square in London and numerous folk festivals worldwide. Allison loves collaborating and bringing new ideas to old music, and brings a fresh approach to the trio.
The Plasmodium Symposium and Exhibition Reception
March 2, 1:30; closing reception at 5:30 in the Hampshire College Art Gallery
Join us for a meeting of minds, both human and non-, as we discuss the state of art/science collaborations, how big interdisciplinary projects and out-of-the-box thinking offer exciting opportunities for collaboration and experiential learning, and what we can learn from our visiting plasmodial slime mold scholars. Featuring students, staff, and faculty from across the college, as well as guest artist Jonathon Keats and Julia Buntaine, Hampshire alum, artist, and founder of the SciArt Center.
9th Annual Five College Queer Gender & Sexuality Conference
March 2 and 3, Franklin Patterson Hall
The Five College Queer Gender and Sexuality Conference provides a supportive environment in which to explore a wide range of topics, such as race, genders, sexualities, ability, class, kink, religion, and survival strategies, in a specifically queer context. Presenters will be Five College students, faculty, and staff; off-campus educators; and nationally known performers, activists, speakers, and scholars. The conference is meant to be a safe space for engaging, learning, and fostering community.
More information is available here.
Tashmoo Lecture Series Welcomes Director/ Screenwriter Andrea Pallaoro and Screenwriter Orlando Tirado
March 22, 7 p.m., Jerome Liebling Center, Room 120
Film director/ screenwriter Andrea Pallaoro and screenwriter Orlando Tirado, both Hampshire alums, will screen their film Hannah. At the 74th Venice International Film Festival, Charlotte Rampling, who plays the leading role, was awarded the Volpi Cup for Best Actress. Hannah was also nominated for the Golden Lion, the festival's top prize. The film is an intimate portrait of loss and grief; Rampling plays a woman left alone to face the consequences of her husband's imprisonment.
Pallaoro won Best Director at the Marrakech Film Festival for his first feature-length film, Medeas, which he also wrote in collaboration with Tirado. The film won the New Voices/New Visions Award at the 2013 Palm Springs International Film Festival.
For more information, contact Baba Hillman.
Deaf Studies Conference
March 24, 25, Franklin Patterson Hall                                                   
The goal of this event, hosted by Hampshire's American Sign Language (ASL) Collective, is to provide a space for all individuals to discover and explore the multifaceted experiences of Deaf lives and to remove barriers between hearing and Deaf communities. Among subjects of workshops and presentations will be Deaf folklore, education, Deafness in the media, poetry, art, and queer identity. The conference is free to all, but registration is required.
1