Center for Design 20th Anniv Sets the Theme of Div IV Weekend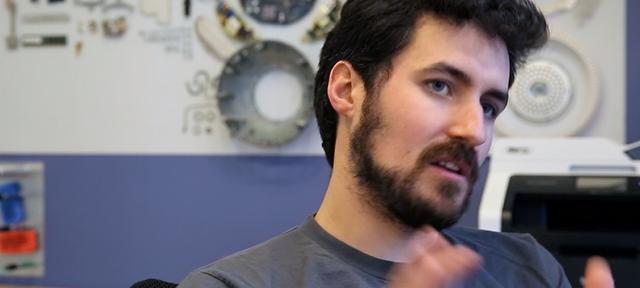 Hampshire's Center for Design (formerly known as the Lemelson Center) is celebrating its 20th anniversary, and the College will mark the milestone by dedicating its annual Div IV alum weekend in June to the theme Build, Create, Design. The special weekend will include a Center for Design anniversary reception, maker-themed workshops featuring alums and faculty, the Makers showcase, an Art of the Book exhibit, plus events with President Lash and faculty and staff, and more. Click for full schedule and to register.
One of Saturday's highlights will be the panel "Alumni Ventures in the Maker Realm," which will feature 10 alums in maker professions including Center for Design Fabrication Shop Supervisor Glenn Armitage 81F P14 joined by many of his former students including Ben Einstein 05F.
Einstein's story is one that represents the impact the Center for Design has had on many alum careers. He first visited the Center for Design shop in the Lemelson building the summer before he transferred to Hampshire, when he took an impromptu tour with Armitage.
"Then when I arrived in September, I dropped my bags in my dorm and walked straight over to the shop and talked Glenn into giving me a work-study job," he says. "I went very quickly from sweeping the floors and organizing screws to building stuff and designing equipment in there all the time. It was the core reason I was so happy at Hampshire."
His interest in product design led him to work with Colin Twitchell 78F, senior faculty associate for design and innovation for social change at Hampshire. Twitchell's experience and advice influenced not only his career, says Einstein, but also his approach to working with entrepreneurs and designers. 
"When you build a product that's successful, you quickly have to deal with building a different kind of product — which is a business, a product of people," Einstein says. "Colin is very good at thinking through those elements."
Einstein is now a cofounder and the managing partner of Bolt, a venture-capital fund that addresses the unique needs of early-stage startups at the intersection of hardware and software. Bolt invests in companies and supports them with engineering consulting, access to cutting-edge prototyping shops in Boston and San Francisco, and help with manufacturing.
Over the past two years, Einstein has helped dozens of companies with the challenges of making a physical product. If the second-floor maker space in Bolt's two-story Boston headquarters bears some resemblance to Hampshire's Center for Design, that's for good reason: it's the sort of place Einstein feels at home in. His company is, he says, "technically" a venture-capital firm helping young entrepreneurs, but Bolt's approach is about much more than investing money.
"I'm a tinkerer, and now I help other people tinker," says Einstein. "I really like the element of working with someone who's never gone through this before. We spend a lot of time going through the product-development process and helping companies with manufacturing and hiring and all these other really tricky things you have to understand when you're building hardware."
Bolt invests $100,000 to $500,000 in each company it supports, but that's just a first step. Bolt can also provide daily support and access to prototyping equipment worth millions of dollars that would be unavailable to most beginners. From EverCharge's smart electric-vehicle charger for multi-tenant properties to DipJar's tip jar and donation box for credit cards, Einstein says helping turn these products from great ideas to profitable businesses is a constantly rewarding challenge.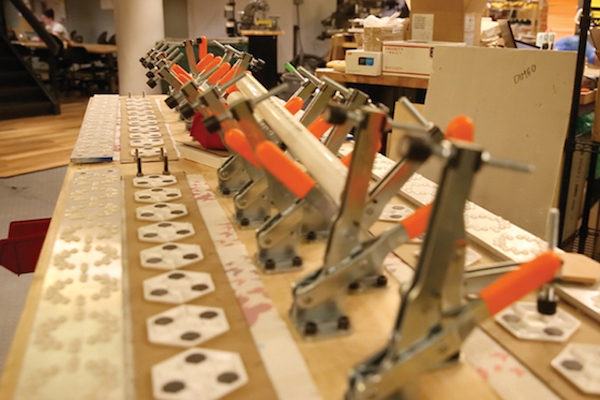 "The beauty of this model is getting to work with companies at a super-deep level," he says. "Getting to design ten to twelve products a year that are all raising millions of dollars and being sold around the world — that's pretty exciting."
From 2008 to 2013, Einstein ran Brainstream Design, in western Massachusetts. There he saw how hard it could be for smaller startups with little capital to compete against established firms.
One of Einstein's most intensive lessons in product design over the years took place in his fourth year at Hampshire with his Division III project, when he tried to find a better approach to the old-fashioned "reel" push lawnmower.
"The patent was a hundred and eight years old, and my assumption was there had to be a better way to do it now," he says. "It turns out that the design is really good. I spent a lot of time trying to figure out a better way to do it and made a couple of advances, but never formalized it into a product. Still, it was a great experience to go through, and in many ways paved the way for a lot of stuff I started to do after school, and for Bolt."
Joining Einstein and Armitage on the Div IV "Alumni Ventures in the Maker Realm" panel discussion are: Leo Gaev 96F; Christina Salway 00F; Katie Richardson 02F; Christina Mirando 05F; and representatives of Holyoke's Brick CoWorkshop, Kamil Peters 06F, Dan Battat 07F, Jake Horsey 07F, and Aaron Cantrell 07F
Div IV 2016 Weekend Highlights
At the annual Div IV weekend, alums return to campus to reconnect with friends and participate in Hampshire-style workshops, discussions, exhibits, and screenings. Weekend events kick off Friday evening and continue all day Saturday and through Sunday morning. Visit the event site for the full schedule and to register.
·       R.W. Kern Center tours
·       Design and Build: The Art of the Book exhibit opening
·       2015 Alumni Reel screenings
·       Reception with faculty and staff
·       Dinner with President Jonathan Lash
·       Hampshire Trivia at Prescott Tavern
·       Bookbinding Workshop with Colin Urbina 02F
·       Art and Technology panel of faculty and alums
·       Hampshire Makers Showcase
·       Center for Design open house
·       Celebrating 20 Years: Center for Design reception
·       Hampshire Fun Family BBQ
·       Ephemeral Stringband performance
1