Div III Profile: Will Meyer Examines the Future of Journalism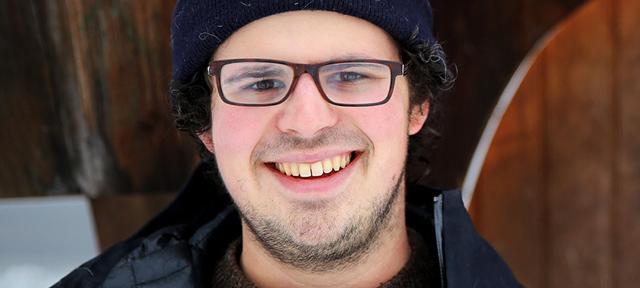 Will Meyer 10F may have graduated in January, but his Division III (senior) project is, to his eyes, still a work in progress. "I think I could go in and spend an additional semester on it. It's still in its fledgling infancy in terms of how much it could be."
Meyer's Div III, "Corporations Writing the News: How Journalism is Morphing into Storytelling," examines the role that corporate-sponsored media outlets have in American society.
Meyer says he came to Hampshire intending to study music, until he began taking Critical Science Inquiry (CSI) classes. "Getting to my Division III was a whole circuitous maze of twists and turns," he says. "I started studying Occupy Wall Street, education policy, and farming. It was all over the map, until the last semester of my Division II, when I took a media class, 'Media, Irony, and Cultural Politics' with Assistant Professor of Media Studies Viveca Greene
That class, and "wondering why things are the way they are" led Meyer to his Div III.  Meyer's project looks at two trends, brand journalism and native advertising. Brand journalism is a practice in which major corporations "hire journalists, create their own newsrooms, then go out and report these news stories that borrow the aesthetics, tone, feel, font, headline, and author byline from the newspaper," Meyer says. "They're hoping as an industry to become the dominant place where you, the consumer, will get news."
Native advertising is a similar practice, where a brand partners with a news organization to create "advertisements that masquerade as editorial content," Meyer says. "They're designed to blend and in and be engaging, and their ultimate goal is to be shared and clicked on, while going alongside the editorial content."
Meyer suggests that by allowing corporation's faux newsrooms to pen stories, we are warping what news is, thus allowing it to better inform our consumer choices at the expense of our societal ones. "Unless we acknowledge that news is a public good, it's only going become more commercialized, and more shallow and sensational," he says.
Meyer praises the Hampshire Writing Center as a source of help in his academic journey. "They did an incredible job helping me with my Div III. They kept pushing me forward, which I'm eternally grateful for," he says.  "Over the course of my Hampshire career, over the beginning and well into the middle, I struggled with writing. Now, I've come to a place where I don't dread it, I really enjoy it."
Division III Committee:
Professor of Communications James Miller
Associate Professor of Music Rebecca Miller
Smith College Professor of Music and American Studies Steve Waksman
1