Division III Profile: Jamila Umi Jackson Builds Community Through Dance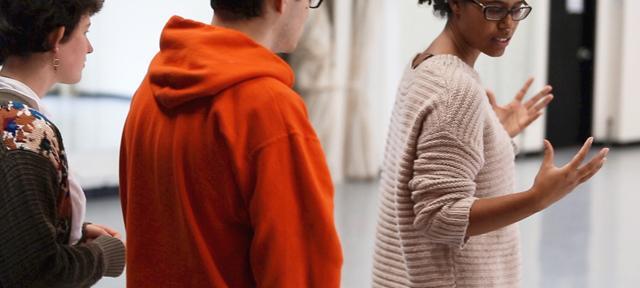 I grew up going to an after-school program called Destiny Arts Center, in Oakland, a violence-prevention center. It was so powerful, and brought kids together from all over the Bay Area. We would use dance, theater, martial arts, song, and poetry to create evening-length productions about social justice, social change, and personal issues. It was an emotionally safe place – we got to feel powerful using our voices, communicating to our communities, being on stage.
I started to love dance through hip hop and West African dance. I wanted to become a professional dancer, to spend my life courting the power of this fantastic spirit that moved me so deeply. But I was being told by the professional concert dance world that to be a dancer, I needed a background in ballet and modern dance. It was like being told I'm not good enough. That led me on this painful journey for quite a few years.
I went to a large university in Washington, D.C., to study dance but ended up having to drop out, left college for five years, and moved back to the Bay Area. I was working as a waitress and dancing in my free time, learning Contact Improvisation [a postmodern dance between partners involving physical contact and improvising movement and touch]. I was studying emotional and trauma release work, and exploring and researching the integration of dance and movement with emotional work.
In 2014 I traveled to Plainfield, Mass., for an intensive workshop in Contact Improvisation. There I met Rania Khalil, a Hampshire alum and now dear friend and sister to me, who told me about Hampshire and convinced me to consider attending. I got really excited because what I was interested in studying was so specific, I knew I wouldn't find it in one major in one school. I was told that at Hampshire, there were no majors, I could design my studies. I visited and felt, Here's a place interested in my process and in me, a place that will support me in following my passion.
So I started at Hampshire as a transfer student. For my first year and my Division II studies, I focused on developing skills for teaching, facilitating gatherings and workshops, and building community. I took a course with Professor Jodi Falk called Dance in the Community. Our class worked together to break down ideas about what dance is, who is allowed to dance, how we dance together, how we use dance to think and create new ways of building community. It affirmed the dance I had learned growing up.
I decided to concentrate on working with communities outside of Hampshire. I partnered with my friend Rikkia Pereira, and we started (So)ul Connected Youth Dance and Leadership Program, a group for high school students from Amherst and Northampton. We facilitated ongoing workshops with them, focusing on using movement to develop a sense of empowerment and the capacity for deep emotional connections.
We were supported by Theatre Professor Natalie Sowell and Beth Mattison, of Hampshire's Childhood, Youth, and Learning program. At Hampshire, students can work across schools and across disciplines— you're not restricted. Natalie's belief in my leadership shifted my sense of self. And Beth is a staff person, not faculty, and I was, and still am, able to turn to her as an adviser.
We proposed that we'd host a summer program for high school students, and Beth and Natalie agreed to help us build it. Then we founded a dance company to continue the work: we were creating a sustainable community. In one year, we led more than 200 hours of facilitation workshops.
After the summer, as I went into my final Division III year, I was continuing to lead (So)ul Connected and to study dance for building community, but I started looking more deeply into the subtle emotional interactions and relationships among people in groups.
For my Division III thesis, I did a lot of research in social neuroscience. I studied the most subtle body language and nonverbal communication, the workings of our breath, brain, nervous system, and heart, and how these shape our relationships in community. I received a grant from Hampshire's Culture, Brain, and Development Program along with a ton of guidance and support from the program's assistant director, Amy Dryansky, to interview practitioners who worked in the field of emotional intelligence. I went to California and interviewed mentors and teachers Toni Mandara, Kate Swan, Patricia Wipfler, and Amikaeyla Gaston. I interviewed and worked with Lori Halliday, of Horse and Heart Ranch, who works with horses and does equine experiential learning: that is, personal growth and development working with horses in nature.
To build community, we need to feel safe emotionally. If our body is feeling threatened, engaged in fight-or-flight mode, we're not going to have an easy time learning, thinking, or relating. We are so vulnerable. Our culture does not encourage or teach empathy or embodied emotional intelligence, so we're often feeling stressed.
But we can practice listening and embodied exercises that develop our capacity for empathy and care. This is what I try to invite others into experiencing through my work. Through my theoretical and experiential research, I found that within this safe place of communal intimacy, we find a profound resource of creativity and healing.
The faculty committee members for my Div III were Aracelis Girmay, Deb Goffe and Jodi Falk. They supported me in writing a thesis spanning story, poetry, and manifesto. I also produced a performance piece that I created – I hosted a community gathering and developed a dance composition and performance practice for building community.
It was an incredible experience. With the Hampshire model, the faculty and staff give all their energy and time to advise the student's vision. It was the biggest gift. Whoever heard of that? No professors were trying to make me do what they thought I should do — they were truly curious to learn what I wanted to do and to offer advice and mentorship. Over the course of my Div II and Div III, I had Natalie, Deborah, Aracelis, Jodi, and Beth. Goddesses. They listened my work out of me.
Just to be alive is to dance. To be present to the feelings, the grief, the joy, the power of our life force, to be able to move with that as it moves through the body — that is dancing. I didn't have to learn anything more to be a dancer; I already was one.
Editor's note: Since graduating in May, Jackson has remained in western Massachusetts, serving a fellowship with Hampshire's Dance Department and continuing to codirect the youth dance, leadership, and mentorship programs she co-developed. She is now heading up a new project at Hampshire called the Embodied Leadership Project, combining cutting-edge research in neurobiology, physiology, and anatomy with activities for community building and dance. The project engages community and builds participants' leadership skills through movement and dance workshops, community-building exercises, and mentor groups.
Housed in Hampshire's Dance Department, the Embodied Leadership Project works in partnership with a number of offices across campus: Childhood Youth and Learning; Ethics and the Common Good; Culture, Brain, and Development; Community Partnerships for Social Change; and Student Life. The project was launched thanks to Donor Funding for Community Building through the Arts and a SHIFT Foundation grant to the Ethics and the Common Good program. To learn about it, visit www.embodiedleadership.strikingly.com.
REFERENCE VIDEO (So)ul Connected https://youtu.be/P1tx6yfPfaY
GALLERY
1