First Learning Collaboratives Symposium Addresses Decolonization and Decarbonization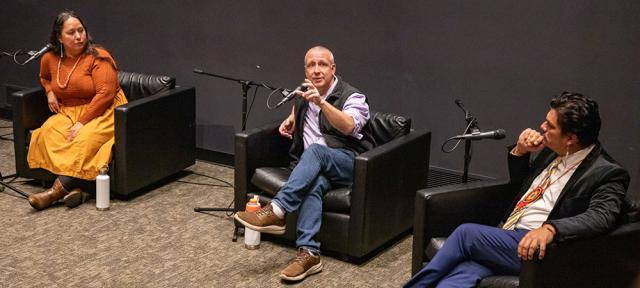 On October 25, Hampshire held its inaugural Learning Collaborative Symposium, "Decolonize & Decarbonize," a panel discussion and conversation at the intersection of (de)colonization and climate change with alums Rowen White 97F and Eric Toensmeier 90F, as well as former Common Good resident Jean-Luc Pierite.
The symposium took place in Franklin Patterson Hall's Main Lecture Hall in front of an enthusiastic crowd of students, staff, and faculty. The event was free and open to the public.
The Learning Collaboratives (LCs) are a component of a series of curricular initiatives begun in 2019 as a part of Hampshire's reinvigorated commitment to experimenting education. The LCs were created and have since been improved on by cross-constituency working groups of students, staff, and faculty. Each LC serves as an affinity group and space of transdisciplinary relationship building, giving participants opportunities to connect through various social and academic events, both formal and informal.
There are four themed LCs annually, each focusing on an "urgent challenge question" — a globally relevant and timely issue — addressed through a multitude of academic disciplines. Every semester, two LCs will team up to organize a symposium with a central theme addressing both of their urgent questions. This semester, Environments & Change collaborated with In/Justice to create "Decolonize & Decarbonize." The two questions highlighted at the symposium were How should we act on our responsibilities in the face of changing climate? and How do we disrupt and dismantle white supremacy?  
The symposium featured three scholars with impassioned expertise on the connection between colonialism and the climate crisis: Rowen White (Mohawk) 97F, seed keeper/farmer and Indigenous seed and food sovereignty activist; Eric Toensmeier 90F, author and educator on regenerative agriculture and carbon farming; and Jean-Luc Pierite (Tunica-Biloxi Tribe of Louisiana), Indigenous leader, activist, and designer. Each gave a short presentation, followed by a discussion facilitated by Professor of Environmental Education and Sustainability Andrew S. Yang.
"It's not too late to avoid catastrophic climate change, but in order to do so we must act without complacency, and that starts by imaging a future in which we succeed."Eric Toensmeire
White's presentation was a "love poem to decolonization," which she framed as "re-Indigenization." She told the Mohawk tale of food-bearing seeds growing from the body of one of the first humans to have descended from the sky to Turtle Island, explaining that it was "not just a metaphor," but rather that humans are linked in "reciprocal, co-evolutionary relationship" with food-bearing seeds.
White demonstrated the relationship between biodiversity — a necessary ingredient of life-sustaining ecosystems — and "cultures of care" in Indigenous communities, where, for example, ceremonial practices call for four types of corn to be utilized at four types of celebration. Fostering biodiversity is baked into ceremonial practice. In fact, 80 percent of the world's biodiversity is stewarded by Indigenous people, who make up only 4 percent of the global population.
Toensmeier asked us to think of the climate as an overflowing sink: first we have to turn off the tap (by stopping our use of fossil fuels), then we have to mop up the floor (carbon sequestering through trees and other methods). He explained that colonization often drives climate change, as in the case of current colonial expansion in Indonesia not only displacing humans but also industrializing the peatlands on which they live.
On the flip side, Indigenous sovereignty equals less deforestation and more trees planted. "And while the United States is a terrible example of this kind of change, globally, quite a lot is happening. Kenya is leading the world in this right now," Toensmeier said. "Over the last five years, an area about the size of Egypt" has been returned to Indigenous sovereignty across the world.
Toensmeier cautioned us against looking for "easy solutions" to climate change without decolonizing, which would in fact exacerbate colonial destruction. For example, carbon capture by burying carbon bricks in the earth would require huge swaths of land to become uninhabitable. "Whose land will be taken?" he asked. Carbon-mitigation funding can't be left in the hands of those imperial powers that started these problems, but must instead go to small Indigenous farmers who have the insight to make real change.
Pierite's presentation was titled "Indigenous Futurisms and Alternative Presents." He began by showing a picture of himself and North American Indian Center of Boston (he's president of its board of directors) members in 2021 with Boston Mayor Kim Janey as she officially replaced Columbus Day with Indigenous Peoples Day. A Brazilian media outlet posted the photo on social media, where it received 45,000 "likes" internationally. "And so it shows that what we do on a local level goes out and resonates," Pierite said, "with people all over the world who you might not realize are watching."
He said he's trying to "blur the lines between Indigenous thinking and Western thinking," as well as the past, present, and future. "We do not want to be historicized," said Pierite. "We want to be the living people who have knowledge systems that continue to be developed and must be invested in when we're talking about decarbonization and how we're going to save the world."
Opening the discussion, Professor Yang noted that whereas decolonization speaks to undoing past actions, all three panelists' presentations emphasized creating future good. Rowen White reinforced this idea: "What changes about the way you approach your work when you know your work will outlive you?"
The conversation from there touched on science fiction — primarily stories of catastrophe and apocalypse — and how we might tell more hopeful stories through Indigenous futurism. White reminded the audience that it's often easier to picture the end of the world than the end of capitalism. "Rather than escaping the planet," said Yang, "let's reinvest in it."
Panelists encouraged attendees to spend time in the natural world and in community to combat personal despair. "It's not too late to avoid catastrophic climate change," Toensmeier told the audience, "but in order to do so we must act without complacency, and that starts by imaging a future in which we succeed." Quoting from the film The NeverEnding Story, White added, "Those who have no hope are easy to control."