Hampshire Alum Robin Coste Lewis 86S's New Book Is an Exploration of Photography, Poetry, and Family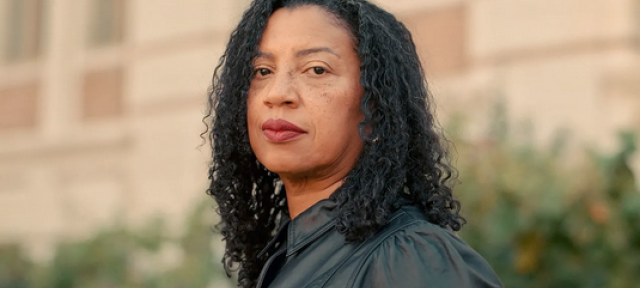 Born from the discovery of Lewis's grandmother's collection of family photos, the poet's latest collection, To the Realization of Perfect Helplessness, is a rumination on death, ancestry, and migration told through the mediums of poetry and photography.
Twenty-five years ago, following the death of her maternal grandmother, Dorothy Mary Coste Thomas Brooks, Lewis left the East Coast to return to California. There, in Los Angeles, beneath her grandmother's bed, Lewis discovered a suitcase packed with hundreds of photographs and, within them, lost narratives of her family's multilayered history.
Inspired by that discovery, Lewis's latest work, To the Realization of Perfect Helplessness, assembles 179 images from Brooks's collection—everything from sepia tintypes to technicolor Polaroids—and pairs each with poetry. In the book, Lewis says, she wanted to "marry her feelings about the omnipresence of Blackness to a kind of history of photography." Amid the portraits of her ancestors, she writes, "I am trying / to make the gods / happy. I am trying to make the dead / clap and shout."
Called "exquisite" by Publishers Weekly and "an extraordinary atlas for an unmapped world" by the Poetry Foundation, Lewis's latest collection has received wide acclaim. Read more about her genre-bending book in The New Yorker.
Poet, artist, and professor, Lewis is the recipient of the 2015 National Book Award for poetry for her collection Voyage of the Sable Venus. Most recently, Lewis was named an inaugural member of the MOMA Ford Foundation Scholar in Residence cohort. In addition to writing, Lewis regularly collaborates with visual artists, among them Glenn Ligon, Lorna Simpson, and Julie Mehretu. Her own text-and-image projects have been exhibited at the Huntington Museum, the Underground Museum, Hauser & Wirth, and Galerie Marian Goodman (Paris).
After graduating from Hampshire College, Lewis earned a master's in theology studies in Sanskrit from Harvard University's Divinity School; an MFA in poetry at NYU; and her doctorate from the University of Southern California, where she was a Provost's Fellow in poetry and visual studies.
Photograph by Erik Carter for The New Yorker
1