Hampshire College Alum Brings Laughter to Millions on Social Media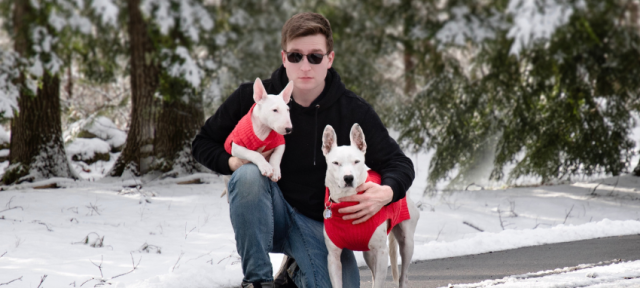 Dmitry Pepper 16F, known as @MisterMainer on TikTok, has captured the hearts of audiences worldwide on social media with his dog, Biscuit, and puppy, Joy.
Pepper shares a blend of videos, music, and canine charm with over 19 million followers across his social channels. In an interview with the College, Pepper shared insights into his time at Hampshire, his current work, and the challenges and joys of being an online personality.
What did you study at Hampshire?
I studied photography and music. I'm from Maine, and I focused my Div III project on the Maine lobster industry using photography and sound. My project features lobster fishermen from Camden, Maine, hauling traps, and is assembled in a slideshow format. I used sounds I recorded of harbors and lobstermen working to help viewers get a sense of what it's like being out on the sea in Maine. It was originally planned to be showcased in the library as a gallery and sound exhibit but, due to COVID, I pivoted and turned it into a slideshow video online.
While at Hampshire I also created a four-year project called Humans of Hampshire College. I interviewed over 100 students, faculty, and staff. I wanted to share the stories and portraits of people at Hampshire for the community to see. I even expanded my project to the Five Colleges where I also interviewed students and professors.
Were there particular faculty who inspired you?
Associate Professor of Video and Film Hope Tucker was one of my advisors. She is my biggest inspiration, as I felt she always gave me guidance and advice, and worked her hardest to lead me in the right direction. Associate Professor of Music Junko Oba was another one of my advisors and introduced me to ethnomusicology and expanded my knowledge of music and sounds. She helped guide me in my interest in music. Senior Faculty Associate in Film and Photography Kane Stewart helped guide me on my Div III project, and I credit him with shaping my photography work, as well. 
"Hampshire's courses and professors make you think critically about your work instead of thinking about how you can get a grade and pass."Dmitry Pepper 16F
What are you doing now?
I work as a full-time content creator on TikTok, YouTube, and Instagram. My work focuses on my rescue dog, Biscuit, and my new puppy, Joy. 
Social media content creation requires you to be self-driven, determined, and creative. I was able to figure out how to make my dog one of the most popular dogs on TikTok by looking at content creation critically and from different perspectives. 
I credit Hampshire for my success and where I am now. Hampshire's courses and professors make you think critically about your work instead of thinking about how you can get a grade and pass. Being able to explore what I wanted to study instead of taking required courses, as is the norm at other schools, helped me approach how I develop my content even to this day. I also credit Roger Sherman 73S of Florentine Films for all his guidance and support. I was an intern in 2020 and later became a production assistant helping Roger with his various film projects which included social media work, research, and support.
Through social media, I've worked with brands, such as YouTube, Spirit Halloween, Dunkin's, Petsmart, Paramount, and Warner Bros. Discovery. I've been featured on NEWS CENTER Maine, and had celebrity reactions on TikTok from Charlie Puth, Lizzo, Anitta, and Tai Verdes.
Can you tell us more about @mistermainer and what it's been like being in the spotlight?
Since 2021, I have been creating TikToks of my dog Biscuit. Now, I feature my puppy Joy, as well. In my videos, both dogs are seen talking, dancing, wearing wigs and outfits, and living lives unlike any other dogs.
I also post on YouTube Shorts (the short-form section of the American video-sharing website YouTube) where I have over a million subscribers. I had my first successful song, Doggy Spooky, featured as a sound in over 130,000 Shorts, and it received millions of video views. My dream since Hampshire was to have my music become popular. I plan to continue writing music focusing on my dog's life. 
There are downsides of course to being popular on social media. There is hate and less privacy. I have learned to ignore hate, but it is hard at times. My career is also unpredictable. For example, recently when Congress was considering restrictions on TikTok and social media in general. Algorithms change and my followers change, as well. The key to continuing my success and relevancy is to adapt to how internet themes and trends change. 
What advice would you give to a student?
Explore courses at Hampshire and don't be afraid to go to the Five Colleges. Don't give up, and be persistent.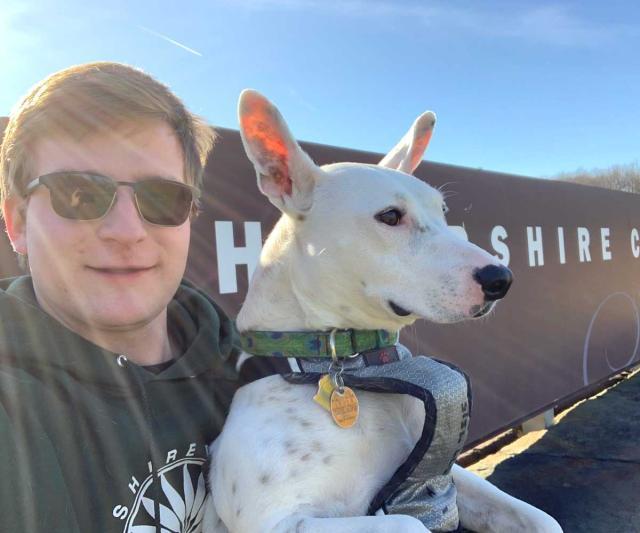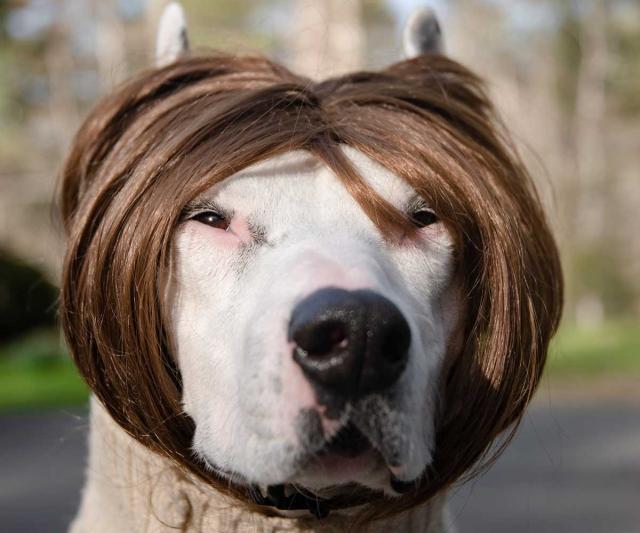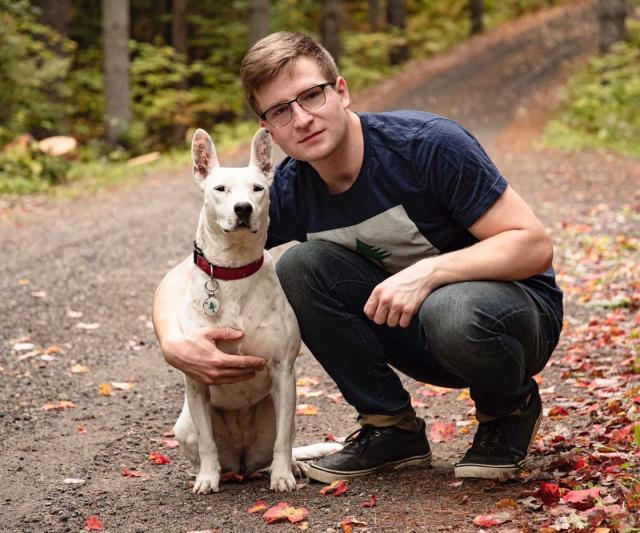 1