Hampshire College Events: January-March 2017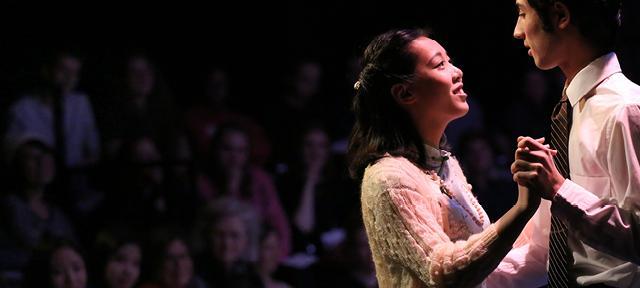 Hampshire College will host an array of events in spring term 2017, ranging from major exhibits, performances by our acclaimed theater department, the Annual Eric N. Schocket Memorial Lecture, the 2nd Annual Deaf Studies Conference,  and more. To submit a campus event for inclusion, please e-mail communications@hampshire.edu.
Made in America: Unfree Labor in the Age of Mass Incarceration, Hampshire College Art Gallery, January 23-March 3, 2017
The tensions between prisons exploiting incarcerated people for labor, and incarcerated people reclaiming their labor to create art and literature, drive the exhibit Made in America: Unfree Labor in the Age of Mass Incarceration, on display in the Hampshire College Art Gallery. Curated by Gallery Director Amy Halliday, Made in America features artworks by artists and activists, from inside and outside prisons. While prison labor profits state correctional services, private corporations, political interests, and consumers, these expressions by artists and activists offer powerful articulations of subjecthood and resistance in the face of a dehumanizing system. Full story here.

-this will change-, a play by Kayla Girdner: Studio Theatre,  Jan. 26-28
What would the transformation of personal truths look like if translated into a fairy tale? Using creative and metaphorical design elements in a series of vignettes and sculpted moments, Girdner visualizes the landscape of personal identity and its journey throughout a lifetime.
For ticket information, e-mail hctboxoffice@gmail.com.
NOK — Next of Kin, an exhibition by Inbal Abergil: Leo Model Gallery, Liebling Center, Jan. 27–March 1; reception and artist lecture Jan. 27 at 5:30 p.m.
Abergil examines the ways in which families memorialize relatives killed during military conflict. She traveled throughout the United States to meet with the families of fallen soldiers and military personnel to document how they cope with loss through the preservation of personal effects. Her ongoing interest in the representation of war has led her to look beyond large public monuments and to concentrate instead on personal altars and private displays of mementos. These small, private monuments exist in garages, basements, attics, and storage lockers. Families must decide which objects to keep and what to take with them or let go of when they move or as time passes. Through images and testimonials, Abergil's project honors the dead and at the same time gives voice to a community of survivors who keep memory alive as they strive to rebuild their lives in the aftermath of loss. http://www.inbalabergil.com/about/
2017 Winter Dance Concert: Main Dance Studio/Theatre, Feb. 2–4, 8 p.m.
In this varied concert, student choreography created in a Hampshire dance-composition course is presented alongside faculty and guest work. In each of the brief dances, student performers invite the audience to witness the result of a creative process that took place over the past several months. Choreographers incorporate text, sound, and video to create multimedia landscapes in which the dancers question self and the world.
Reservations are recommended; please call 413.559.5889 or e-mail HampDanceReservations@gmail.com. $10; $5 for students and seniors. The studio is handicapped accessible.
VIBE Presents: Family Planning, Birthing Hips, and Hot Dirt at the Roos-Rohde House Feb. 11 at 8 p.m.
Family Planning, hailing from Maine, makes pleasant folksy music with a strong experimental edge. Birthing Hips describe themselves as "noisey defective pop music for freaks."Hot Dirt, a local band from Western Mass, channels jazz and fusion influences into powerful, visceral rock music. The event, presented by the student-run VIBE group, is free and open to the public

VIBE Presents: Aye Nako, Fresh Tar, DUMP HIM at the Roos-Rohde House Feb. 12 at 8 p.m.
Aye Nako is a band from Brooklyn, NY, that writes sad punk songs about being queer, trans and black. Fresh Tar is the melancholy dream pop project of Matthew Meriwether, based in Ohio. DUMP HIM plays high energy queercore rock from western Mass. The event, presented by the student-run VIBE group, is free and open to the public
VIBE Presents: Jason Lescalleet, Hollow Deck at the Roos-Rohde House Feb. 23 at 8:00 p.m.
Jason Lescalleet is a master improviser and electroacoustic musician. He will be joined by Massachusetts noise folk duo Hollow Deck, Andy Allen and Mia Friedman's unique combination of acoustic instrumentation and cassette manipulation creates a nostalgic air of temporal disparity. The event, presented by the student-run VIBE group, is free and open to the public.
"Politics & Somatics: Race, Body, & Activism" A Book Signing and Panel Discussion with Martha Eddy 74S: Hampshire College Gallery, Feb. 16, 12:30–2:00 p.m.
Hampshire alum Martha Eddy will be joined by UMass Amherst Dance Professor Paul Dennis, Elms College Theater Professor Kent Alexander, and Cheryl Clark, Director of Education, Laban/Bartenieff Institute of Movement Studies, LIMS®, as they discuss the history and politics of race within the somatic arts. Eddy will also introduce her new book, Mindful Movement- the Evolution of the Somatic Arts and Conscious Action. Eddy's books will be available for purchase and signing. A light lunch will be served at the beginning of the event. 
Everybody Knows the Moon Is Blue, by Sofia Anastasia and Lisette Medina: Main Stage Theatre, Feb. 24–26 and March 2–4
In la isla del encanto, magic seeps up from the ground and into the veins of every living thing. Under a blue moon, roving bands of witches and femmes dedicate their lives to protecting one another at any cost, and flowering trees stand guard over all who take shelter under their lush canopies.
For ticket information, e-mail hctboxoffice@gmail.com.
Five College Choral Festival: John M. Greene Hall, Smith College, February 25 at 7:30 p.m.
The Hampshire College Chorus, directed by Elaine Ginsberg, will perform choral arrangements of songs from Bosnia and South Africa. The combined choruses from all of the Five Colleges will perform Ginsberg's arrangement of "Oseh Shalom" ("Make Peace") at the end of the concert.
The concert is free and open to the public.
"The History of Black Tennis: Art Carrington and the Hampshire College Connection": Hampshire College Library, Airport Lounge, Feb. 28, 5–6:30 p.m.
Art Carrington learned his skills in one of the first private black tennis clubs, mentored by educated black professionals dedicated to the promotion of tennis as a social sport. He was a frequent practice partner of Arthur Ashe and assisted him in numerous tennis events. The Carrington Tennis Academy, which has been in operation for more than 30 years, holds classes at the Bay Road Indoor Tennis Courts right here at Hampshire College.
Carrington will talk about some of the authors (and their books) who have inspired him along the way. There will be plenty of time for questions, and light snacks and beverages will be available.
Five College Queer Gender and Sexuality Conference: Franklin Patterson Hall, March 3 and 4
The Five College Queer Gender and Sexuality Conference provides a supportive environment in which to explore a wide range of topic, such as race, genders, sexualities, ability, class, kink, religion, and survival strategies, in a specifically queer context. Presenters will be Five College students, faculty, and staff; off-campus educators; and nationally known performers, activists, speakers, and scholars. The conference is meant to be a safe space for engaging, learning, and fostering community.
More information is available here.
Talk by NYC Latina Activist Iris Morales: Franklin Patterson, Main Lecture Hall, March 22, 7–9:30 p.m.
Educator, filmmaker, lawyer, and activist Iris Morales presents her award-winning documentary, ¡Palante, Siempre Palante!, as well as a talk and signing for her book, Through the Eyes of Rebel Women: The Young Lords, 1969–1976. Both works document the Young Lords Party, a multiethnic though primarily Puerto Rican and Latin@/Latinx liberation organization that sought to address the many socioeconomic needs of their working-class community, including the decolonization of Puerto Rico. (Morales will also present at Holyoke Community College, March 21; Smith College, March 23; and El Mercado restaurant in Holyoke, March 24.)
For more information, e-mail Professor Wilson Valentín-Escobar.
Deaf Studies Conference: Franklin Patterson Hall, March 25 and 26
The goal of this event, hosted by Hampshire's American Sign Language (ASL) Collective, to provide a space for all individuals to discover and explore the multifaceted experiences of Deaf lives and to remove barriers between hearing and Deaf communities. Among subjects of workshops and presentations will be Deaf folklore, education, Deafness in the media, poetry, art, and queer identity.
The conference is free to all, but registration is required.
Talk on Class Struggle in Black Studies – Tenth-Annual Eric N. Schocket Memorial Lecture on Class and Culture, with speaker Fred Moten: Franklin Patterson, Main Lecture Hall, March 30, 5 p.m.
This year's Eric N. Schocket speaker is Fred Moten, the author of In the Break: The Aesthetics of the Black Radical Tradition (University of Minnesota Press). In 2009 Moten was critic-in-residence at In Transit 09: Resistance of the Object, the Performing Arts Festival at the House of World Cultures, Berlin; and was also recognized as one of ten "New American Poets" by the Poetry Society of America. He has gone on to have a distinguished career as a poet, author, and educator.
For ten years, from 1996 until his tragic death from leukemia in September 2006, Professor Eric Schocket was an active and much-loved member of the Hampshire College community. A nationally prominent scholar of American literature (his first book, Vanishing Moments: Class and American Literature, was published in 2006), Professor Schocket wrote primarily on issues of class consciousness and social stratification in America, as seen through and changed by the powerful lens of literature. The annual Schocket Memorial Lecture on Class and Culture was established to honor his memory and to further the field to which he was so devoted.
1