Hampshire College Events: September and October 2017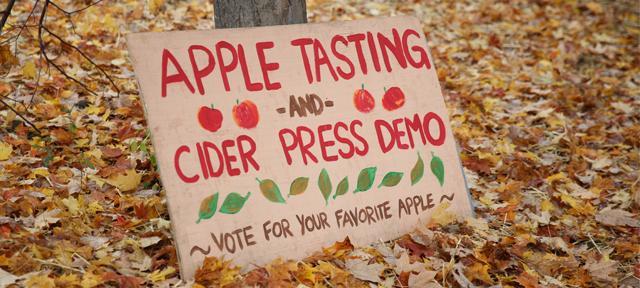 Autumn kicks off at Hampshire College with a flurry of events, ranging from film screenings, to innovative art exhibitions, to live drama from our renowned theater department.
Mexico at the Hour of Combat: Sabino Osuna's Photographs of the Mexican Revolution
Sept. 7–Dec. 1, Leo Model Gallery
This exhibition presents the Mexican Revolution from the perspective of the unheralded artist Sabino Osuna. Osuna, who lived in Mexico City, was a skilled portrait photographer who thoroughly documented the war, especially in its early years, from 1910 to 1914. He had unprecedented access to the protagonists on all sides as he captured the many moods of this dramatic period. A panel discussion and opening reception will be held October 17.
Of Soil and Tongues
June 1– Oct. 1, Hampshire College Art Gallery
Of Soil and Tongues arose from an invitation to participants to install poetry in three-dimensional space, considering the transmission of their work as a heard, performed, read, graphic, and embodied medium. Three artist-poets/collaboratives (and Hampshire alums) — Miatta Kawinzi, lê thi diem thúy, and Sahar Muradi + Laimah Osman — chart paths through language and place in multimedia installations developed especially for this exhibition.
Cuba Symposium
Thursday, September 21, at 5:30 p.m., Franklin Patterson Hall, Main Lecture Hall
Students from Hampshire's Cuba exchange program will present their independent projects from last semester, on topics such as video ethnography, visual and spatial communication, and Cuban architecture. Food will be provided.
Film Screening: Professor Abraham Ravett presents Holding Hands with Ilse
Sunday, September 24, at 3 p.m., Liebling Center, Room 131
Holding Hands with Ilse (2017; 93 min.), is Abraham Ravett's documentary about the search for the teenage German girl who took care of the filmmaker between 1948 and 1950 in Walbrzych, Poland, where he was born. Knowing only her first name and circulating a small photograph of the two taken in 1950, the director explores the urban landscapes of western Poland and the journey involved in the unexpected reunion that recently took place in Ibbenbüren, Germany. Filmed in the United States, Poland, and Germany.
 
Sketching a Disability Critique of Curiosity: Lunch Talk With Perry Zurn
Wednesday, October 4, at 12 p.m. in Adele Simmons Hall Lobby 

In this talk, disabled people are the subjects—not objects—of curiosity. Questions raised include: What methods and modalities of inquiry are discernible in disabled people's own practice of curiosity? The talk argues that the reinstatement of disabled people as subjects of curiosity must involve not simply reclaiming curiosity by and for the disabled community but re-envisioning curiosity within a disability critique.  This talk is part of the School of Cognitive Science Lunch Talk series and co-sponsored by Ethics & the Common Good, Queer Studies and Office of Multicultural Education and Inclusion.
Cognitive Science Lecture: "Tattooing's Vibrant History: Ancient to Contemporary" with Dr. Anna Felicity Friedman
Wednesday, October 11 at 5:30 p.m. in Franklin Patterson Hall, West Lecture Hall

Tattooing seems to have experienced unprecedented popularity in recent decades. However, when we look to the historical record, we find evidence of abundant and widespread tattooing in diverse cultures around the world. This lecture will offer a whirlwind tour through the history of tattooing from ancient times to the present day. Dr. Anna Felicity Friedman is an interdisciplinary scholar who writes and lectures widely about tattooing and other topics in visual culture.
 
Discussion: "Ethics and Compassion," with Lama Rod Owens 
Oct. 13, at 4 p.m., Prescott Tavern
Lama Rod Owens is a leading voice of the new generation of Dharma teachers. He is also the coauthor of Radical Dharma: Talking Race, Love, and Liberation, which brings resistance to supremacy, hierarchy, and oppression to the forefront of spiritual practices and communities. Lama Rod focuses on political, historical, and social dynamics inside and outside of Dharma communities.
 
Poetry Reading with Danez Smith 
October 17 at 3:30 p.m. in the Taylor Room, Kern Center.
Poet Danez Smith is the author of Don't Call Us Dead (2017), finalist for the National Book Award; [insert] Boy (2014), winner of the Lambda Literary Award and the Kate Tufts Discovery Award; and the chapbooks Black Movie (2015), winner of the Button Poetry Prize, and hands on ya knees (Penmanship Books, 2013). Smith is the recipient of fellowships from the McKnight Foundation, Cave Canem, Voices of Our Nation (VONA), and elsewhere. They are a founding member of the multigenre, multicultural Dark Noise Collective.
Natalie in Her Garden
October 17–22, Main Stage, Emily Dickinson Hall
Natalie in Her Garden, written by Hampshire student Olivia Dalmedo, is a magical-realist play about healing and finding community in the aftermath of trauma. Natalie, a woman who has just left an abusive relationship, finds herself trapped in an icebox. In it she meets three other mysterious women, and together they look for ways to escape while trying to protect another from the same fate.
Family and Friends Weekend
October 20–22, various locations
Hampshire hosts its annual Family and Friends Weekend, featuring a Farm Festival, art exhibitions, insightful presentations, and much, much more. For the full schedule and registration information, visit https://www.hampshire.edu/alumni/family-and-friends-weekend.
Film Screening: Seed: The Untold Story
October 30, 7 p.m., Franklin Patterson Hall, West Lecture Hall
Seed tells the story of the relatively unknown crisis in seed diversity, its implications for the planet, and what people around the world are doing to solve the problem. The screening will be followed by a discussion with Hampshire alum Rowen White, who is featured in the movie. The film, which was executive-produced by Marisa Tomei, also features such well-known figures as Jane Goodall, Vandana Shiva, Winona LaDuke, and Andrew Kimbrell.
1