Hampshire College Introduces Ten Summer Academic Programs in 2018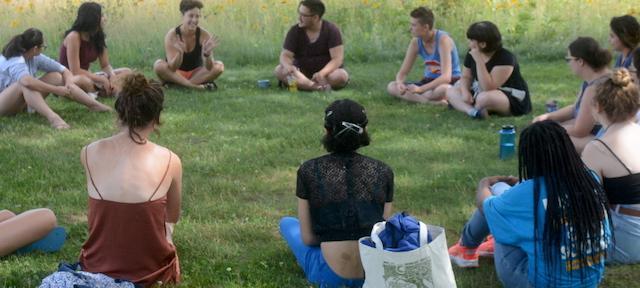 This summer, Hampshire College will introduce ten courses — four on the college level and six precollege — to its innovative Summer Academic Programs, which are now open for registration. They're joining six courses that will return by popular demand. Taught by Hampshire faculty, alums, and community members, the summer classes cover an array of topics.
The college programs run four weeks, June 4–29, and are open not only to college and graduate students but also to professionals; the precollege programs, for secondary school–age students, will run two weeks, July 16–27. Enrollees can choose to either live on campus or commute, although using campus accommodations is strongly encouraged.
"I'm thrilled to be connecting with even more faculty, alums, and partners to bring new summer programs to our students," says Director Meghan Cassidy. "Our college programs offer professional experiences as part of the courses so students leave with both theoretical and practical skills. The precollege courses give students a chance for college experience working with current faculty, staff, and alums."
Participants commonly use the intensive summer programs to round out their résumés or portfolios. Some students have attended the precollege summer programs as a step toward applying for full-time admission to Hampshire College.
COLLEGE PROGRAMS
American Sign Language I & II
Led by Dana Hoover, adjunct assistant professor of American Sign Language
This class appeals to anyone who would like to communicate with a Deaf family member, friend, coworker, or neighbor. Participants will learn basic vocabulary, grammar, and expressive practice to develop their everyday conversational skills in ASL.
#BlackLivesMatter: Race, Capitalism, and Youth Organizing
Led by Tammy Owens, assistant professor of diasporic youth cultures and ethnic studies, and Tara Bynum, assistant professor of African American literature and culture
The course will explore the ways in which people of color theorize the development of a political consciousness from #blackpower to #blacklivesmatter. Students will analyze personal narratives, oral histories, fiction, and plays that document early political trajectories of well-known figures, among them bell hooks, Michelle Cliff, and Janet Mock.
Institute for Leadership and Sustainable Social Change
Led by Fadia Hasan, Hampshire alum
The course focuses on developing ideas for environmental solutions to achieve impact and bring about sustainable social change. Students will investigate case studies of local and global environmental leadership and organizing initiatives. Participants work directly on developing individual ideas into projects, particularly through community partnerships.
Stop-Motion Animation Intensive
Led by Dillon Markey, Hampshire alum
In this film-production workshop, students will collaborate to create a stop-motion short film from scratch. The method is a simulation of a real-life animated production. Students, working as a team, will gain valuable production experience and, if successful, an IMDB credit on a short film that screens in festivals.
These four programs will be held alongside three popular, returning college programs.
·       The Institute for Linguistics, Image, and Text 
·       Screenwriting for Film and Video
·       TESOL Teacher Training Institute
PRECOLLEGE PROGRAMS
Making Music for Film, Games, Other Media
Led by Will Bangs, Hampshire alum
The course explores the art and business of making music for films, video games, and other media. Students will learn through selected readings, discussions, and conversations with filmmakers and composers working in the industry, with equal time for creating and producing in Hampshire's music-production facilities. Final projects will be original soundtracks composed for short films.
Immersion Spanish
Led by the International Language Institute (ILI)
Led by faculty from the ILI of Massachusetts, this course offers both beginning Spanish and elementary Spanish-plus. Both are experiential workshops that incorporate a strong cultural component in which students learn by doing and spend as much time as possible speaking the language.
Social-Media Literacy: Engaging in the Personal & Political
Led by Tashal Brown, Hampshire alum
Every day, millions of people produce and engage in dialogue through social-media platforms that influence how people create, critique, and circulate social and political messages. Students will analyze the use of social media as a tool to expose, evaluate, and challenge entrenched narratives about race, gender, class, sexual orientation, and religion. Most important, they'll deconstruct and reconstruct social-media texts and images in relation to their personal, social, and cultural contexts.
Design for a Better World
Led by Mary-Moore Cathcart, Hampshire alum
This program will immerse students in the world of design, merging historical and cultural backgrounds of the design fields with questions of social justice and ecological sustainability. Students will benefit from presentations from a range of design professionals and acquire hands-on experience in a working interior-design studio. This course is for students interested in interior design, architecture, social justice, social entrepreneurship, Fair Trade, and sustainable design.
The Science of Food
Led by Jason Tor, associate professor of microbiology in the School of Natural Science
This course will blur the line between kitchen and laboratory as we explore the chemistry and microbiology of good food and cooking. Students will get hands-on experience with a variety of techniques and approaches to cooking and fermentation while learning the scientific principles that make them possible. A broad range of topics will be explored, from the bacteria transforming milk into cheese to the chemistry of molecular gastronomy being used by the most innovative chefs.
Craft of Documentary
Led by Luke Meyer, filmmaker
This program will help students more deeply engage with nonfiction media and learn the creative and technical elements that go into making a documentary. Great attention will be paid to the benefits of each. The program will culminate with students taking an integral role in creating their own documentary short film.
These programs will run alongside three existing precollege programs.
·       Inside the Cell: Immersion into the Biology Laboratory 
·       Young Feminist Collaborative 
·       Blacksmithing, Jewelry Design, and Metal Fabrication 
For more information about Hampshire's Summer Academic Programs, please visit their website or email Meghan Cassidy. To apply to a course, visit the application website.
1