A Hampshire Education is More Challenging, Independent, Community-Based – National Survey Shows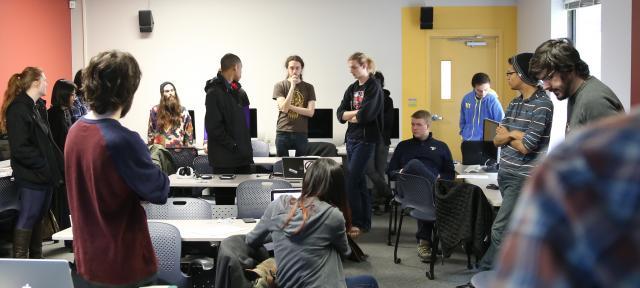 In a widely used national survey measuring the quality of a higher education, responses by students reveal a Hampshire education is more challenging, collaborative with faculty, independent, and connected to community service than an education from hundreds of comparison colleges. The annual National Survey of Student Engagement (NSSE) survey is administered to students at over 500 colleges nationwide each year to assess two critical features of the quality of a higher education: the amount of time and effort students put into their work; and how a college deploys its academic resources toward activities that matter to student learning, such as research with faculty, learning outside the classroom, and senior capstone projects.
The responses from Hampshire students were compared side by side with responses from students from 150 of Hampshire's closest peer institutions, among them American University, Bard College, Boston University, Emerson College, Ithaca College, The New School, Pitzer College, and Skidmore College (see full list in the appendix below).
Associate Director of Admissions Lizzy Dorrell analyzed and summarized the most significant findings. Next to student responses from comparison colleges:
Hampshire students collaborated with faculty in twice as much research and project learning.
Every Hampshire student leads a culminating senior experience — authoring a thesis project is guaranteed at Hampshire; while slightly more than half of seniors at peer colleges participate in culminating experiences.
Statistically, significantly more Hampshire students said their studies incorporated a community- or service-based learning component.
Significantly more Hampshire fourth-year students said their studies challenged them to do their best work than did students at comparison colleges.
Where a Hampshire education diverged most from that of its peers is in community-based learning and connecting ideas to societal issues, suggesting that a key component of its education is using learning for the greater good.
INSIGHTS INTO A HAMPSHIRE EDUCATION
Among the survey's findings, Hampshire-student responses showed they participated significantly more than students at comparison colleges in
higher-order learning
reflective and integrative learning
combining ideas across courses
connecting courses to societal problems, and
exploring diverse perspectives.
Many of these findings do not come as a surprise; Hampshire's use of narrative evaluations instead of grades, its use of student self-evaluations, and its interdisciplinary concentrations in which students design their own majors —all lend themselves to cross-classroom thinking and deep reflection.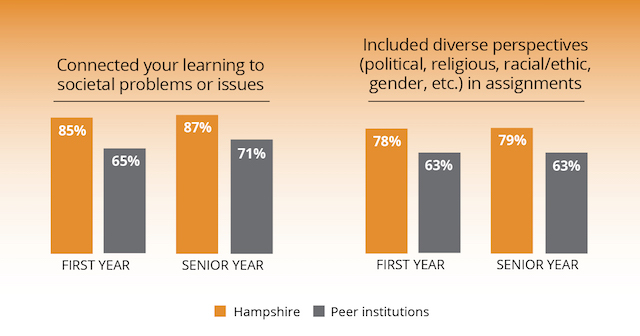 STUDENT–FACULTY INTERACTIONS
Statistically, Hampshire students' responses revealed they participate significantly more in interactions with faculty —for example, interacting with faculty members outside of classes, receiving detailed feedback, and spending time with advisers.
An example of this type of engagement at Hampshire is its science programs. The College empowers students to collaborate with faculty on research, take the lead, and submit to peer-reviewed conferences and journals. Twenty percent of students who complete Division III research at Hampshire are accepted to present at conferences, and five percent become lead authors of published journal articles, a rare feat for undergrads. (Learn more about Hampshire's academic model.) (See list of published student authors.)
A WRITING CULTURE
Hampshire students consistently completed more writing than did those at comparison colleges. Hampshire first-years estimated they completed an average of 83 pages of student writing, compared with 55 to 64 pages at the other schools. Hampshire seniors responded they completed an average of 124.5 pages of student writing, compared with 86 to 93 pages.
SKILLS-BUILDING
Hampshire students responded at a significantly higher rate statistically than did those at comparison schools that their college experience contributed to the following skills:
Writing clearly and effectively
Thinking critically and analytically
Developing or clarifying a personal code of values and ethics
Understanding people of other backgrounds
Solving complex real-world problems, and
Being an informed and active citizen.
EXTRACURRICULARS
Hampshire-student responses revealed they spent significantly more time attending events that address important social, economic, or political issues than did those at comparison colleges. Hampshire supports some 100 student organizations spanning academic, social, and athletic interests, and students can choose from hundreds of more clubs throughout the Five College Consortium.
ABOUT THE SURVEY
The NSSE survey was e-mailed to all of Hampshire's first-year and fourth-year students in spring 2016. Two hundred and thirty Hampshire students participated, consistent with the participation rate at other schools.
Used by hundreds of top national colleges, the survey measures student engagement in "high-impact practices," such as participation in:
A learning community in which groups of students take two or more classes together
Community-based learning, aka service learning
Research with a faculty member
Internship, co-op, field experience, student teaching, or clinical placement
Study abroad
A culminating senior experience: a capstone senior project or thesis, a comprehensive exam, a portfolio, for example
The survey has been administered for more than 15 years by the Center for Postsecondary Research at Indiana University's School of Education, in partnership with the Indiana University Center for Survey Research, which continuously tests it to ensure validity and reliability.
APPENDIX
Hampshire's Comparison Group 1
New England Private
Albertus Magnus College (New Haven)
Assumption College (Worcester, Mass.)
Bard College at Simon's Rock (Great Barrington, Mass.)
Bay Path University (Longmeadow, Mass.)
Bentley University (Waltham, Mass.)
Berklee College of Music (Boston)
Boston College (Chestnut Hill)
Boston University (Boston)
Bryant University (Smithfield, R.I.)
Champlain College (Burlington, Vt.)
Colby-Sawyer College (New London, N.H.)
College of Our Lady of the Elms (Chicopee, Mass.)
College of St. Joseph (Rutland, Vt.)
College of the Atlantic (Bar Harbor, Maine)
Connecticut College (New London)
Curry College (Milton, Mass.)
Dean College (Franklin, Mass.)
Eastern Nazarene College (Quincy, Mass.)
Emerson College (Boston)
Emmanuel College (Boston)
Franklin Pierce University (Rindge, N.H.)
Goodwin College (East Hartford, Conn.)
Gordon College (Wenham, Mass.)
Husson University (Bangor, Maine)
Johnson & Wales University (Providence)
Lasell College (Newton, Mass.)
Lesley University (Cambridge, Mass.)
Nichols College (Dudley, Mass.)
Norwich University (Northfield, Vt.)
Olin College of Engineering (Needham, Mass.)
Quinnipiac University (Hamden, Conn.)
Rivier University (Nashua, N.H.)
Sacred Heart University (Fairfield, Conn.)
Saint Anselm College (Manchester, N.H.)
*Saint Joseph's College (Standish, Maine)
Saint Michael's College (Colchester, Vt.)
Simmons College (Boston)
Southern Vermont College (Bennington)
Springfield College (Springfield, Mass.)
Suffolk University (Boston)
Thomas College (Waterville, Maine)
University of Bridgeport (Bridgeport, Conn.)
University of Hartford (West Hartford, Conn.)
University of New England (Biddeford, Maine)
University of New Haven (West Haven, Conn.)
University of Saint Joseph (West Hartford, Conn.)
Wentworth Institute of Technology (Boston)
Western New England University (Springfield, Mass.)
Wheaton College (Norton, Mass.)
Worcester Polytechnic Institute (Worcester, Mass.)
Hampshire's Comparison Group 2
Carnegie Class • Baccalaureate Colleges • Arts and Sciences Focus
Allegheny College (Meadville, Pa.)
Ave Maria University (Ave Maria, Fla.)
Bard College (Annandale-on-Hudson, N.Y.)
Bard College at Simon's Rock (Great Barrington, Mass.)
Bethany Lutheran College (Mankato, Minn.)
Bethune Cookman University (Daytona Beach, Fla.)
Birmingham-Southern College (Birmingham)
Bloomfield College (Bloomfield, N.J.)
Bridgewater College (Bridgewater, Va.)
Bryn Athyn College of the New Church (Bryn Athyn, Pa.)
Bryn Mawr College (Bryn Mawr, Pa.)
Carthage College (Kenosha, Wis.)
Centenary College of Louisiana (Shreveport)
Central College (Pella, Iowa)
Centre College (Danville, Ky.)
Cheyney University of Pennsylvania (Cheyney)
Claflin University (Orangeburg, S.C.)
College of Saint Benedict and Saint John's University (Saint Joseph, Minn.)
College of the Atlantic (Bar Harbor, Maine)
College of Wooster (Wooster, Ohio)
Colorado College (Colorado Springs)
Concordia College at Moorhead (Moorhead, Minn.)
Connecticut College (New London)
Cornell College (Mount Vernon, Iowa)
Covenant College (Lookout Mountain, Ga.)
DePauw University (Greencastle, Ind.)
Dickinson College (Carlisle, Pa.)
Dillard University (New Orleans)
Doane University (Crete, Neb.)
Earlham College (Richmond, Ind.)
Eckerd College (Saint Petersburg, Fla.)
Emmanuel College (Boston)
Emory and Henry College (Emory, Va.)
Fisk University (Nashville)
Fort Lewis College (Durango, Colo.)
Franklin and Marshall College (Lancaster, Pa.)
Franklin College (Franklin, Ind.)
Furman University (Greenville, S.C.)
Gordon College (Wenham, Mass.)
Grove City College (Grove City, Pa.)
Guilford College (Greensboro, N.C.)
Hanover College (Hanover, Ind.)
Hartwick College (Oneonta, N.Y.)
Harvey Mudd College (Claremont, Calif.)
Hendrix College (Conway, Ark.)
Hiram College (Hiram, Ohio)
Hobart and William Smith Colleges (Geneva, N.Y.)
Hope College (Holland, Mich.)
Illinois Wesleyan University (Bloomington)
Judson College (Marion, Ala.)
Kalamazoo College (Kalamazoo, Mich.)
Lafayette College (Easton, Pa.)
LaGrange College (LaGrange, Ga.)
Lawrence University (Appleton, Wis.)
Lewis & Clark College (Portland, Ore.)
Louisiana State University at Alexandria (Alexandria)
Lycoming College (Williamsport, Pa.)
Marymount Manhattan College (New York City)
Massachusetts College of Liberal Arts (North Adams)
McDaniel College (Westminster, Md.)
Millsaps College (Jackson, Miss.)
Monmouth College (Monmouth, Ill.)
Moravian College (Bethlehem, Pa.)
New College of Florida (Sarasota)
Northland College (Ashland, Wis.)
Oglethorpe University (Atlanta)
Ohio Wesleyan University (Delaware, Ohio)
Ouachita Baptist University (Arkadelphia, Ark.)
Pacific Union College (Angwin, Calif.)
Pitzer College (Claremont, Calif.)
Presbyterian College (Clinton, S.C.)
Randolph College (Lynchburg, Va.)
Ripon College (Ripon, Wis.)
Roanoke College (Salem, Va.)
Saint Anselm College (Manchester, N.H.)
Saint Mary's College (Notre Dame, Ind.)
Saint Michael's College (Colchester, Vt.)
Saint Vincent College (Latrobe, PA
Salem College (Winston-Salem, N.C.)
Scripps College (Claremont, Calif.)
Shepherd University (Shepherdstown, W.Va.)
Siena College (Loudonville, N.Y.)
Skidmore College (Saratoga Springs, N.Y.)
Southern Virginia University (Buena Vista)
Southwestern University (Georgetown, Texas)
Spelman College (Atlanta)
Spring Hill College (Mobile, Ala.)
St. John's College (Annapolis)
St. Mary's College of Maryland (Saint Mary's City, Md.)
St. Olaf College (Northfield, Minn.)
Thiel College (Greenville, Pa.)
Union College (Schenectady, N.Y.)
University of North Carolina at Asheville (Asheville)
University of Pikeville (Pikeville, Ky.)
University of Pittsburgh-Johnstown (Johnstown)
University of Richmond (Richmond, Va.)
University of Science and Arts of Oklahoma (Chickasha)
Ursinus College (Collegeville, Pa.)
Virginia Wesleyan College (Norfolk)
Wabash College (Crawfordsville, Ind.)
Wartburg College (Waverly, Iowa)
Washington & Jefferson College (Washington, Pa.)
Washington College (Chestertown, Md.)
Wesleyan College (Macon, Ga.)
Westminster College (Fulton, Mo.)
Wheaton College (Wheaton, Ill.)
*Wheaton College (Norton, Mass.)
Whittier College (Whittier, Calif.)
Willamette University (Salem, Ore.)

Hampshire's Comparison Group 3
Hampshire Peers
American University (Washington, D.C.)
Bard College (Annandale-on-Hudson, N.Y.)
Boston University (Boston)
Emerson College (Boston)
Ithaca College (Ithaca, N.Y.)
Lewis & Clark College (Portland, Ore.)
New School (New York City)
Pitzer College (Claremont, Calif.)
Skidmore College (Saratoga Springs, N.Y.)