Hampshire to Host 31st Annual CLPP Reproductive Justice Conference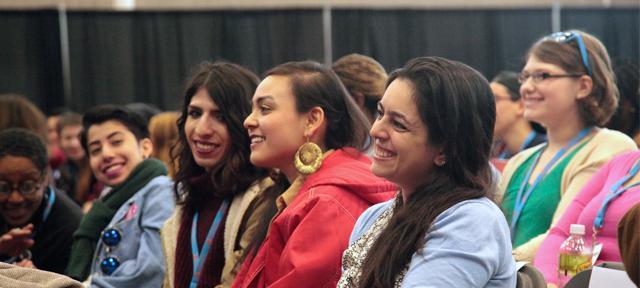 Hampshire alums and students will be among the presenters this weekend as more than 1,000 activists and community members gather for the Civil Liberties & Public Policy Program's (CLPP) 31st-annual conference, "From Abortion Rights to Social Justice: Building the Movement for Reproductive Freedom." At this year's conference, which takes place April 7–9 at Hampshire, attendees will gain the skills and the community necessary to organize in a political climate hostile to human rights. 
Among the scheduled speakers are Patrisse Khan-Cullors, one of the founders of #BlackLivesMatter, and Wendy Davis, former state senator known for her 13-hour filibuster (in pink tennis shoes) to try to stop the law that was overturned last June in Whole Women's Health.  Among the Hampshire alums who will present are Jamila Umi Jackson, Lucia Leandro Gimeno, Katie McKay Bryson, Mollie Hartford, Rachel Rybaczuk, tk tunchez, Sasha Alexander, and Lani Blechman.
In addition, two current Hampshire students are presenting - Emmett DuPont and Hannah Davidson. Davidson, a co-coordinator of CLPP's student organizing group, says, "The kind of movement building that happens at CLPP is vital to efforts in sustaining movements for resistance. It's a space where people can engage with the full potential of their activism and envision the fullest extent of where their work can take them."
This year's event features 80 workshops including:
How Do Families Resist?
Muslims and Reproductive Justice: Empowering Our Community Through Dismantling Stereotypes
#NoBanNoWallNoRaids: Arm Yourself with Information from the Frontlines
My Body, My Choices: The Trans/GNC Health Education You Didn't Get in School!
How We Win: Using Direct Action to Increase Access to Abortion and Advance Reproductive Justice
Lucy Trainor, CLPP's associate director, says, "With so many new activists entering organizing spaces, education and leadership development are even more urgently needed. The CLPP conference builds tangible activist skills and knowledge, fosters collaboration, and inspires and builds hope for people when they return to their communities. Now more than ever, we need to be building across movements. The CLPP conference is an incredible opportunity for that."
Student co-coordinator Nargis Aslami agrees: "The conference is a space for people to come together, learn, grow, and transform. It's a space to envision what a future without reproductive oppression would look like, and how we may get there. The campus is buzzing during the conference weekend, and it's created by the energy, passion, and motivation that we're all carrying with us. People leave the conference reenergized and ready to take on the world."
Combining activism and academics, CLPP's mission is to build leadership in the movement for reproductive justice. During its 35-year history, CLPP has trained more than 16,000 young activists. Almost three-quarters of CLPP alums remain lifelong advocates in reproductive rights and allied social-justice movements, often at the state, national, and international levels.
For a list of conference speakers and workshops or to reserve your space, visit clpp.hampshire.edu/conference. Please register by Monday, April 3; limited on-site registration is available. The three-day conference begins Friday, April 7. Friday workshops will run from 4 to 6 p.m. Breaking Silences: An Abortion Speak Out will take place on Friday, at 7:30 p.m. Workshops and plenaries continue on Saturday, April 8, from 9 a.m. to 6:45 p.m., and on Sunday, April 9, from 9 a.m. to noon.
1