Hampshire Values Inform Approach to Resistance for Alums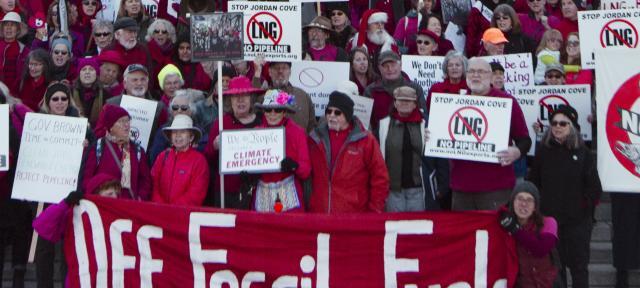 As every Hampshire alum knows, an unofficial part of our educational experience is the Div IV, which comprises the unexpected yet creative projects and journeys we pursue long after graduation. We leave the close-knit campus environment only to carry the College's values and pedagogy into the wider world.
In our case, we're two Hampshire alums who never knew each other on campus. Our first meeting took place across the country — in the governor's office in the Oregon state capitol building — yet we immediately recognized in each other signature imprints of the Hampshire spirit.

In our home state of Oregon, for more than 15 years a dangerous proposal has been threatening our communities: the Jordan Cove fracked gas pipeline and export terminal, proposed for construction by the Canadian company Pembina. If built, this project would compromise the drinking water for hundreds of thousands of Oregonians, destroy tribal territories and resources, and become the state's largest source of greenhouse-gas pollution. Despite this, Gov. Kate Brown had been neutral on the issue since she took office, in 2015.

In this time of climate crisis, the stakes are much too high and the timeline much too short for our elected officials, especially those who self-describe as "climate leaders," not to take a stand. So on a cold morning last November, we were part of a group of people from across the region — led by landowners and tribal members who would suffer a direct impact from the project — who began a historic and peaceful sit-in inside of Governor Brown's office, refusing to leave until she joined the hundreds of thousands of Oregonians who oppose this dangerous project.

Eight hours later, after our demands were still not met, we were among the 21 individuals arrested by the Oregon State Police. We spent the rest of the night in the Marion County Jail.

Although victory was not immediate, we believe that the action applied public pressure at a critical time. In December, the Marion County District Attorney decided not to press charges against us and the other protesters. In January, the Oregon Department of State Lands was set to decide on the removal-fill permit, one of the three state permits Pembina needs to begin construction. Amid speculation that the permit would be denied, the company withdrew its application. This is a major blow to the pipeline's efforts, but the fight is not yet over.

As we reflect on the events of that November action, we celebrate a small victory in an ongoing battle. Our individual journeys to this battle are unique, but Hampshire is our common headwater.

"After joining Hampshire's Climate Justice League, in my first week at the College, the path of my education — and the rest of my life — was set toward climate justice," O'Rourke says. "In Bruce Watson's 20th-Century Social Movements class, I learned of the immense power of nonviolent civil disobedience and its impact on our society. I found a home in the activist community throughout Massachusetts and the rest of New England, and was gifted with mentors and teachers who fought long before I was born to abolish nuclear power and weapons, fight for workers' rights, and protest wars and segregation. During my time at Hampshire, I worked on a campaign to stop a similar fracked gas pipeline, which was successful after three years of grassroots and legal pressure."

"In Sue Darlington's Socially Engaged Buddhism class, we studied contemporary Buddhist activists and movements," says Pyle. "I learned about monks in Thailand who offer monastic ordination to trees, a way of using Buddhist ritual and symbolism to protect the forests. In the Greenwich mods, I lived with Khenpo Kunga, a Tibetan lama who was sent to Hampshire as part of the Tenzin Gyatso Institute's cultural exchange program. Living in exile from his home country, he taught me important lessons about the power of compassion in the face of oppression and injustice."

We were amazed yet not surprised to discover our affinity as fellow alums. Our Hampshire values inform our resistance against the Jordan Cove pipeline. We look for interdisciplinary approaches to revolutionary change, and we understand that climate justice is inextricably tied to systems of power and oppression. We recognize that solutions to real-world problems come from unexpected places: Sometimes the best solution is a song, a ritual, or a sit-in. We have in common the belief that love must be at the forefront of any fight for justice.

It's a gift to be united by the values and circuitous circles of Hampshire College. We look forward to meeting new and old alums in unexpected places —see you at the next action?


To stay up-to-date with the battle against the proposed Jordan Cove pipeline, please follow No LNG Exports.

This essay reflects the opinions of the authors.
 
1