'Made In America' Views Prison Labor Through Contemporary Art Lens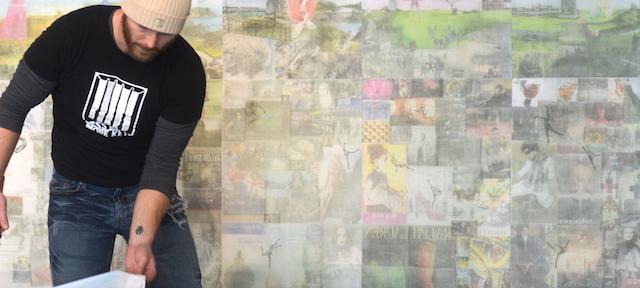 The tensions between prisons exploiting incarcerated people for labor, and incarcerated people reclaiming their labor to create art and literature, drive the exhibit Made in America: Unfree Labor in the Age of Mass Incarceration, now on display in the Hampshire College Art Gallery.
Made in America — which has its grand opening on Thursday, February 2, during Amherst Arts Night Plus and runs through March 10 — is inspired in part by the national traveling exhibit States of Incarceration, which arrives in the Pioneer Valley in March at several locations. Involving more than 500 people in 17 states and developed by the Humanities Action Lab at The New School in New York City, each of the 20 cities aims to explore local histories of and foster dialogue about mass incarceration.
Working with the UMass Amherst/Five College public history graduate program, Hampshire College Art Gallery Director Amy Halliday was invited to use the space to supplement the national exhibit and explore carceral issues from the viewpoint of contemporary art.
The largest piece in Made in America is a scaled-down reprisal of Jesse Krimes's Apokaluptein: 16389067, a monumental fabric collage created at Fairton Federal Prison, in New Jersey, between 2010 and 2013 during Krimes's 70-month sentence for a nonviolent drug offense. One of several pieces by Krimes, the work was made on prison-issued bedsheets – made by incarcerated people working for Unicor, the Federal Bureau of Prisons factory and industries arm. Krimes transferred images from the New York Times onto the sheets using commissary-bought hair gel and a plastic spoon, then drew his own images on top of the transfers to complete the work. He later smuggled out the sheets one by one.
"I'm still excited every time I show it," says Krimes, who was on site in Hampshire's gallery for exhibit prep. "I'm glad that it's able to reach to new audiences. After installing it and seeing it for the first time, I felt I'd made good use of my prison time; I made it through that experience."
On Friday, February 3, Krimes will meet with students, make studio visits, and lead a workshop, and at 5 p.m. he'll be part of a public talk in the gallery on prison and creative labor. To read more about the exhibit and its special events, visit http://sites.hampshire.edu/gallery/.
Another of the featured artists is Jared Owens, one of Krimes's friends at Fairton. Halliday contacted him a few weeks before the opening, and he created a piece specifically for the exhibit that continued the abstract approach he began while in prison, where he also gave new life to a long-neglected art program. His work, says Halliday, is a strong counter to the typical narrative of "naïve," self-taught figural styles that dominate discussions of "prison art."
The impetus for showing at Hampshire came when Halliday was researching women's incarceration in Massachusetts for the States of Incarceration exhibition and learned of the 1800s-era flag shop at the women's reformatory in Framingham (now Framingham MCI). Sewing flags, Halliday says, "was part of an attempt to give women activities for labor and leisure that would help reintegrate them according to prevailing conceptions of 'proper' gender norms." Halliday was surprised to discover that the flag shop still exists, under the operation of the Massachusetts Correctional Industries (MassCor).
"It's part of a huge industry, which suggests that many of the flags in our public spaces are probably made by incarcerated folks," she says.
MassCor's mission, according to its website, is to "instill a positive work ethic in inmates by providing training and skills through work opportunities and to ensure the highest level of customer service by providing a quality product at a competitive price." A lot of different political and economic interests and implications are at play, however, says Halliday, "beneath those seemingly benign words."
She adds the longstanding practice of unfree labor in American history led her to think about "the slippage between individual human lives and economic systems imbued in terms such as capital — economic capital, human capital, and political capital — and the different valences of labor and value as they apply to each.
"This exhibition," she says, "tries to weave them all together while allowing for a lot of different paths for visitors to explore these complicated issues."
Also part of Made in America are works of art and literature by Sheila Pinkel, Sarah Rice, Chelsea Hogue, incarcerated folks whose work is part of the digital archive of the Real Cost of Prisons Project, men incarcerated in the Franklin County Sheriff's Office, and a short dance film by filmmaker Austin Forbord, choreographer Amie Dowling, and a group of Bay Area performers, many of whom had been incarcerated.
Accompanying the exhibit is a selection of zines and reading resources collected with assistance from Hampshire Critical Social Inquiry Librarian Alana Kumbier.
"The zines are about thinking in ethical and fair ways of dealing with the incarcerated," Kumbier says. "We also worked with Library Research Alumni Fellow Lauren Garretson to pull together a collection of relevant books on imprisonment and labor. I think it's a great idea to have this place to reflect and learn context, and to gain ideas on how to extend your learning after you leave the exhibit."
PHOTO GALLERY
1