Majora Carter, Bill McKibben, and Jason McLennan to Headline Dedication Event for Environmentalism and Environmental Justice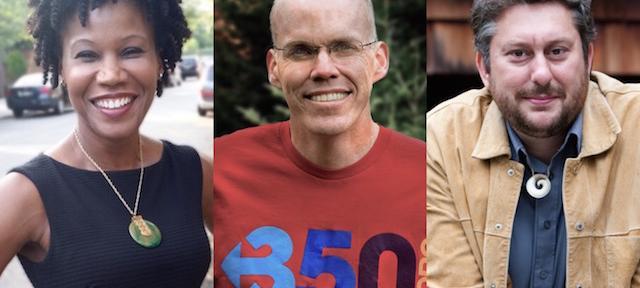 Global leaders in environmental justice and social entrepreneurship will headline Hampshire College's daylong green-building symposium this Friday, September 16, which kicks off at 9 a.m. with a keynote by MacArthur "genius" Fellow and urban revitalization strategist Majora Carter, recognized widely for achievements such as delivering the groundbreaking TEDTalk "Greening the Ghetto," one of the first six TEDTalks ever. Her Hampshire talk will take place in the Robert Crown Center.
Carter is an accomplished real-estate developer and Peabody Award–winning broadcaster. She founded Sustainable South Bronx and cofounded Green For All, whose mission it is to build an inclusive green economy "strong enough to lift people out of poverty." Carter has continually set standards of excellence with projects such as green infrastructure in her South Bronx community, while expanding her reach through philanthropic pursuits and business interests that have all pointed toward greater self-esteem and economic potential for low-income people.
The "What Buildings Should Do" event continues with a dedication ceremony for the R.W. Kern Center at 10:00 a.m. and will feature a number of special guest speakers, among them Hampshire alum Gary Hirshberg 72F — cofounder of Stonyfield Yogurt — who made the first major investment in Hampshire's sustainability initiative at the start of Jonathan Lash's presidency, through a major gift announced at his inauguration. Hirshberg built Stonyfield into the largest maker of organic yogurt in the country, led the growth of the organic-food market, which has shaped dairy and agricultural practices around the world, and has been a driving force in the "Just Label It" campaign to require food manufacturers to inform consumers when they use ingredients from genetically modified organisms.
Following the ceremony, at 10:30 a.m., is a keynote panel at which Majora Carter will join acclaimed environmentalist and writer Bill McKibben and one of the nation's pioneers in green-building, Jason McLennan, for a discussion of issues involving environmentalism, environmental justice, and equity.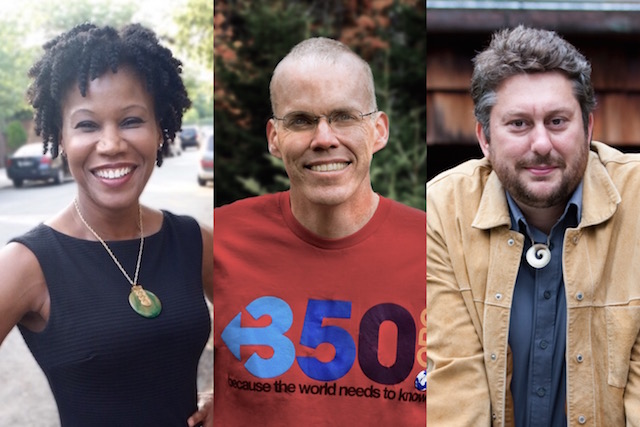 Bill McKibben's The End of Nature is regarded as the first book about climate change for a general audience, and the Boston Globe calls him "probably America's most important environmentalist." He has since authored more than a dozen other books. In 2014 McKibben earned the Right Livelihood Prize, sometimes called the "alternative Nobel." He is the founder of 350.org, the first planet-wide, grassroots climate-change movement.
Among his other honors: McKibben is the Schumann Distinguished Scholar in Environmental Studies at Middlebury College; a fellow of the American Academy of Arts and Sciences; and the 2013 winner of both the Gandhi Prize and the Thomas Merton Prize. The magazine Foreign Policy named him to its inaugural list of the world's 100 most important global thinkers.
Jason McLennan's accomplishments are equally impressive: He is the founder of the Living Building Challenge —considered by many to be the world's most progressive and stringent green-building program — and chair of the International Living Future Institute, a leading NGO that focuses on the transformation to a world that is socially just, culturally rich, and ecologically restorative. He is a recipient of the prestigious Buckminster Fuller Prize, and his work has had a pivotal impact on the shape and direction of green building in North America.
An Ashoka Fellow, McLennan is the author of five books: The Philosophy of Sustainable Design, The Dumb Architect's Guide to Glazing Selection, The Ecological Engineer, Zugunruhe, and Transformational Thought.
The panel of these three notables runs from 10:30 to 11:45 a.m. at the R.W. Kern Center Main Stage Tent. Five College Professor of Environmental Design Gabriel Arboleda will moderate.
During the daylong event, more than a thousand members of the Hampshire community and invited guests will not only hear these leading speakers, but also have the opportunity to workshop ideas to advance green building and sustainability for greater impact on environmental justice, education, and industry.
The symposium "What Buildings Should Do: Environmentalism and Environmental Justice, Ideas into Action" is intended for participants to explore the impact that structures can have — and should have —on health and well-being as seen from the viewpoints of, for example, sustainability, social justice, energy, water, place, and beauty. The symposium will run throughout the day and promises to be a tool for education and advocacy on behalf of environmentalism and environmental equality.
"This is how a socially conscious college like ours can raise awareness and inspire sustainable, equitable building practices in our region and around the world," Jonathan Lash wrote in an invitation to the Hampshire community.
All are encouraged to register here: https://www.hampshire.edu/news/2016/07/31/hampshire-to-dedicate-rw-kern-center-with-daylong-community-event
EVENT WEBSITE https://www.hampshire.edu/alumni/what-buildings-should-do
EVENT AGENDA Friday, September 16
9–9:45 a.m.: Majora Carter, renowned urban revitalization strategist, will talk about environmental justice (Robert Crown Center)
10–10:30 a.m.: Dedication Ceremony (Main Tent, next to the Kern Center)
10:30–11:45 a.m.: "Environmentalism and Environmental Justice" Discussion with Q&A (Main Tent)
• Bill McKibben, writer/activist
• Jason McLennan, creator of the Living Building Challenge
• Majora Carter, urban-revitalization strategist
• Gabriel Arboleda, moderator
11:45 a.m.–1 p.m.: Community Lunch (Dining Tent) and Student Poster Sessions (R.W. Kern Center)
(Note lunch for all will be served in Dining Tent as the Dining Commons will be closed.)
1:30–3 p.m.: Workshops, with main facilitator Naomi Darling and workshop leaders Chris Cianfrani, Tim Zimmerman, Sue Darlington, Dominique White, Beth Hooker, and others
• Impacting Industry, with architects, builders, suppliers, alums, faculty, students (Main Tent)
• Impacting Education, with students, faculty, other educators, alums (Dining Tent)
• Impacting Environmental Justice, cross-disciplinary (Robert Crown Center)
3:15–3:45: Workshop Report-Outs, Closing Words from Jonathan Lash (Main Tent)
3:45 on: Opportunities for participants to get together over coffee, cider, and donuts
1