Music Professor Junko Oba Uses Listening to Explore Musical Sensibilities and Sound Cultures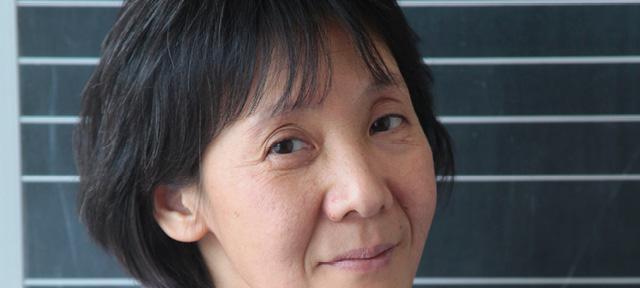 Professor Junko Oba was selected for an NEH-funded summer seminar around the political, social, and cultural impacts of radio and sound technologies on decolonization.
Associate Professor of Music Junko Oba was recently selected for a National Endowment for the Humanities (NEH)-funded summer seminar for higher education faculty working around the political, social, and cultural impacts of radio and sound technologies on decolonization. Earlier this year, Oba was also chosen for the first cohort of Hampshire's Ethics and the Common Good faculty fellows to support her work with Nikkey Brazilians (Brazilians of Japanese descent) expatriate communities in Japan. We sat down (virtually) with Oba to learn more about her research and how her musical identity as a listener informs her teaching and research practices. 
What are some of the classes you teach? Do you have a favorite?
I teach ethnomusicology and cultural studies courses, such as Listening to Japanese Sound Cultures, Encapsulating Sounds: An Introduction to Critical Organology, Introduction to 'Asia' through music and performing arts, and J-Pop and Beyond: Japanese Popular Culture in a Transnational Perspective. I also teach music theory courses such as Musical Explorations, and Sound Cultures: Unpacking Music and Musical Practices (co-taught with Professor Dan Warner), with unique experimental approaches.
All these courses aim to question, challenge, and dismantle a conventional framework of listening to, practicing, and thinking about "music" and sound cultures; they feed into each other and constantly evolve. The course Listening to Japanese Sound Cultures is one of my latest experiments inspired by the course I co-taught with Professor Warner. In that class, I put more emphasis on distinctive practices of listening and cultural sensibilities cultivated through those practices. I enjoyed teaching this course very much. The classes Encapsulating Sounds and Musical Explorations are two other favorite courses; both draw inspiration from worldbuilding as well as more "authentic" organology (the study of musical instruments), music theory, and ethnomusicological approaches.  
What do you most enjoy about teaching at Hampshire?
I like teaching at Hampshire because it allows me to build interactive relationships with students and see their growth and transformation in a longer span of time. Also, at Hampshire, I am constantly inspired by our students' work. My colleagues are incredible, and our students are equally amazing sources of inspiration for me.
Have you held any other professions before or during your time at Hampshire? And if so, have they informed your work at Hampshire?
I am a musician, so I've had all sorts of odd jobs from performing on a street to composing 30-second jingles to writing arrangements for bands and choruses. All these were really valuable "real world" experiences. Aside from them, I trained and worked as a sound recording archivist at Wesleyan University's World Music Archives for seven years. Those seven years were critical to the formation of my professional musical identity as a listener rather than creator or performer, which is a foundation of all that I do at Hampshire and beyond. Back home in Japan, I was an ESL teacher before coming to the U.S. for my graduate study. Interestingly, this background as well as my ongoing teaching has taught me a lot more about performance than my musical career has.   
What types of research are you currently working on?
My primary research concerns itself with the identity politics of Nikkey Brazilians in displacement. I began working on this topic and with Nikkey Brazilian communities in Shizuoka and Gunma, Japan, the two large concentrations of the population outside of Brazil, during my dissertation fieldwork in the early 2000s.
These communities formed as a result of the massive influx of "return migrants" in the 1990s. My ethnomusicological research focuses on a unique migration trajectory of Nikkey Brazilians, who immigrated from Japan to Brazil in the first half of the 20th century, established their esteem as a "model minority" in Brazil, and recently return-migrated to their ancestral home of Japan as dekassegui (literally, go out and earn) laborers, and how their constant displacement shaped their identity and identity narrative.
My most recent article on the subject, "Reworking the Brasilidade Narrative: Dekassegui, Música Sertaneja, and the Performance of Identity in the Japanese Brazilian Expatriate Community" just came out in Scattered Musics (David Henderson and Martha Chew Sanchez, eds., University Press of Mississippi, 2021).
I have received an Ethics and the Common Good faculty grant to continue my research on the subject and turn the cumulative research outcome of the past two decades into a "book" manuscript, though I am exploring different publication formats for maximum accessibility by the diverse multilingual (Brazilian Portuguese, Japanese, and English) readership as part of this project.  
What advice would you give to prospective Hampshire students?
The Hampshire path is not always an easy one. Be prepared to become something you have never even thought about becoming, and be prepared for the slow process. You need resilience to face, accept, and go through the discomfort of that pending or undefined phase. At Hampshire, a big change begins inside of each of us.
1