Poet, Criminal Justice Reformer, Author Betts to Speak at Hampshire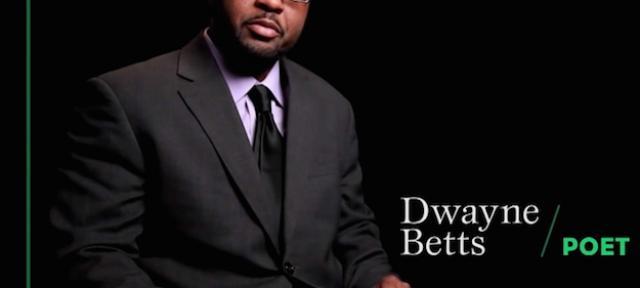 Reginald Dwayne Betts, poet, author, and advocate for the reform of the criminal justice system, is the featured speaker for this year's Andrew Salkey Memorial Reading, on Thursday, March 10, at 6 p.m. in the Airport Lounge, at the Harold F. Johnson Library, Hampshire College. The event is free and open to the public. After the reading, Betts will be available for a book signing. 
Reginald Dwayne Betts began his writing life at the age of sixteen, after pleading guilty to carjacking and being sentenced to nine years in prison. He imagined that words would bring hope and solace—qualities he could not find within the walls of a prison. This drive led first to poetry and later to memoir and essay. His first book, A Question of Freedom: A Memoir of Learning, Survival, and Coming of Age in Prison (Penguin 2009), recounted his time spent in prison—and was awarded an NAACP Image Award. His first collection of poems, Shahid Reads His Own Palm (Alice James Books 2010), won the Beatrice Hawley Award. His latest book of poetry, Bastards of the Reagan Era, published in October 2015, by Four Way Books, has been described by Harvard University professor Henry Louis Gates, as a "fierce, unstoppable book of poems." Mark Osler, Professor of Law at the University of St. Thomas, calls Betts "a great poet, and a witness to truths that have for too long been shrouded in media fables and easy politics." He has also been awarded two Pushcart Prizes and the Frederick Bock Prize from Poetry magazine, amongst other honors.  
Over the past decade, Betts has advocated for the reform of the criminal justice system. As the National Spokesperson for the Campaign for Youth Justice, he has worked on state and national legislative reform issues. In 2012, President Barack Obama appointed him to serve as a Practitioner Member of the Coordinating Council of the Office of Juvenile Justice and Delinquency Prevention. Since his release from prison, the Washington Post, USA Today, The New Yorker, The Huffington Post, CNN and NPR have all profiled Betts. He is a graduate of the MFA Program for Writers at Warren Wilson College, the University of Maryland, and Prince George's Community College. He is currently a second year law student at the Yale Law School.
As part of Hampshire's commitment to social and artistic engagement, the Salkey Memorial Reading is organized to commemorate the Caribbean writer, novelist, poet, journalist, editor, and beloved Hampshire College professor, Andrew Salkey. A writer of novels, poetry collections, and children's books, he worked diligently to create a platform for Caribbean voices and stories, and, more generally, to advocate for justice for immigrants and those oppressed by the regimes of the 60s, 70s, and 80s in the Americas and beyond. It is in keeping with Salkey's spirit and legacy that Reginald Dwayne Betts, as a similarly socially engaged writer, is this year's speaker.
The Salkey Memorial Reading is sponsored by the Creative Writing Program and The School for Interdisciplinary  Arts. For more information on the event, please contact Deb Gorlin (dgorlin@hampshire.edu), John Murillo (jmurillo@hampshire.edu), or Aracelis Girmay (agirmay@hampshire.edu).
Links:
NYTimes Reviews Bastards of the Reagan Era
VIDEO:  Telling the Untold Stories
VIDEO: Juvenile Justice Reform
1