Poet Ross Gay, Winner of National Book Critics Circle Award, To Present Reading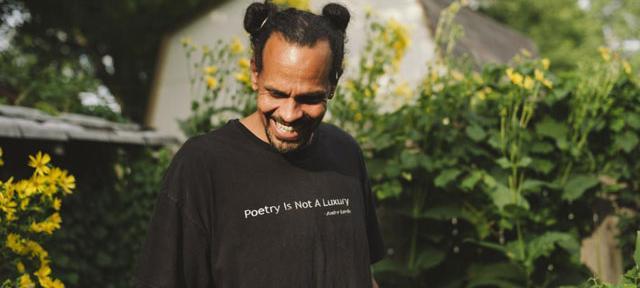 Award-winning poet, orchardist, and creative writing professor Ross Gay is the featured writer for this year's Andrew Salkey Memorial Reading. Gay's third and most recent collection, Catalog of Unabashed Gratitude, has placed him in the spotlight of the poetry world, having won the prestigious Kingsley Tufts and the National Book Critics Circle awards and been named a finalist for the National Book Award in Poetry and the NAACP Image Award. The reading will take place on on Wednesday, December 7, at 4 p.m, in the Taylor Room, at the R.W. Kern Center. It is free and open to the public. 
Gay is the author of two other books of poetry: Against Which; and Bringing the Shovel Down.
About Catalog of Unabashed Gratitude, Poet Aimee Nezhukumatahil writes: "Few contemporary poets risk singing such a singular compassion for the wounded world with this kind of inimitable musicality, intelligence and intoxicating joy."  In the words of NPR's Tess Taylor, his poems engage with "manure, mulberry-stained purple bird poop, dirty clothes, hangovers; but also the pleasure of bare feet, of pruning a peach tree, of feeding a neighbor."
He is currently an Assistant Professor of English and Associate Director of Creative Writing at Indiana University-Bloomington and also teaches in the Low-Residency MFA Program at Drew University. In addition to his poetry and teaching, he is a basketball coach, an occasional demolition man, and a painter. With fellow painter, Kim Thomas, he has co-created several artists' books, including The Cold Loop, The Halo, BRN2HNT, and The Bullet. He also serves as Curator and Advisory Board Member of Q Ave Press chapbooks.
In his resident Indiana community, Gay is a founder and an active board member of the Bloomington Community Orchard - a publicly owned, volunteer-run, free-fruit-for-all, organic orchard, where he serves as co-chair of the education team. In this capacity he teaches or co-teaches 10 classes a year on various aspects of orcharding, from pruning to propagation. With the support of his Guggenheim, he plans to explore new forms of writing and poetry, as well as interview African American farmers from across the nation for a nonfiction project about gardening.
The Andrew Salkey Memorial Reading Series commemorates the life and work of former Hampshire College professor Andrew Salkey, a poet, cultural critic, political essayist, novelist, children's book writer, co-founder of the Caribbean Artists' Movement, and lover of the natural world. The Series seeks to celebrate writers whose work across genres and whose vision inspire the Hampshire College Creative Writing Program and its students to explore their relations to the worlds they move in, their communities, and the power of art to change lives.
The reading is supported by the Creative Writing Program and The School for Interdisciplinary Arts at Hampshire College, among other funding sources. Contact John Murillo at jmurillo@hampshire.edu, or dgorlin@hampshire.edu for more information.
https://www.poetryfoundation.org/poems-and-poets/poets/detail/ross-gay
1