Professor Susana Loza on Why a Hampshire Education is a Dialogue, Not a Monologue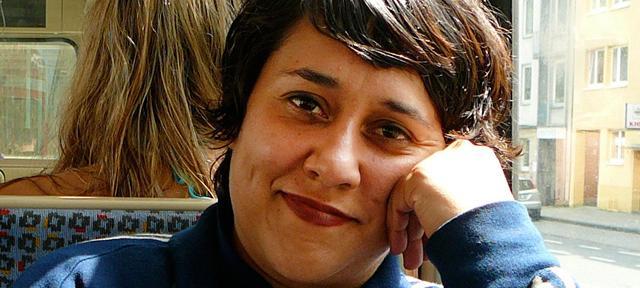 "I love how passionate, critical, and engaged our students are. They know that education is a dialogue, not a monologue. They come to class ready to collaborate and eager to learn from and with us."
Susana Loza is associate professor of critical race, gender, and media studies at Hampshire. Her research interests include the social construction of race and sex in speculative media; power, privilege, and cultural appropriation; gender and ethnic performativity in digital spaces; and the post-racial turn in popular culture; among others. We sat down [virtually] with Loza to learn more about what she loves about teaching at Hampshire and the variety of approaches her students take to consider the intersection of media, race, gender, and power.
What are some of the classes you teach? Do you have a favorite?
I love using popular culture to get students to understand the long histories and contemporary realities of racism, sexism, and ableism. I get to do all three in Alien/Freak/Monster: Race, Sex, and Disability in Science Fiction, Horror, & Fantasy, which is why it's one of my favorite classes to teach. You can literally see the scales falling from students' eyes as the semester proceeds.
What do you like best about teaching Hampshire students?
I love how passionate, critical, and engaged our students are. They know that education is a dialogue, not a monologue. They come to class ready to collaborate and eager to learn from and with us.
What does being a faculty member at Hampshire allow you to do that you couldn't do elsewhere?
I love that our curriculum is always evolving and shifting. I love that I get to teach subjects that help us understand the current historical moment like Hashtags, Memes, and Trolls: Politics in the Age of Social Media and The Post-Racial State: Media, Politics, Ideology.
Have you held any other professions before or during your time at Hampshire? And if so, have they informed your work at Hampshire?
Before I came to Hampshire, I was a DJ. It deeply informs my approach to writing and teaching. I believe the strongest narratives are collective and contingent and that we should always credit the sources that inspired us. This comes through most clearly in Sample! Remix! Mash!: The Cultural Logic of Fandom, a course I teach that is dedicated to the politics of appropriation.
How much emphasis do you place on advising students in addition to your teaching?
I dedicate as much energy to advising as I do to teaching. It is a magical space where we form deep and lasting relationships with our students. I am still in touch with students that I met my first semester at Hampshire in fall 2001. First, they became my advisees. Now, years later they are friends, colleagues, and people who I feel blessed to have worked closely with.
Are there Div II and III projects that stand out to you? Please describe.
Too many!
Here is a sampling of some of the projects I've recently supervised: an exploration of "splatterpunk" and its relationship to modern horror;  a podcast series featuring in-depth interviews with creative womxn from Tennessee;  an examination of queer kinship, mental health, and racial representation in She-Ra and Steven Universe; an action game based on the traditional Japanese martial art of Iaijutsu; a post-apocalyptic novella that was accompanied by a media studies paper on the genre; a thesis critiquing how the nondisabled spectacularize disability that included potent visual artwork from the perspective of the "freak"; an investigation of the liberal humanist underpinnings of the free software and free culture movements; young adult fantasy novel about the experiences of three young queer protagonists who are mentally ill in different ways and to different degrees; a bilingual (Spanish-English) mixed-medium theater piece on the diasporic experiences of Mexican immigrants;  a philosophical analysis of how white supremacy, settler colonialism, and racial fetishism are inextricably intertwined; a cross-disciplinary examination of American rape culture; and a historical and literary analysis of the racialization of domestic labor in the United States.
The diversity of projects that I serve on introduces me to new realms of inquiry and broadens my knowledge thus making me a better teacher and researcher. I feel fortunate to be able to shepherd students through the research process and learn so much on the way.

What research have you been working on recently?
I published the book Speculative Imperialisms: Monstrosity and Masquerade in Post-Racial Times in 2018. Since its publication, I have been asked to contribute to high-profile collections in science fiction and horror. My essay, "Haunted by Settler Nostalgia: (Lat)Indigenous Specters, White Vampires, and the Historical Amnesia of Twilight," will be featured in We are all Monsters, We are all Saints: Haunted Migrations and LatIndigenous Ghost Story.
That will be one of the first books in the University Press of Mississippi's Horror and Monstrosity Studies Series. I am also an invited contributor to Doctor Who: New Dawn - Essays on the Jodie Whittaker Era with a chapter entitled, "Postracial Amnesia: Doctor Who in the Brexit Era." The collection will be published by Manchester University Press in 2021.
Hampshire is a place known for its #Changemakers. What do you think is so special about this place?
Hampshire creates a space where faculty, staff, and students are always learning.
What qualities do you find common in the most successful Hampshire students you've known?
They know who they are but are not afraid to change and become someone else.
 
1