Public Performances To Address U.S. Imperialism from Puerto Rico Viewpoint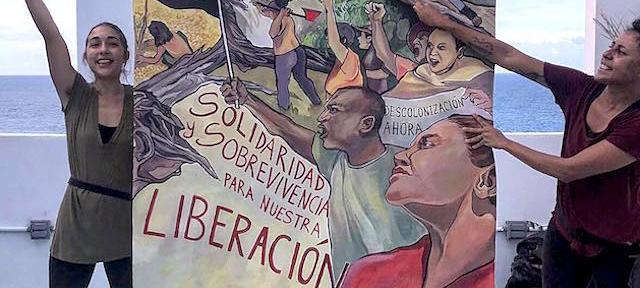 On October 20 and 24, a group of visiting artists will present a performative art piece featuring a 175-foot scroll that tells the story of U.S. imperialism from the perspective of the economic and environmental state of Puerto Rico and its diaspora. Hampshire College and Holyoke's Wistariahurst Museum will host the events, part of a five-day residency by members of AgitArte, a group of working-class artists and organizers whose art and performances are in solidarity with grassroots struggles against oppression.
The scroll is a collaborative piece made by members of AgitArte and other artists in Puerto Rico and from the United States. It was conceived before Hurricane Maria made landfall on the island in September 2017, and was completed this summer.
The residency's inaugural performance will take place with a community event on Saturday, October 20, at Wistariahurst Museum. It begins at 5 p.m., to be followed at 7 p.m. by dinner and music. The public is also invited to the group's presentation on Wednesday, October 24, 6:30–8:30 p.m., in the Hampshire College Art Gallery.
In the past two decades, AgitArte has developed more than 50 cultural projects with partners in the United States and Puerto Rico.
The group's residency will incorporate not only presentations but also dialogues that draw on its 20-year history. Featured are two recent pieces: the scroll project, called End the Debt! Decolonize! Liberate!, and a cantastoria (a form of street theater), titled Solidaridad y sobrevivencia para nuestra liberación/ Solidarity, and Survival for Our Liberation. The cantastoria encompasses two visual panels painted by Puerto Rican artist Estefanía Rivera illustrating the catastrophic situation on the island and the militarization of emergency aid.
During their stay in the Pioneer Valley, the four artists — three from Puerto Rico and one from Boston —will travel to Hampshire and Amherst Colleges and visit classes in theater, Latinx studies, literature, Spanish, and art. On Tuesday, October 23, AgitArte will host a session for Hampshire students and employees at the College's annual Engage! Conference, whose goal is to promote a deeper understanding of antiracism and social justice and cultivate a more inclusive campus climate. The four visiting artists are Jorge Díaz Ortiz, Dey Hernández Vázquez, Sugeily Rodríguez Lebrón, and Agustín Muñoz Ríos.
AgitArte's residency takes place in conjunction with the installation of artist Pablo Delano's The Museum of the Old Colony —on view in the Hampshire College Art Gallery until November 11—which explores the U.S. imperial imagination of Puerto Rico and the role of photography and museums in constructing and legitimizing it.
The residency is cosponsored by The Common at Amherst College, a literary journal of place-based literature and art. The Common's fall 2018 issue (number 16) features a special portfolio of new Puerto Rican writing: Its release will be marked by a series of events with visiting writers, among them a community reception with readings and a Q&A at Wistariahurst Museum, Holyoke (November 5, 5:30–9 p.m.), and an issue launch with readings and Q&A at the Powerhouse, Amherst College (November 6, 7–8:30 p.m.).
The residency was organized by Amy Halliday, director of the Hampshire College Art Gallery; Ray Mendel, gallery alumni fellow; María Cartagena, programs coordinator, Community Partnerships for Social Change; Mary Bombardier, director, Community Partnerships for Social Change; Michele Hardesty, associate professor of US literatures and cultural studies at Hampshire College; and Javiera Benavente, director, Ethics and the Common Good.
"I'm excited about how AgitArte's work converses with the current gallery exhibition," says Halliday. "The scroll project, for example, offers a powerful rejoinder to the colonial imagery in The Museum of the Old Colony."
Says Hardesty: "We envision this residency as a way for folks in our local communities to learn about AgitArte's practices of cultural organizing and current campaigns on the ground; we also hope it will plant new seeds of solidarity."
The residency is also supported by the Five College Lecture Fund and the Jackie Pritzen Fund, and is part of the UMass Department of History's 2018 Feinberg Series, "Another World Is Possible: Revolutionary Visions, Past and Present."
Thanks, too, to Five College Latin American and Latinx Studies, Arts at Amherst and classes at Amherst College, the Weissman Center, at Mount Holyoke College, and, at Hampshire College, the Humanities Program, the Studio Arts program, the Theater program, the School of Interdisciplinary Arts, Ethics and the Common Good, Community Partnerships for Social Change, the Hampshire College Art Gallery, and the Office of Multicultural Education and Inclusion.
1