Recent Graduate Searches for Paradise Amidst Upheaval in Div III Film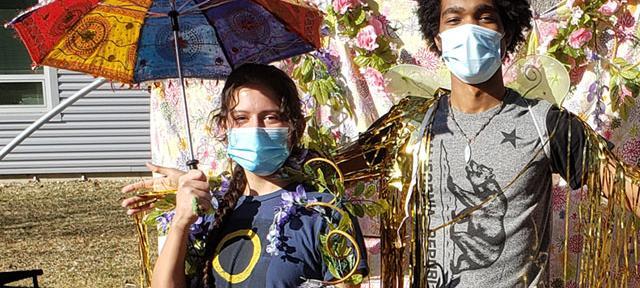 We sat down with Quispe (virtually) to learn more about her current work and her journey to filmmaking as a medium for exploring complex topics through art.
Tell us a little about yourself. What first drew you to Hampshire?

When I visited campus, I met so many people dedicated to their work and their causes and their beliefs, and I wanted to be a part of that community. The self-designed program of study was also very important to me. I didn't want to just fit into a mold, but rather explore and create my own path. I also received great financial aid—far better than any other school I applied to.

Tell us a little about your journey to Div III.

When I started at Hampshire, I was interested in human behavior, so my intended route was psychology, but I found the readings and scientific language a little difficult to move through. At the same time, I was interested in the social sciences, so I leaned more towards sociology and Latin American history. I also wanted a more expansive way of sharing my thoughts, and that's when I leaned into the arts more, as well.

For my Div III, I used my own writing and the images and sounds that were calling me, and I put them all together to create the short film, Salted. The film follows a young woman whose hometown experiences drastic changes because of infrastructural development. She's determined to find her paradise rather than just be stuck in the destruction and devastation around her.

My committee included Hope Tucker, associate professor of video and film, and Susana Loza, associate professor of critical race, gender, and media studies. They were both great to work with!

What were some of your favorite Div III moments?

For one of the final scenes in the film, my family and I traveled about 700 miles to reach these beautiful salt flats where we choreographed and filmed a collaborative dance together. That was really special on many levels.

Another unexpected high point was realizing that my Div III was actually coming together! At some points, the work felt spread out in different directions, and I was trying to create something meaningful, as we all are, and I just didn't know if I would be successful in doing that. I was finding a line of meaning in the things that I was looking at and creating, but I didn't know if I would be able to piece it together in a way that was meaningful for other people.

It was very impactful when I shared my work with my peers and my professors, and they were noticing certain things. That was a huge high point realizing that my work was seen and appreciated by other people.

Now that you are Div Free, what is next for you?

I'm currently submitting my Div III to film festivals. I'm also interested in journalism, so I'm currently working on a film project regarding the threat of oil pipelines. Specifically, I'm looking at the legal implications of food and water contamination and who has rights to food and water. I'm doing this by examining the violations of indigenous treaties and the supposed agreements that have been standing since the 1800s. The project is not only limited to indigenous treaties though—it's really about every person's right to food and water.

What advice would you give to a future Hampshire student?

I would give them the advice to be very open, and stay open, to new perspectives and new people. It can be easy to get carried into these currents of other people's perspectives and other people's beliefs, and it's important to remember that we each have our very own history that makes us unique. We have to trust in that and trust those beliefs. When they match up with other people's beliefs, that's great and that's something really special, but that shouldn't be forced. Those connections will come through authentically by sharing our own selves.