Assistant Professor of Video and Film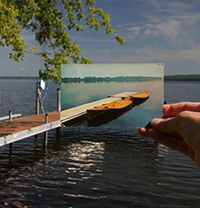 Hope Tucker, assistant professor of video and film, holds a B.F.A. from the School of the Art Institute in Chicago and an M.F.A. in Film and Video Production from the University of Iowa. A MacDowell and Yaddo Fellow and recent artist in residence at Phillips Academy Andover, she has taught video, film, photography, animation, new media, and visual studies in the US and the UK.
Since 2000, Tucker has worked to transform and expand what we know as a daily form of terse, text-driven, populist narrative through The Obituary Project, a compendium of moving image that gives new life to the antiquated documentary practice of salvage ethnography. She has animated cyanotypes of downwinders and instructions for making fishing nets by hand; photographed shuttered bread factories, fallen witness trees, and decaying civil rights era landmarks; recorded mobile phone footage of the last public phone booths of Finland; written the text of a video out of paper clips, a Norwegian symbol of solidarity and nonviolent resistance; and retraced the path of protest that closed the only nuclear power plant in Austria. Works from the project have screened in festivals, museums, galleries, and cultural spaces, including 21er Haus, Vienna; Ann Arbor Film Festival; Cairo Video Festival; European Media Art Festival, Osnabrück; Images Festival, Toronto; International Film Festival, Rotterdam; Museo Nazionale del Cinema, Torino; New York Film Festival; Punto de Vista, Pamplona; Vox Populi, Philadelphia; Wexner Center for the Arts, Ohio; Whitechapel Gallery, London; Zagreb Dox.