Salman Hameed: Producing Science for Muslim Societies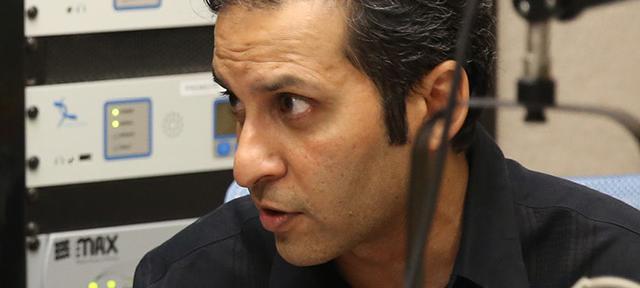 With the bright glow of a green screen behind him, Associate Professor of Integrated Science and Humanities Salman Hameed begins his talk on Pluto and the images of the dwarf planet and its moons taken by the New Horizons space probe. The photos, taken in July, reveal mountains of ice and other features that scientists until then had no idea existed on this world three billion miles from Earth.
Hameed is recording the talk for "Science ka Adda," roughly Café Scientifique, a web series he created to foster a stronger interest in science in Pakistan, his home country. All of the videos are in Urdu, the national language of Pakistan and one also spoken in certain regions of India, and are filmed in the media lab at Hampshire's Harold F. Johnson Library. Collaborating with a small group of students and staff who help film, edit, and provide graphics and music, Hameed has connected with Karachi-based news outlets, among them Dawn TV and the Express Tribune, to share the videos on their websites.
"Nothing like this exists in Urdu in Pakistan," Hameed says. "You can hear about things in a NASA press release, but there's no local connection in that. It's different if you hear it in Urdu from a Pakistani astronomer."
The series builds on Hameed's work in disseminating scientific knowledge through outlets such as Hampshire's Center for the Study of Science in Muslim Societies. One of its main projects, facilitated by center fellow Vika Gardner, is a website that collects and evaluates the intellectual content of videos on Islam and science that are available on the Internet. The intention of both that work and Science ka Adda is to generate interest and understanding in predominantly Muslim countries of what science is really all about.
"How do you make sense of the world in the light of modern science?" Hameed asks. "In these videos, we're talking about contemporary astronomical discoveries and show how we make these discoveries, how curiosity plays a role in it. The idea is to share concepts of science, the spirit of science, with the general public. It's about communicating how scientific thinking works . . . and the wonders of our universe. I think that's a valuable thing."
One of the inspirations for the series was Pakistani human rights activist Sabeen Mahmud, owner of The Second Floor (T2F), a café in Karachi. Mahmud turned T2F into a forum for free speech on topics ranging from civic and political issues to the arts and sciences in a city where that sort of discourse was highly controversial. Hameed had collaborated with her since the 1990s, and she was enthusiastic about "Science ka Adda" and the role it could play in Pakistan.
In April 2015, on her way home after a political discussion at T2F, Mahmud was shot and killed, an act that drew media attention from around the world.
"It was a shock—sad, tragic, and senseless," says Hameed. "She was a defender of having all voices heard, and her life touched so many different aspects of culture and society. Dawn TV, for instance, embedded Science ka Adda on its website because she sent it there, and our title uses artwork designed by Sabeen's nonprofit. To a certain degree, we still haven't recovered from her death. We're slowly getting back to the videos, but it's hard."
The thought of the sacrifices activists like Mahmud have made push Hameed and his crew to use Science ka Adda to reach as many people as possible. They're in the "tinkering phase" now, he says, with five videos completed and his crew developing better methods as they go. From New Media Technician John Bruner to students Ben Cowper 12F, James Thompson 12F, Nauman Tazeem 12F, and Mirza Kamil Baig 14F, Hameed says he finds the group is "approaching these videos using Hampshire's strengths."
"You don't have to hold students' hands on these things," he says. "You expect that they'll bring their own creativity and come up with their own ideas on how to improve these videos. If they have a cool idea, they bring it up. And if it works, it works. We're not trying to follow a particular formula. We're trying to figure out how to do this in the best way possible, and we're not bound by tradition."
As for the long-range trajectory for Science ka Adda, Hameed sees no limits to its possibilities.
"If astronomy and science are not going to end," he says, "neither should these videos."
1