Slime-Mold Symposium and Reception Presented by Hampshire College Art Gallery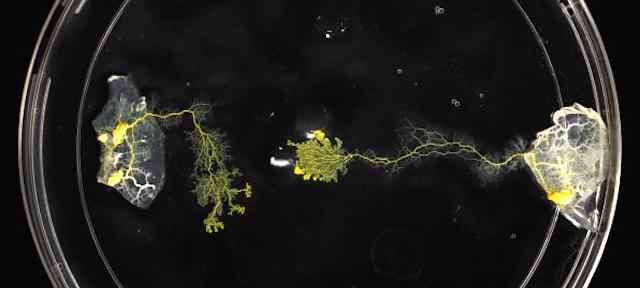 Two speakers known nationally for pushing the boundaries of science, art, and sciart, will headline the Plasmodium Symposium on Friday, March 2 starting at 2:00 p.m., presented by the Hampshire College Art Gallery and open to the public. The Symposium is produced by a new policy research institute based at Hampshire, the Plasmodium Consortium, the first in the world to feature policy analysis by non-human scholars, slime molds.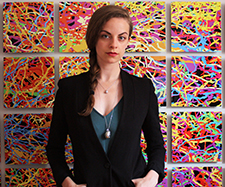 Speaker Julia Buntaine is known widely as founder of the NYC-based national membership organization SciArt Center, as well as the online, science-based art magazine, SciArt in America. A Hampshire alum, her pioneering artwork has been featured in the New York Times, ScientificAmerican.com, and national science publications. A New York Times feature said her art "shows the beauty of data culled from neuroscience." A writer for Scientific American called her a person to watch "for her artistic creations and artistic activism."
Acclaimed as a "poet of ideas" by The New Yorker and a "multimedia philosopher-prophet" by The Atlantic, speaker Jonathon Keats is an artist, writer and experimental philosopher based in San Francisco and Northern Italy.  Exhibited internationally, Keats's projects have been documented by PBS, Reuters, and the BBC World Service, garnering attention from such media as Science, Flash Art, and The Economist. An alum of Amherst College, he has lectured at UC Berkeley, Stanford, and the Los Angeles County Museum of Art (LACMA), which recently awarded him a 2015-16 Art + Technology Lab Grant.
The Plasmodium Consortium's slime-mold research results are currently available for public viewing in a special exhibition at the Hampshire College Art Gallery through March 16; the exhibition's public reception will be held after the symposium on March 2. 
Hampshire College Art Gallery
Harold F. Johnson Library Building, ground floor
893 West Street
Amherst, MA 01002
FULL SCHEDULE, Symposium and Gallery reception, Friday March 2:
2:00 – 2:15: The Plasmodium Consortium: An Origin Story (or 'Only at Hampshire': When Slime Mold become Visiting Scholars') – Professor Megan Dobro and Gallery Director Amy Halliday
After an initial introduction to the project by Amy Halliday, Megan Dobro discusses how big interdisciplinary projects and out-of-the-box thinking offer exciting opportunities for collaboration, experiential learning, and challenging disciplinary assumptions. From the grand ideas to the small details, Megan will share what we learned and how you as a faculty or staff member can integrate this into your own teaching and learning.
2:15 – 3:00: Molding minds: A Faculty Q&A
A range of professors who were involved in the project reflect on how it challenged their own disciplinary thinking and research, and how they plan to integrate their learning into curriculum design. 
3:00 – 3:30: Networked Knowledge: Students Reflections
Students discuss how they collaborated with slime mold to engage with diverse areas of interest, from drug addiction to the metaphysics of a slime mold science fiction.
– BRIEF REFRESHMENT BREAK –
4.00 – 4:45: Keynote Address: Julia Buntaine (Alum, 06F), SciArt Center
Artist and SciArt Center founder Julia Buntaine addresses the state of art/science collaborations, how Hampshire's non-human visiting scholars fit into that paradigm, and how they break the mold.
4:45 – 5.15: You Say You Want A Revolution – Jonathon Keats and the Plasmodium Consortium
Jonathon Keats reports on what has been learned from the plasmodial visiting scholars, and how it can be applied to policy decisions locally and globally. He also proposes new questions still to be addressed by P. polycephalum, and elicits suggestions from the audience.
5:30: Opening remarks for Gallery reception
The symposium will conclude with a gallery reception from 5.30-7pm, where you can view our concurrent spring exhibitions The Plasmodium Consortium and The Reciprocal Biomimicry Initiative.
This program is supported in part by a grant from the Amherst Cultural Council, a local agency which is supported by the Massachusetts Cultural Council, a state agency.
At Hampshire College, support comes from the School for Interdisciplinary Arts, the Culture, Brain, and Development (CBD) program, and Ethics and the Common Good (ECG) project, as well as MacArthur Faculty Development and Dr Lucy Faculty Research grants from the School of Natural Sciences.
1