Smithsonian Curator to Speak about 'For Whom It Stands: The Flag and the American People'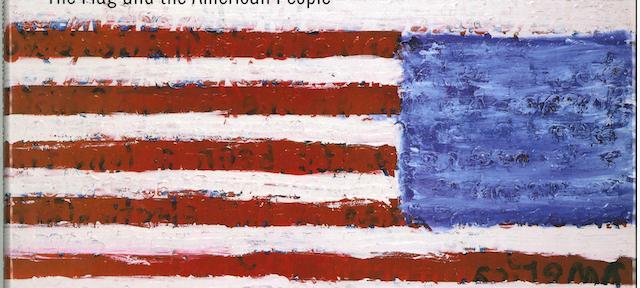 Michelle Joan Wilkinson, a curator with the Smithsonian National Museum of African American History and Culture, will visit campus this month to discuss her book and exhibition, For Whom It Stands: The Flag and the American People, which she curated in 2014 while working at the Reginald F. Lewis Museum, a Smithsonian affiliate. For Whom It Stands is an investigation into the ways artists and others have seized on the flag to narrate pride, prejudice, and protest.
Wilkinson will also highlight examples of flag-related objects from the collection of the National Museum of African American History and Culture, where she works on projects related to contemporary black life.
The event is Wednesday, March 29, at 6:30 p.m. in Franklin Patterson Hall, West Lecture Hall.
Wilkinson's research interests range from African American and African Diaspora cultural studies to architecture and design. She spent six years as director of Collection and Exhibitions at the Reginald F. Lewis Museum in Baltimore and has curated more than 20 exhibitions, including two award-winning shows: For Whom It Stands and Material Girls: Contemporary Black Women Artists.
The lecture is organized by Wilson Valentín-Escobar, associate professor of American studies and sociology at Hampshire, and presented by the following offices and departments: Dean of Faculty, Diversity and Multicultural Education, Africana Studies, Latin@/Latinx and Latin American Studies, and Feminist Studies.
Wilkinson is the founder and administrator of Blk Galactic, an online platform aggregating articles, resources, images, and art about the spaces we inhabit and negotiate. She was a 2012 fellow of the Center for Curatorial Leadership in New York City, and completed a short-term residency at the Design Museum, in London, as part of her fellowship year. Among her honors and awards are fellowships from the Mellon Foundation; the Smithsonian Institution; the Center for Puerto Rican Studies at Hunter College; the Center for Advanced Study in the Visual Arts (CASVA) at the National Gallery of Art, in Washington, D.C.; and the Paul Mellon Centre for Studies in British Art, London.
Her interdisciplinary research project, "V Is for Veranda," about architectural heritage in the Anglophone Caribbean, has been presented to international audiences in Suriname, Great Britain, India, and the United States.
Wilkinson is active on several boards and committees in the museum field. She is the editor of For Whom It Stands: The Flag and the American People and has published critical essays in New Thoughts on the Black Arts Movement and Potentially Harmful: The Art of American Censorship.
Wilkinson earned a bachelor's degree at Bryn Mawr College and holds a Ph.D. from Emory University.
Event Note: Free campus parking is available at all lots after 5PM. Follow event signs to Franklin Patterson Hall.
Book cover image: "Victory Spoke" by Jeffrey Kent
1