A full-time director is responsible for program coordination, administration, and supervision of the staff. Seven professional teachers share curriculum planning, daily teaching responsibility, and parent communication. Teachers work in teams that collaborate with one another. All teaching staff have completed course work in early childhood education (most with B.A. or M.A. degrees) and a minimum of two years' experience working with young children (an average of five years experience teaching young children). Hampshire College work-study students assist teachers in the classrooms, as do volunteers from the community and student teachers from the University of Massachusetts.

Affiliated consultants: Nancy Arons, psychotherapist; and David Slack, pediatrician.

The center works closely with REACH, an early intervention agency for parents and their children ages birth through three years who have developmental and physical special needs.
Says one parent, "In addition to being exceptionally qualified practitioners in their field, the Early Learning Center staff members are so loving, kind and welcoming. I feel like I'm bringing my kids to stay with family when I bring them here. It's a good feeling."
Casie Smith, director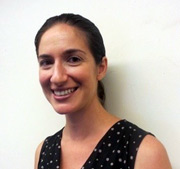 Director 7/08-present.
B.A., Vassar College (Developmental Psychology), 2003#
M.A., Teachers College, Columbia University (Developmental Psychology), 2005
M.A., Teachers College, Columbia University (Early Childhood Education/ Special Education), 2008
Casie has worked in the early childhood field for fourteen years as an infant, toddler, and preschool teacher, an art teacher, and a program administrator at various early childhood programs in New York and Massachusetts. She has also served on the board of directors for a Head Start preschool in Brooklyn, NY. In March 2007, Casie attended the U.S. Study Tour in Reggio Emilia, Italy and was struck by the ways in which the schools of Reggio Emilia mirror the cultural values and history of the local community. Since joining the ELC, Casie has been inspired to find ways to utilize family, academic, and community partnerships to adapt and integrate elements of what she learned in Reggio Emilia into the unique culture and values of the Early Learning Center community.

Casie is currently pursuing a doctoral program in Children, Families, and Schools at the University of Massachusetts Amherst. Her research interests include examining U.S. cultural perceptions of infant social abilities and social goals within infant/toddler group care, the relationship between attachment theory and peer relationships, and the role of early childhood centers in the transition to parenthood.

Casie lives in Northampton with her husband, Joe and her baby daughter, River. They enjoy hiking, bicycling, and traveling together.
Infant Teachers
Kim Lee Ripley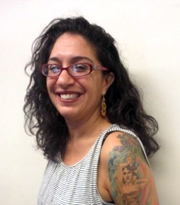 Infant co-teacher beginning 9/00.
B.A., Hampshire College (Anthropology and Early Childhood Education), 1995
Kim has been teaching infants and toddlers for nearly 20 years, including at Nonotuck Community School, the Skinner Lab School at the University of Massachusetts, and for the past 13 years at the Early Learning Center.

Kim has participated in study tours of the early childhood schools of Pistoia, and Reggio Emilia, Italy. Kim has been published in the book Insights and Inspiration from Reggio Emilia: Stories of Teachers and Children from North America and has presented at numerous local and national early childhood professional development conferences. For the past 3 years Kim has participated in a cross-cultural research project on the topic "Babies as Mentors" in collaboration with the Poppins International Pre-schools in Japan and with the support of Ben Mardell from Harvard's Project Zero.

Kim is endlessly fascinated by the sense of self with which each child enters our community, and finds daily joy in watching the way the babies explore and uncover the wonder of our world. Kim is originally from Brooklyn, NY, but is now happily settled in Easthampton with her husband Gabe and their sweet and sassy daughter, Cecelia Daisy. The Ripley family enjoys many unusual adventures, which often include music, laughter, travel, and tattoos.
Michelle Sullivan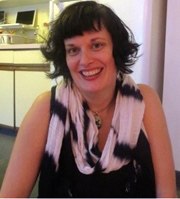 Infant Co-Teacher 8/11-present.
B.A., University of Massachusetts (Theater), 1998

Michelle Sullivan has been an early childhood educator since 1996. She has worked as a preschool, toddler, and infant teacher in a variety of settings, including Head Start and parent cooperative early learning centers. Michelle has a background in visual and performing arts, which she incorporates into her work with children, parents, and other educators. She was a Terri Lynne Lokoff/Children's Tylenol National Child Care Teacher Award recipient in both 2005 and 2011.

Michelle believes deeply in the power of play-based learning for young children, and is delighted to put this passion into practice in her current position as infant co-teacher at the Hampshire College Early Learning Center.
Toddler Teachers
Kate Nicoloau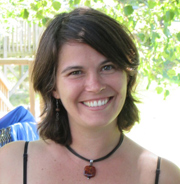 Toddler Co-Teacher, 9/2004-present.#
B.A., New England College (Theatre), 1997

Kate Nicolaou is in her tenth year teaching toddlers at Hampshire College's Early Learning Center. Holding a degree in theater from New England College, Kate enjoys embracing children's creativity and looks for opportunities to incorporate music and movement into the curriculum.
Kate has presented along with colleagues at NAEYC on her work with children and view of children as capable and inspiring people. Kate lives in Amherst with her husband and two daughters.

Kate believes that children are creative thinkers unencumbered by adult limitations. They have a view of the world with a multitude of possibilities, and as a teacher, she is offered the chance to revisit her own interpretations of the world through these new lenses. Her goal as a teacher is to notice and help acknowledge moments of discovery and recognition, and to help create a community of socially minded yet individual people, respecting rights, opinions, and uniqueness of the individuals around them. She also likes to help children and adults alike find reasons to smile and enjoy the world. For toddlers especially, Kate believe teachers' roles can be as observers and interpreters, bridging the gap between non-verbal and verbal communication.

Lynn Warren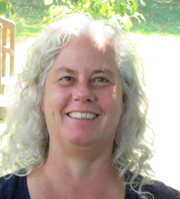 Toddler Co-Teacher 9/96-present. #
B.A., University of Massachusetts (Early Childhood Education), 1982

Before coming to the Early Learning Center 17 years ago, Lynn taught for a year at the Children's School at Deerfield Academy. She has also been a preschool teacher in a Head Start Program, Ashfield Community preschool, and a family day care provider. After graduating from the University of Massachusetts, Lynn worked as a toddler teacher at the Human Development Laboratory School at the university for six years.

Lynn lives in Bernardston MA (on the Mass/Vermont border) and has two grown children, Karlyn (28) Jordan (25).

For fun, Lynn enjoys an array of outdoor activities such as hiking, swimming, cross-country skiing and snowshoeing, which givers her the opportunity to explore the many beautiful areas that surround us here in western Massachusetts. Recently, Lynn has enjoyed exploring the many rail to trail bike paths with her BFF (best friend forever), Chris, of 10 years.
Preschool Teachers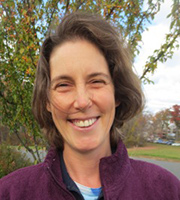 Laura Ginsberg-Peltz
Preschool Co-Teacher/Studio Teacher 08/12-present.
M.Ed, Antioch University New England (Integrated Learning, Arts Concentration), 2010

Laura has taught for ten years with children in preschool to grade 5. For eight of these years, she worked with children in preschool-second grade. For two of these years, she taught yoga and reading to children with special needs. Throughout her independent and graduate studies, Laura has researched and been inspired by Project Based Learning, Place Based Education, and Reggio Emilia Education.

She is drawn to working in a Reggio Emilia based program, because she believes in organically responding to the passions and interests of her students and creating projects that emerge from these interests. As our studio and preschool teacher, Laura integrates the arts and outdoor exploration into project-based learning and Reggio Emilia inspired practices.

Laura has three boys of her own, ages 5, 7, and 10. She spends lots of time with her sons and husband outdoors, hiking, paddling, biking, and playing games. Laura also loves to cook, grow food, do yoga, and listen to her husband play the banjo while her kids dance around the room.

Theresa Gold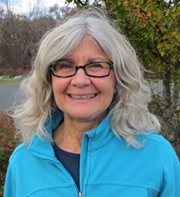 Pre-School Co-Teacher, 9/95-present.#
B.A., SUNY Stonybrook, 1971#
M.Ed., University of Massachusetts Amherst, 1976
Theresa has had experience teaching in various family and center-based childcare programs since the early 70s. Prior to coming to the Early Learning Center, Theresa was a preschool teacher/family advocate for an integrated Head Start program at the Montague Center School. During that time she became certified to be a child care director.

Theresa received her M.Ed. at the University of Massachusetts, focusing on the creative arts and environmental design to promote alternative educational services for children with special rights. After that, she collaborated in developing a creative play environment at the Belchertown State School. Theresa lives in Sunderland. Her son, Joshua (31), lives in Easthampton. Her son, Nicholas (34), is currently living in Baltimore. Theresa enjoys hiking, working out, and reading.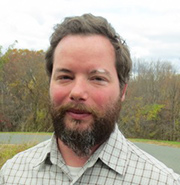 Paul Murphy

Preschool Co-Teacher 9/13-present
Paul has been working in the field of Early Childhood Education for over a decade including a twelve year run teaching in the preschool classroom at Nonotuck Community school in Florence, Ma. Paul is excited to be a part of a great co-teaching team at the Early Learning Center and to be a member of the dynamic and inspired teaching staff at the Early Learning Center. Paul believes in emergent curriculum, co-learning alongside children, and working together with everyone to discover, explore, and create possibilities for learning, community building, and collaboration. Paul is a longtime resident rooted in the Valley with many great friends and family in the area.
Paul is very interested in music, art, culture, history, and current events and enjoys learning about and exploring all of the above as well the hiking trails, natural wonders, and many cultural and community experiences that the Pioneer Valley has to offer.