Enfield House is one of Hampshire's apartment-style housing areas, generally referred to as "the mods" by students and staff.
Built townhouse style, Enfield mods are two- and three-story apartments that mostly house students in their second, third, and fourth years.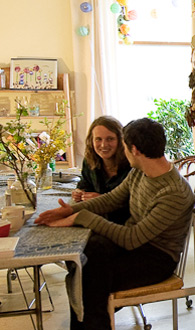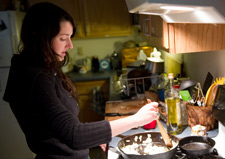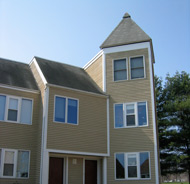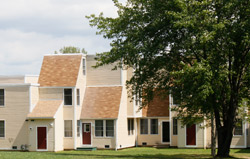 Each mod has five to eight residents, living in one double and two to six single rooms. Every mod contains a common living/dining room, a kitchen, and one to three bathrooms. Laundry facilities are centrally located between mods 62 and 67. Several Intentional Housing Communities and Identity-Based Mods are located in Enfield.
Greenwich/Enfield (GE) Area Office
Enfield house, the smallest of the living areas at Hampshire, has 199 residents and shares its area office with Greenwich. The area office makes available a variety of items to improve the quality of campus living, including some cleaning supplies, vacuums, games, hand carts, trash bags, and toilet paper. It also houses the office of the area coordinator (see below), the senior resident advisor, and a small gathering place for residents.
The Area Coordinator
The Greenwich/Enfield (GE) area coordinator is a live-in, professional staff member who is available to answer questions, give advice, and help with whatever issues might arise. The area coordinator has regular office hours in the Greenwich/Enfield area office and residents are welcome to make appointments. The area coordinator supervises the Greenwich and Enfield resident advisors, who are student staff members. They are available to support residents, reinforce community norms, and plan activities to enrich residence life. View list of all house staff >>
Rooms
The average single in Enfield is around 80 square feet, and comes with a dresser, mirror, divided closet, bed, desk, desk chair, bookshelf, and a recycling bin.
The average double is about 140 square feet, not counting the space used by the built in closet and dresser. It comes with a double set of the furniture listed above.
Room Numbering
Example: ENF 051A
ENF = Enfield
051 = Mod
A = Room
Keys
Every Enfield resident receives two keys--one to the resident's bedroom, and one that unlocks the entry doors of the mod.
Phones
While most students bring cell phones with them, each room does have a landline hook-up, and students are welcome to bring a landline phone. Those students wishing to make long distance calls need to have a calling card to do so. Room phones can receive long-distance calls. Each mod also has a landline phone that can be used for on-campus and local phone calls only. Mod phones cannot receive long distance calls.