Merrill House is one of Hampshire College's two traditional-style residence halls. It was built in 1970 and houses approximately 247 students in single and double rooms.

Each hall in Merrill has a long side and a short side, which are considered as two separate halls. Merrill tends to house more older students than Dakin.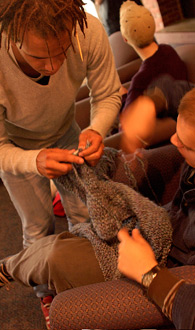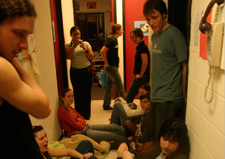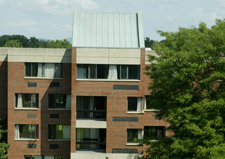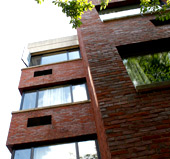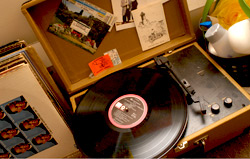 Dakin/Merrill Area Office
The Dakin/Merrill area office is the hub of both the dorms: Here, students can find vacuums and cleaning supplies, kitchen supplies, snacks and treats, safe sex supplies, and board games.
The Area Coordinator
The Merrill area coordinator is a live-in, professional staff member who is available to answer questions, give advice, and help with whatever issues might arise. The area coordinator has regular office hours in the Dakin/Merrill area office and Merrill residents are welcome to make appointments. The area coordinator supervises the Merrill resident advisors, who are student staff members. They are available to support residents, reinforce community norms, and plan activities to enrich residence life. View list of all house staff >>
The Merrill Living Room and Kitchen
Located just across the way in the Merrill Student Life Center, the Merrill Living Room (MLR) is a large furnished room with a television, many couches and chairs, and bookcases. Identical to the Dakin Living Room across the quad, the MLR is used for various programs and gatherings throughout the year, and can be reserved by students through the area office. Similarly, the Merrill Kitchen, attached to the living room by a small conference/dining room, is available for student use.
Floors, Sections, and Halls
There are three sections of Merrill, each with four main floors and a basement. The sections are: A, B, and C. Sections B and C each have short basement halls. Basement rooms are on the above-ground side of the building and have full-sized windows. A hall is one floor of an entire section. So A1 is the hall that is on the first floor of section A. Merrill halls are additionally divided into a short and a long side, each with its own bathroom. One lounge is shared by both sides of the hall. All halls are co-ed unless they are specifically designated single-gender halls. Every hall has a lounge consisting of a fridge, a cooktop, two couches, a television, and a few coffee tables. Lounges on floors 2-4 have a balcony.
Bathrooms
Each side of a hall has its own bathroom. The bathroom is co-ed unless the hall is single-gender. They each have a utility sink, two regular sinks, one or two large mirrors, two toilets, and two showers. All the toilets and showers have locking stall doors. The showers have changing areas within the stall that are curtained off from the shower itself.
Moving Through Merrill
Every part of Merrill can be accessed using the interconnected basement. You can go from A4 or C4 to the B-basement without ever leaving the building. No need to go outside in the winter in order to do your laundry.
Keys
Every Merrill resident receives two keys: one to the dorm room, and one that unlocks the hall's lounge door. The main entrances are equipped with OneCard access.
Laundry
Laundry is free at Hampshire! The Merrill laundry room is located in the basement of section B. It has multiple washers and dryers. More information is available on the Mac-Gray website, including instructions on how to check up on your laundry online.
Phones
While most students bring cell phones with them, each room does have a landline hook-up, and students are welcome to bring a landline phone. Out-going long distance calls require a calling card, though room phones can receive them. Each hall also has a landline phone that can be used for on-campus and local phone calls only.
Vending Machines
There is a healthy snacks vending machine located in the lobby of each Merrill section (A, B, and C).
Student Activity Offices
Merrill basement also contains the offices for The Omen (a student-run publication), and the student EMTs.
Merrill Rooms
The average single in Merrill is about 8 by 10, and comes with a dresser, mirror, divided closet, bed, desk, desk chair, bookshelf, and a recycling bin.

The average double is about 8 by 18, not counting the space used by the built in closet and dresser. It comes with a double set of the furniture listed above.

Please see our room size PDF for rough floor plans of average sized rooms. It includes a regular single, an L-shaped single, and a double. Please note that individual rooms may vary in their layout or dimensions from the approximate drawings given. We are unable to provide exact measurements for each individual room on campus.

If you have your room assignment, you can check our floor plan PDF to find what type of room you have and where it is located.

Watch our short video tours of each type of room:






Merrill Room Numbers:
Example: A207
A = Section
2 = Floor
07 = Room

Basement rooms have a 0 for the floor number.