A Hands-on Education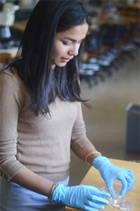 Students in NS engage in interdisciplinary problem solving.
Learn more »
NS Quick Links

The School of Natural Science (NS) strives to provide a transformative, student-centered education based on inquiry and collaboration.
It requires students to gain a clear sense of the scientific process and reflect on their work within the context of the issues in the world. The faculty are committed to curricular innovation by pushing traditional pedagogical boundaries in order to accomplish this goal.
Pathways
Areas of study in NS include:
Resources
In the Cole Science Center (CSC) students have access to lab facilities including the chemistry, endocrinology, physics, ecology, and molecular biology laboratories; a greenhouse; and classrooms. The 650-acre Farm Center supports research in agriculture, animal behavior, genetics, reproductive physiology, and related fields.
The School of Natural Science's leadership in involving undergraduate students in original scientific research, and with research-level equipment, has been recognized with grants from the National Science Foundation, the Howard Hughes Medical Institute, and the Sherman-Fairchild Foundation.
A Hands-on Education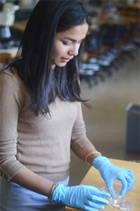 Students in NS engage in interdisciplinary problem solving.
Learn more »
NS Quick Links